COVID-19 restrictions can be eased once Omicron wave has peaked and starts to subside, says Ong Ye Kung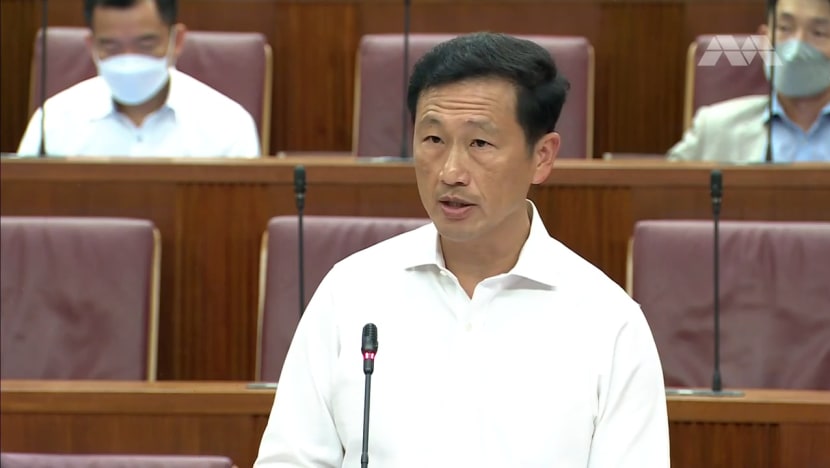 SINGAPORE: Singapore can look forward to easing its COVID-19 safe management measures once the current Omicron surge has peaked and starts to subside, said Minister for Health Ong Ye Kung on Monday (Feb 14).
Mr Ong added that the country would "continue to monitor the key indicators closely to make sure our healthcare system can cope" with the Omicron transmission wave. 
He was responding to parliamentary questions posed by Members of Parliament Lim Biow Chuan (PAP-Mountbatten), Gerald Giam (WP-Aljunied) and Christopher de Souza (PAP-Holland-Bukit Timah) on when current COVID-19 measures, such as restrictions on group sizes, would be lifted. 
Whether current restrictions are eased, and when they can be lifted, depend on the epidemic situation, Mr Ong said in a written reply. 
"One aspect is the daily infection numbers, which is around 10,000 cases a day," he said, noting he had earlier indicated that the country could hit up to 15,000 to 20,000 COVID-19 cases or more a day.
However, though these top line figures show where Singapore is on the epidemic curve, what is more important is the impact on disease severity and on healthcare capacity, he said. 
"So far, the impact has been significantly more moderate for the Omicron variant compared to the Delta variant," said Mr Ong. 
He cited two reasons for this. Firstly, Omicron is a less severe variant than Delta, as it tends to infect the upper respiratory airways. Secondly, a high percentage of Singapore's population have been vaccinated and or have received boosters. 
"Today, we still observe a significant difference in incidence of severe illness amongst the vaccinated and boosted, and not fully vaccinated, especially amongst seniors. So vaccines continue to make a huge difference," he said.
"Because of these reasons, while the daily infection numbers are high, the vast majority of cases have mild or no symptoms, and very few develop severe illness and require oxygen supplementation or ICU care, or have passed away," he said. 
KEY INDICATORS
The peak of the Delta variant wave between late October and early November last year saw about 13 COVID-19 deaths a day. But over the past two weeks, there has been an average of two to three deaths a day, despite cases being three times more than during the Delta wave. 
"We have to watch the trend very closely, but for now, the case mortality due to the Omicron variant is not very different from the number of deaths related to various viral infections pre-COVID," said Mr Ong. 
"Prior to COVID-19, over 4,000 patients a year (or over 10 a day) passed on due to pneumonia, usually caused by infections," he added. 
Mr Ong also pointed to COVID-19 patients in intensive care units (ICUs), noting that about 0.05 per cent of COVID-19 cases, or about five in 10,000,  currently require intensive care.
"At the peak of the Delta wave, about 170 ICU beds were occupied by COVID-19 patients. Now, despite three times the daily caseloads, we have about 30 patients in the ICU across our hospitals," he said, adding that about 60 per cent require intubation. 
The duration of stays in the ICU is also shorter, about three to five days compared to those infected with the Delta variant who would stay on average 11 days in the ICU, he said. 
Singapore now has 113 ICU beds, which can be ramped up to 350 "at short notice", Mr Ong noted. Should the need arise, this can be further increased to 500 ICU beds. 
"So unlike during the Delta wave, the ICU wards are not coming under pressure, and (are) in good shape," he said. 
Only about 0.3 per cent of Omicron cases have ever required oxygen supplementation, said Mr Ong, adding that there are currently around 130 patients who need it. This total is about 40 per cent of the peak of the Delta wave.
"As cases rise, we expect this number to increase in parallel but with every hospital bed equipped with oxygen supply capability today, this is not a constraint," he said. 
HOSPITALISATIONS
The last factor Mr Ong pointed to was hospitalisation. He said that of the 1,200 COVID-19 cases currently hospitalised, about 30 per cent are "incidental cases".
"This means they are admitted for non-COVID conditions and subsequently found to have COVID-19 during their stay because we test every patient," he said.
This group typically has no or very mild symptoms, and do not take up extra beds due to their infection.
"So the extra workload on our hospitals is two-thirds of the 1,200 hospitalised cases. Further, most Omicron patients also have a short hospital stay of about 3 to 4 days, compared to 5 to 8 days for patients infected with the Delta variant," he added, noting this means beds are freed up faster.
Mr Ong described the availability of hospital beds as "probably the biggest constraint now".
Still, as symptoms of Omicron patients are often not very severe, there is "a lot of scope" for these patients to be placed in COVID-19 treatment facilities (CTFs) instead, he said.
There are about 3,800 CTF beds currently, with about a quarter of them occupied, and there are plans to increase the number of CTF beds to about 4,600 by the end of February. 
HEALTHCARE WORKERS 'BUSY AND STRETCHED'
While these indicators so far show that Singapore's healthcare system can handle the Omicron wave, another factor to consider is the state of healthcare manpower, he said. 
"Our healthcare workers have been battling the pandemic at the frontlines for more than two years now. They have persevered through the Delta wave, and are now fighting the Omicron wave. I want to convey my deepest appreciation to them."
Though healthcare workers are "very busy and stretched", it is a "different level of intensity" compared to the Delta wave, said Mr Ong. 
While some countries have reported healthcare workers resigning in droves, the attrition rates of doctors from Singapore's public acute hospitals have remained at about 3 per cent to 5 per cent.
This is comparable to 2019, before COVID-19 hit, said the Health Minister.
"For nurses, the average attrition during the two COVID-19 years of 2020 and 2021 is about 8 per cent, comparable to 2019. Absenteeism rate due to COVID-19 has been manageable, and is about 2 per cent now," he said. 
"We do not take this for granted, and will continue to support our healthcare professionals. We are also working closely with clusters to help them recruit new healthcare workers," he added.
Singapore can ease its current restrictions after the current Omicron wave has peaked and begins to subside, said Mr Ong. 
"As earlier indicated by the Multi-Ministry Taskforce, once conditions permit, we will do so and - like most Singaporeans - I am looking forward to it."