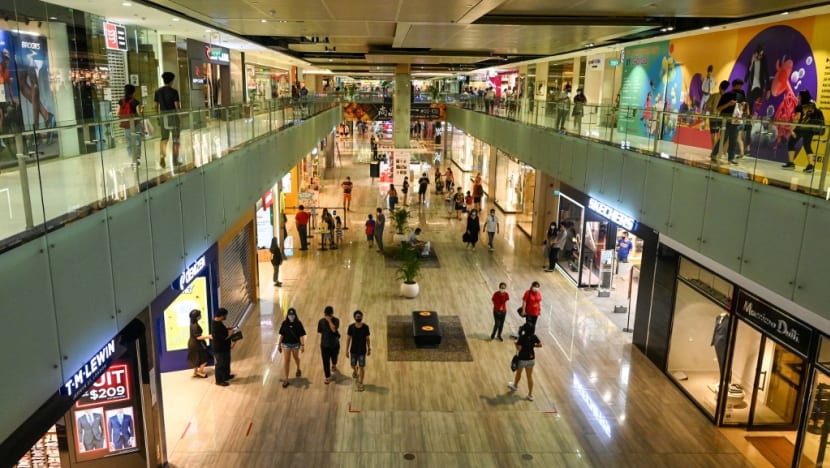 SINGAPORE: Support measures for businesses and workers affected by the COVID-19 pandemic will be tapered down as Singapore eases more restrictions from Monday (Nov 22) when it exits the Stabilisation Phase.
The Jobs Support Scheme for certain sectors will be extended until Dec 19, but at 10 per cent wage support instead of the current 25 per cent.
This covers businesses such as food and beverage outlets, retail, cinemas, museums, family entertainment, tourism, gyms and fitness studios, as well as performing arts and arts education. 
Cooked food and market stallholders in centres managed by NEA or NEA-appointed operators will continue to receive a half-month rental waiver
The measures are part of a S$90 million support package announced on Saturday.
"This will be funded from the higher-than-expected revenues collected to date. There will be no further draw on past reserves," said the Ministry of Health (MOH).
SUPPORT FOR TAXI, PRIVATE-HIRE DRIVERS
As work-from-home continues to be the default arrangement, taxi and private-hire car drivers will receive a payout of S$10 per vehicle per day in December, instead of S$5 as previously announced. 
This support will also be extended to January, at S$5 per vehicle per day, under the COVID-19 Driver Relief Fund.
It is expected to benefit about 50,000 drivers and cost the Government an additional S$16 million, said the Land Transport Authority (LTA) in a separate media release.
This brings the total amount set aside by the Government for the taxi and private-hire car sectors to more than S$530 million since February last year. 
Taxi operators have also pledged to continue rental waivers for drivers, said LTA. 
Singapore's COVID-19 multi-ministry task force announced on Saturday that the Stabilisation Phase will end on Nov 21, and the country will return to the Transition Phase. 
Fully vaccinated people, including those from different households, will be able to dine together in groups of up to five. 
The group size limit on social gatherings will also be raised from two to five people, and the cap on household visitors will likewise increase to five.