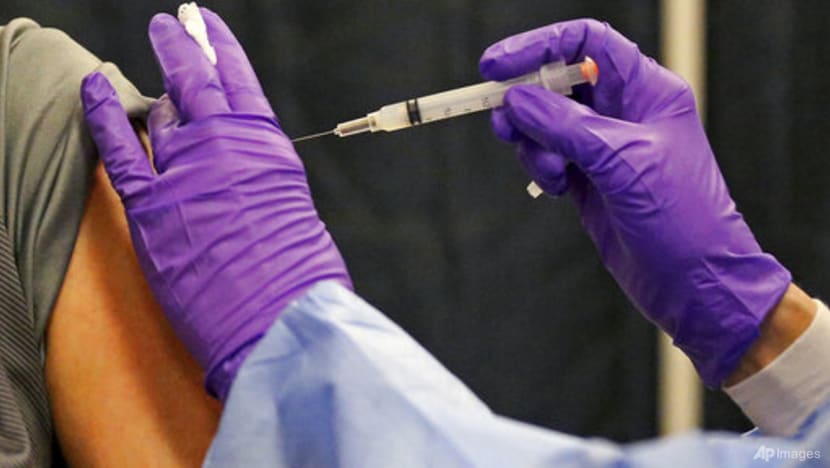 SINGAPORE: Getting infected with COVID-19 despite being vaccinated, otherwise known as a "vaccine breakthrough", does not mean that vaccines are no longer effective, said Professor Leo Yee Sin, the National Centre for Infectious Diseases' (NCID) executive director on Tuesday (Aug 17).
This comes as some fully vaccinated individuals continue to be reported in Singapore's COVID-19 infection count.
In an interview with CNA, Prof Leo noted that more than 75 per cent of Singapore's population has been fully vaccinated – which is more than four million people.
"We have just slightly over 1,000 cases of post-vaccination infection cases, and therefore you can see the contrasting difference.
"The number is not big compared to a whole population of a few million people having the COVID vaccine," she said.
In any case, the misconception that vaccines can no longer protect the individual is "completely not true", said Prof Leo, noting how real world data shows that even with the Delta variant, "we continue to see very good vaccine effectiveness in preventing severe illness".
For instance, she cited how unvaccinated individuals aged 60 to 69 face a 17 per cent risk of developing severe illness from COVID-19, requiring oxygen and intensive care.
"With vaccinations, I reduce my risk to 1 per cent," she said.
She added that among post-vaccination infections, the majority of the cases only had mild symptoms as the disease did not progress further.
Vaccines can prevent infection to a certain extent too, she said, noting that local studies in household settings showed they provided protection levels of about 60 per cent.
"So in other words, even after vaccination, a person can still get infected. But the infected individuals, the chance of this person (developing) severe illness, is drastically reduced because of the protections given by the vaccine."
MAKING THE INFECTED LESS INFECTIOUS
In a way, vaccines also reduce the infectiousness of those with the virus, said the NCID chief.
She cited how local studies have shown that infected individuals, vaccinated or not, secrete "high volumes of viruses in the respiratory secretions during the early phase of clinical illnesses".
"However, those vaccinated people, they tend to be able to control the virus much better, and therefore they shorten the duration of infectiousness.
"If that translates into transmissibility, it just means that they can cause onward transmissions with or without vaccine.
"But the infectiousness period is shorter, and therefore, they are less infectious in terms of the longer-term," said Prof Leo.
She urged all who are eligible to get vaccinated, as that is "the best way for us to protect everybody in the community, and also to protect the elderly and the vulnerable populations".
MORE RESEARCH NEEDED ON BOOSTER SHOTS
When asked if there will be a need for booster shots to maintain protection against the virus, Prof Leo said "there is no definite answer at this point in time".
This is because there are still many elements that must be further studied, such as the "durability" of vaccines and whether boosters can enhance protection, she said.
"Because we don't know, we will need to continue to monitor and research on this topic. The more important thing is to be prepared," she added.
"If there is a need, we are prepared to be able to give the population another level of protection." 
She also noted that other countries like Israel and the United States have already started recommending and implementing booster doses, so Singapore can continue to monitor them too.
IMPORTANCE OF OTHER MEASURES
Ultimately, Prof Leo said "no vaccine is 100 per cent", but all information points towards the effectiveness of the COVID-19 vaccine.
"It (doesn't) only protect you … It also protects the people around you, and the entire community."
They are also not the only measure in the fight against COVID-19, she said.
"It's very important that despite receiving the vaccine, we continue to practice very good safe management measures, including (putting) on your mask, (wearing) it properly, very frequent hand washing, (and keeping) a distance between person to person."