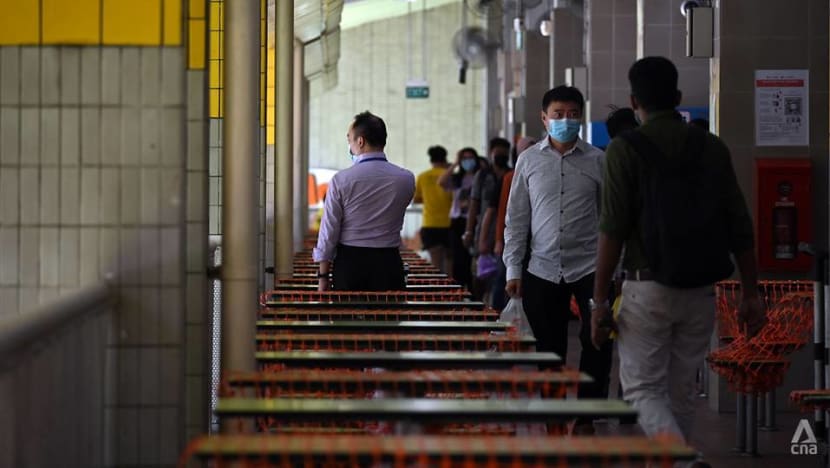 SINGAPORE: Singapore reported 73 new locally transmitted COVID-19 infections on Sunday (Aug 8), including 21 with no links to previous cases. 
Forty-three infections linked to previous cases were already in quarantine, and the remaining nine were detected through surveillance testing, said the Ministry of Health (MOH). 
Among the new COVID-19 cases were five seniors above 70 years old who were unvaccinated or partially vaccinated, and at risk of serious illness, said the ministry.
There were also five new imported cases, who had been placed on stay-home notice or isolated upon arrival. All cases were detected upon arrival in Singapore.
In total, Singapore reported 78 new COVID-19 cases on Sunday. 
TWO NEW CLUSTERS 
There were two new COVID-19 clusters identified on Sunday, with a total of three infections each. MOH did not provide information on the new clusters, which were linked to two individuals. 
Four more cases were linked to the Jurong Fishery Port/Hong Lim Market and Food Centre cluster, bringing it to 1,147 cases in total. It remains the largest active cluster in Singapore.
Five cases were also added to a cluster at CHIJ Katong Convent, taking the total there to eight cases.
There were 130 active COVID-19 clusters in Singapore as of Friday.
EIGHT IN CRITICAL CONDITION
There were 542 COVID-19 patients in hospital as of Sunday.
Most of the patients were well and under observation, although there were 37 cases of serious illness requiring oxygen supplementation, and eight in critical condition in the intensive care unit (ICU).
Of those 45 cases, six were fully vaccinated. Among them, four required oxygen supplementation, while two needed ICU care due to underlying medical conditions.
Thirty-four people were above the age of 60, of whom 29 were unvaccinated or partially vaccinated, and have fallen very ill, said MOH. 
"There is continuing evidence that vaccination helps to prevent serious disease when one gets infected," the Health Ministry added. 
Over the last 28 days, 95 local cases required oxygen supplementation, were admitted to the ICU or died. Of this number, 59 were unvaccinated, 27 were partially vaccinated and nine were fully vaccinated.
As of Saturday, 69 per cent of Singapore's population has completed their full vaccination regimen or received two doses of vaccines under the national vaccination programme. About 79 per cent have received at least one dose.
In addition, 130,952 doses of Sinovac vaccines have been administered as of Saturday, covering 81,612 people.
As of Sunday, Singapore has reported a total of 65,764 COVID-19 cases and 42 fatalities from the disease.
VACCINATION-DIFFERENTIATED MEASURES FROM AUG 10
Singapore will ease its COVID-19 restrictions in two steps on Aug 10 and Aug 19.
In the first step, dining-in at F&B outlets will resume in groups of up to five for fully vaccinated people. Both vaccinated and unvaccinated people can dine in at hawker centres and coffee shops, but in group sizes of up to two.
Both vaccinated and unvaccinated people will be allowed to gather in groups of up to five and receive five distinct visitors at home daily – capped at two social gatherings a day. 
However, people who are unvaccinated should remain in groups of no more than two "to reduce the likelihood of transmission and severe infection", MOH said in its announcement on Friday.
MOVING INTO THE NEW NORMAL
The battle against COVID-19 has taken a toll on Singapore and "strained fault lines" in society, Prime Minister Lee Hsien Loong said in his National Day message on Sunday (Aug 8).
Calling the coronavirus "formidable", Mr Lee said that each time the COVID-19 situation seemed to be under control, it has surprised the country.
Singapore has tightened and eased restrictions in response to its community cases.
The discovery of the Jurong Fishery Port cluster in July saw the virus spreading to wet markets all over the country.
"We had to tighten up again, to slow down transmission, protect our seniors, and buy time to vaccinate more people," said Prime Minister Lee Hsieng Loong on Sunday.
He noted that many Singaporeans were disappointed at the turn of events, which felt like a setback after the progress the country had made against the coronavirus pandemic.
The Government had to "strike a difficult balance" through a combination of public health measures, social discipline and financial support for families, workers and businesses. 
"There are certainly areas where we could have done better," said Mr Lee. "But ultimately, we have kept everyone in Singapore, including migrant workers, safe. Thankfully, very few lives have been lost to COVID-19."
With more than two-thirds of Singapore residents fully vaccinated, "we can now look forward to a careful, step-by-step reopening of our economy. This is how we can move into the new normal," he said.