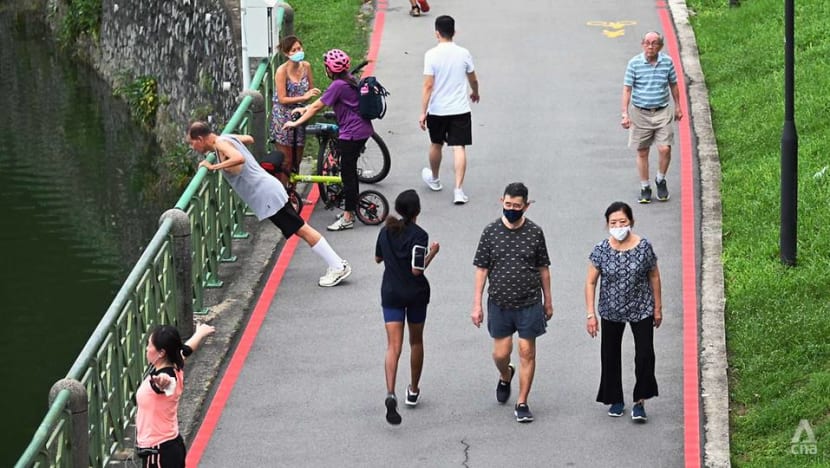 SINGAPORE: Singapore will change testing and quarantine requirements for COVID-19 as Prime Minister Lee Hsien Loong said on Saturday (Oct 9) that people should update their mindsets and not be paralysed by fear of the virus.
The country will also introduce more vaccination-differentiated measures and expand home recovery to include more people as it moves towards the new normal of living with COVID-19.
Here are seven things you need to know about the changes Singapore is making.
1. NO DINING-IN FOR UNVACCINATED PEOPLE
People who are unvaccinated will no longer be allowed to dine in at hawker centres and coffee shops, nor enter attractions, shopping malls and large standalone stores - except supermarkets - from Oct 13.
Only vaccinated people can do so, in groups of two. Children aged 12 and below, people who have recovered from COVID-19 and unvaccinated people with a valid negative pre-event test result can also be in the groups of two.
This rule is already in place in other F&B establishments.
For malls and large standalone stores, a grace period of one week has been granted until Oct 19 for implementation.
Unvaccinated people who work in malls and large standalone stores will still be allowed to enter, as well as those seeking medical or childcare services if they can show proof.
Safe distancing officers will conduct "selective" checks on diners' vaccination status on their TraceTogether app or token at hawker centres and coffee shops.
They will issue warnings and take down the particulars of those who breach the rules. Enforcement action will be taken against those who are repeat offenders or refuse to cooperate.
2. NO QUARANTINE FOR CLOSE CONTACTS
Close contacts of COVID-19 cases will no longer receive quarantine orders but will get health risk warnings instead.
This is part of the Ministry of Health's (MOH) simplified health protocols emphasising "personal responsibility and self-management", which kick in on Oct 11.
Under the new protocol, which applies to contacts of all risk levels, people must immediately self-isolate and self-administer an antigen rapid test (ART) on the day a health risk warning is issued to them.
If the test result is negative, people can continue with normal activities the rest of the day after uploading the result online. This is repeated every day for a total of seven days. They can exit self-isolation on the seventh day if they have continued to test negative.
If the test result is positive and they feel well, they should self-isolate at home for 72 hours and then take an ART again. They are to continue doing this until they test negative and can exit self-isolation.
They should only see a doctor if they test positive and feel unwell.
3. PCR TESTS ONLY FOR UNWELL PEOPLE
Polymerase chain reaction (PCR) testing will be reserved mainly for people who feel unwell and have symptoms under the new healthcare protocols.
Mild symptoms include fever, cough, fatigue, new loss of taste or smell, sore throat, runny nose, muscle aches, diarrhoea, nausea or vomiting.
Examples of severe symptoms are shortness of breath, chest pain or pressure and loss of speech or movement.
ART will be used for people who are feeling well, such as for community testing and contacts of COVID-19 cases, to be able to detect infections and impose self-isolation early.
To support more regular self-testing, each household will receive 10 more ART kits in another round of distribution via SingPost from Oct 22 to Dec 7.
4. HOME RECOVERY FOR MORE PEOPLE
Unvaccinated cases aged 12 to 49, as well as children aged five to 11, will soon recover at home by default as the severity of illness in them is assessed to be low.
Vaccinated cases aged 70 to 79 will also recover at home, following clinical observations and the fall risks associated with elderly people in an unfamiliar environment, said MOH.
This means that home recovery will soon be the default for everyone except:
Partially or unvaccinated people aged 50 and above
Vaccinated people aged 80 and above
Babies less than one-year-old, and toddlers aged one to four who are assessed to be clinically unsuitable for home recovery
People on home recovery will also follow a timed discharge, without the need for further tests.
The isolation period will end after 10 days for vaccinated people and children aged 12 and below, and 14 days for unvaccinated people above 12 years old.
5. PROGRESS ON VACCINES FOR YOUNG CHILDREN
Vaccinations for young children under the age of 12 could be rolled out early next year, Mr Lee said in his address to the nation.
"As cases grow, parents are understandably anxious about their children catching the virus," said the Prime Minister.
"We are closely tracking the progress of vaccine trials on children in the US. We will start vaccinating children as soon as vaccines are approved for them, and our experts are satisfied that they are safe," he added.
6. VACCINE BOOSTERS FOR MORE PEOPLE
Healthcare workers, frontline COVID-19 workers and people aged 30 and above who were fully vaccinated about six months ago are the next groups to be offered vaccine booster shots.
Booster jabs were earlier offered to people aged 50 and above.
7. THREE TO SIX MONTHS FOR A 'NEW NORMAL'
Singapore will take three to six months to reach a "new normal" when it can ease off restrictions and have "light" safe management, Mr Lee said.
This will be when infections stabilise at "perhaps hundreds a day" but are not growing, and people can resume pre-pandemic activities and see crowds "without getting worried or feeling strange", he said.
Singapore has been reporting more than 3,000 new daily cases in recent days.
Noting that the next few months will be "trying", Mr Lee said that the surge of cases will "hopefully" level off and fall within a month or so.
"It has been a long campaign against COVID-19. The war continues but we are in a much better position now, than a year or even six months ago," said the Prime Minister.
"Sometimes it may not feel like it, but we are making steady progress towards the new normal."