SINGAPORE: Singapore reported 3,598 new COVID-19 cases as of noon on Saturday (Oct 23) and six more deaths from complications due to the virus.
The fatalities are two men and four women who were aged between 61 and 91. Four of them were unvaccinated and two were fully vaccinated.
All of the latest fatalities had various underlying medical conditions. The Ministry of Health (MOH) did not specify what these conditions were. 
This brings Singapore's death toll from the coronavirus to 300.
The number of new COVID-19 infections is a drop from the daily count of 3,637 reported on Friday.
Among them, 3,594 infections are locally transmitted, comprising 2,804 in the community and 790 in migrant workers' dormitories.
Four are imported cases, MOH said in its daily update released to media at about 11.25pm.
As of Saturday, Singapore has reported a total of 169,261 COVID-19 cases since the start of the pandemic.
HOSPITALISATIONS AND HOME RECOVERY
Among all COVID-19 community cases that have been onboarded or admitted, 17,725 patients, or 70.4 per cent, are undergoing home recovery.
Another 4,796 are in community care facilities and 960 are in COVID-19 treatment facilities.
The remaining 1,680 patients are warded in hospital, mostly for observation, said MOH. Of these, 269 patients need oxygen supplementation in general wards. 
Giving a breakdown of the cases in the intensive care unit, MOH said 91 patients whose conditions are unstable are under close monitoring to prevent further deterioration. Another 58 are critically ill and intubated.
These are new categories of information provided by MOH. Previously, it only stated the number of cases in ICU without going into detail about their conditions.
Over the last 28 days, out of 83,141 infected people, 0.9 per cent needed oxygen supplementation, 0.1 per cent were unstable and under close monitoring in the ICU and 0.1 per cent were critically ill and intubated.
Among those who needed oxygen supplementation or intensive care, 46.4 per cent were fully vaccinated and 53.6 per cent were unvaccinated or partially vaccinated.
A total of 3,512 cases were discharged on Saturday, of whom 474 are above 60 years old.
ACTIVE CLUSTERS
MOH said it is "closely monitoring" two large clusters, including Banyan Home at Pelangi Village, which grew to 60 cases after six new infections were identified on Saturday. All but one of the cases are residents. 
Ten new cases were identified at AWWA Community Home for Senior Citizens. The cluster now has 59 infections, all involving residents.
POSSIBLE EASING OF COVID-19 MEASURES
In its daily update on Saturday, MOH also included new information about the weekly infection growth rate, which stands at 1.14. This refers to the ratio of community cases for the past week over the week before.
If the weekly infection growth rate drops below 1, Singapore may ease some COVID-19 measures such as allowing household members to dine-in together, co-chair of the multi-ministry task force Lawrence Wong said earlier on Saturday.
This ratio was previously 1.5, which suggested that cases were doubling about every two weeks. It has now fallen to "just above 1", Mr Wong said at a press conference.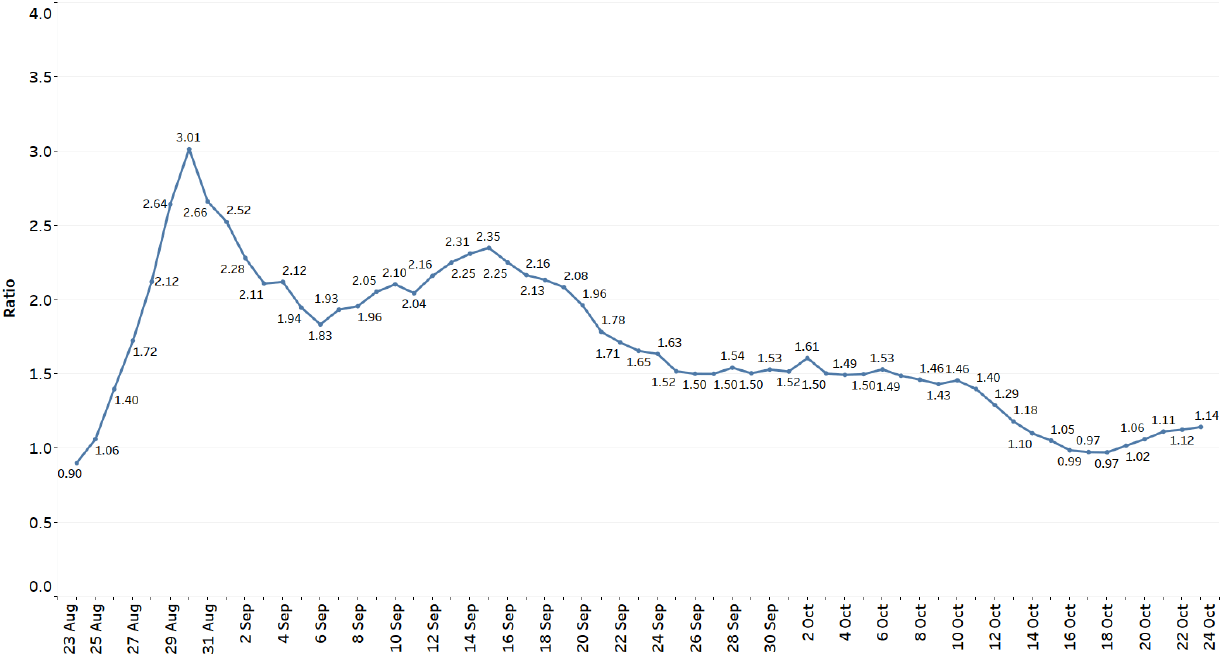 The task force also announced that from next year, only employees who are fully vaccinated or have recovered from COVID-19 within the past 270 days will be allowed to return to workplaces.
Those who are unvaccinated must have tested negative before they return to the workplace. These employees will bear the costs of testing.
Noting that there are some people who choose not to take up mRNA vaccines due to "strong personal preferences", MOH said the Sinovac-CoronaVac COVID-19 vaccine will be included in Singapore's national vaccination programme as a three-dose regime.  
It added that those who are medically eligible to receive mRNA vaccines should continue to take two doses of the Pfizer or Moderna vaccine.