Doctors reiterate importance of vaccination and boosters amid recent spike in COVID-19 cases
Doctors said they have noticed a decline in the number of people keeping up with booster shots, which could be one reason for the recent spike in cases.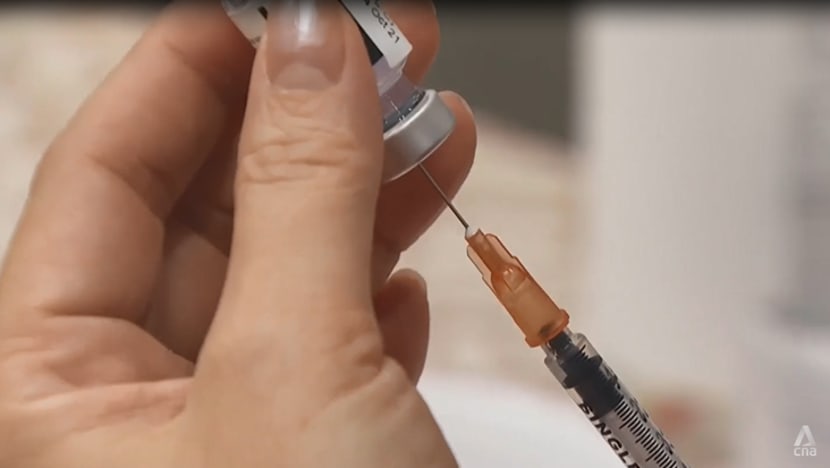 SINGAPORE: Doctors are reiterating the importance of staying up-to-date with COVID-19 vaccinations amid a rise in cases.
There were 7,248 cases in the week of Sep 3 to 9, up from 4,295 the week before. The number of those hospitalised have also increased in the past three weeks. 
General practitioners (GPs) told CNA they have seen a surge in patients in recent weeks, including cases of reinfection.
At the same time, they said they have noticed a decline in the number of people keeping up with booster shots, which could be one reason for the recent spike in cases.
INCREASE IN GP CLINIC VISITS
Unihealth said it has been attending to double the number of COVID-19 cases lately, with each of its four clinics seeing an average of 20 patients daily.
Despite the rise, its medical director Dr Xie Huizhuang told CNA the load remains manageable.
"(Patients) continue to present with mild symptoms such as cough, runny nose, fever and sore throat," said Dr Xie.
"Most of them have stable vitals, not requiring any oxygen supplementation and most of these cases can be safely managed in the community by family physicians and general practitioners, especially with the increased ability of the oral antivirals."
Similarly, Healthway Medical Group's over 50 clinics have seen a two-fold increase in the number of patients following the school holidays from Sep 2 to 10.
"COVID-19 cases wax and wane according to the season depending on travel patterns, and major gatherings such as events and festivals," said Dr Nelson Wee, the company's deputy head of primary care.
"We also think (the increase in cases is) because of waning protection. We are seeing more and more patients who were previously infected a long time ago, or vaccinated a long time ago, and they are now experiencing their second episode of infection."
COMPLACENCY AND VACCINE FATIGUE
The chain said that its doctors have noticed increasing cases of vaccine hesitancy and fatigue. It estimated that only one in five patients is keen to get a booster shot today, compared to one in two patients last year.
"When people were infected last year, they were fully vaccinated and therefore experienced a much milder and tolerable COVID. So perhaps they perceive that there's no need for further boosters. They are also getting a bit tired of repeated vaccinations," said Dr Wee, who is also a family physician at Silver Cross Medical Centre.
Health Minister Ong Ye Kung has cautioned that falling vaccination rates in Singapore mean weaker protection against COVID-19, and encouraged everyone, especially seniors and the immunocompromised, to get vaccinated once a year as an important part of preventive care.
Healthcare professionals are echoing the minister's calls, emphasising that vaccines are effective in preventing severe symptoms and hospitalisation.
They have, however, acknowledged the increasing difficulty in convincing people to keep up with booster jabs, citing complacency as Singapore treats the disease as endemic.
"That attitude that 'I'm strong, I'm healthy, it's not going to happen to me' sort of false confidence … It's tough to overcome that complacency," said visiting professor Tikki Pang, from the National University of Singapore's (NUS) Yong Loo Lin School of Medicine.
He stressed that authorities and medical practitioners must continue to make vaccinations easily accessible and incentivise the population, particularly at-risk groups, to keep themselves vaccinated.
UPDATED PFIZER VACCINE
The Health Sciences Authority (HSA) on Friday (Sep 15) said it approved an updated COVID-19 vaccine by Pfizer that tackles currently circulating and emerging variants of the disease.
The updated jab, for people aged six months and above, targets the Omicron XBB.1.5 sublineage, which includes EG.5 and BA.2.86.
Prof Pang told CNA's Singapore Tonight it is ideal for vaccines to be constantly upgraded to target the predominant and commonly circulating variant of the virus.
As the Omicron subvariant XBB.1.5 is expected to continue to evolve and circulate, Dr Wee said his clinics are anticipating the availability of the updated vaccine for its patients.
"The elderly, the vulnerable, and those with chronic diseases and severe conditions will benefit most from this new vaccine and should seriously consider receiving it once it's available," he said.
Dr Xie added: "Most people had their last COVID-19 vaccine or booster more than a year ago. As the virus has evolved further, the immunity of the population continues to wane further. Hence, an updated COVID-19 vaccine or booster will help to raise these antibodies and help to restore immunity against the virus."
Singapore's Expert Committee on COVID-19 Vaccination is reviewing data on the vaccine and will give recommendations soon. Stocks are expected to arrive by the end of October.