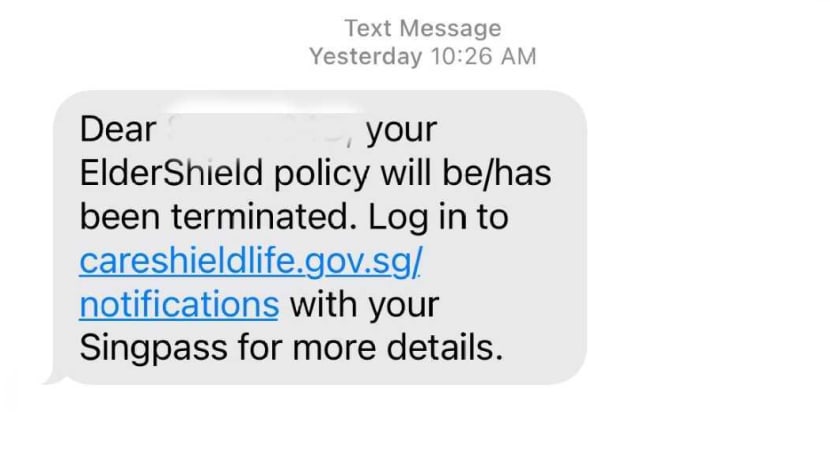 SINGAPORE: An SMS sent to Central Provident Fund (CPF) members informing them that their ElderShield policy has been terminated is legitimate, said the CPF Board on Saturday (Apr 23).
The agency was responding to CNA's queries after several recipients expressed concern on social media that the message was a scam.
The SMS contained a clickable link directing people to a website about CareShield Life, which replaces ElderShield, with an instruction to log in with their Singpass for more details.
Several Facebook users shared screenshots of the SMS on Friday, questioning if it was a new phishing scam. Some had warned others not to click on the link.
On CPF's Facebook page, one user noted that the CareShield Life website was not accessible on Friday.
"The careshieldlife.gov.sg website was temporarily down as there were too many people trying to access the website at the same time. The issue has since been resolved," said the CPF Board on Saturday. 
"Members can check if the website domain listed in the SMS ends with a '.gov.sg' to determine that the link genuinely leads to the CPF website or another government website."
CareShield Life, the national long-term disability insurance scheme, was launched in October 2020. It is compulsory for all Singapore citizens or permanent residents born in 1980 or later.
In November 2021, the scheme was extended to eligible Singaporeans and permanent residents born in 1979 or earlier. 
Existing ElderShield 400 policyholders born between 1970 and 1979 were auto-enrolled in CareShield Life.
The issue of clickable links in text messages made headlines late last year, following a spate of online banking scams. 
Customers of OCBC bank lost a total of S$13.7 million in the spate of phishing scams that affected 790 people, according to the bank in an update in January. Victims had received unsolicited SMSes claiming that there were issues with their banking accounts, asking them to click on a link to resolve the issue.
The Smart Nation Digital Government Group said in January that the authorities were reviewing their use of SMSes and clickable links in communicating with members of the public, as part of efforts to counter such phishing scams.
CNA has asked the CPF Board whether it intends to do away with such clickable links, and when such plans might be implemented.