SINGAPORE: Median Central Provident Fund (CPF) payouts grew about 25 per cent from 2019 to 2021, on the back of higher incomes, stronger labour force participation and enhancements to the CPF system.
For the cohort that turned 65 in 2019, those who chose to start getting payouts at that age got median payouts of S$460.
But this sum rose for successive cohorts, hitting S$580 for those turning 65 in 2021, said the CPF Board in a trend report on Thursday (May 5). 
For those who chose to start receiving payouts at age 70, the median payout among these cohorts also grew from S$610 in 2019 to S$760 in 2021.
The sums are based on the assumption that all members are on the CPF LIFE Standard Plan.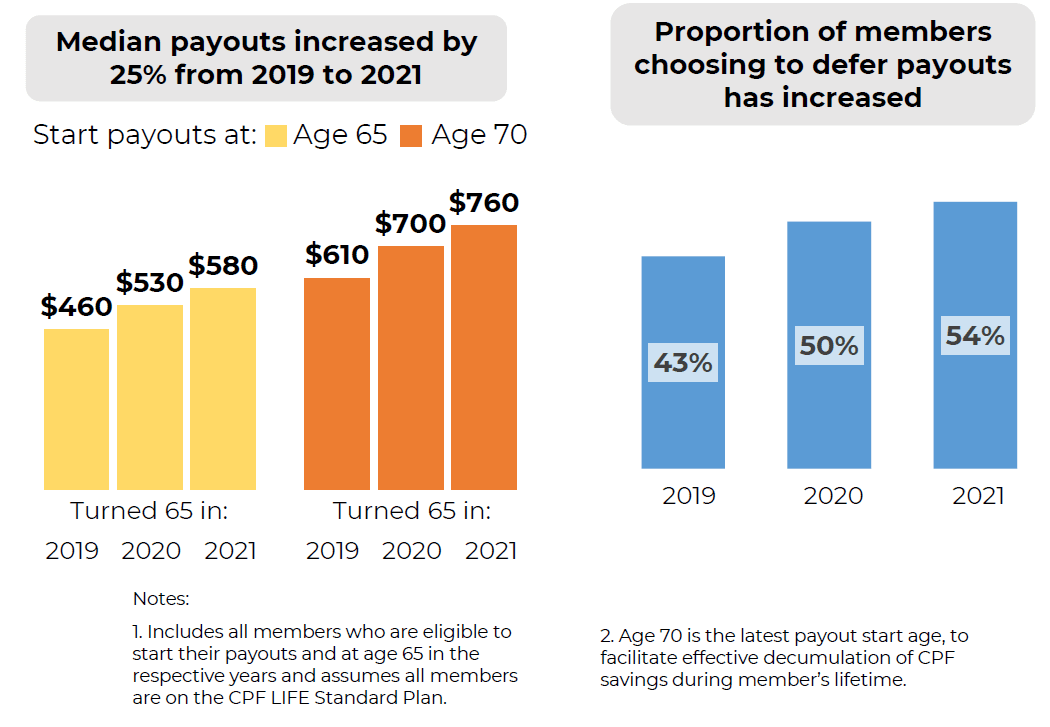 The report comes in line with the broader observation that monthly CPF payouts have grown over generations, as noted by Manpower Minister Tan See Leng in January.
He said this has been due to "income growth, increased labour force participation, and improvements to the CPF system".
The Board also said that the proportion of members choosing to defer payouts has risen from 43 per cent in 2019, to 54 per cent in 2021.
Those who chose to defer their payouts to age 70 will receive about 30 per cent more in monthly payouts, it added.
MAKING LUMP SUM WITHDRAWALS
The report added that in 2021, about seven in 10 members made CPF lump sum withdrawals prior to starting their payouts. This is a figure that has remained largely consistent since 2019.
The Board highlighted that median payouts could be about 15 to 25 per cent higher if members did not make such withdrawals before hitting 65. 
For instance, the median monthly sum of S$460 – for starting payouts at age 65 in 2019 with withdrawals made – could be S$120 higher if the withdrawals had not been made.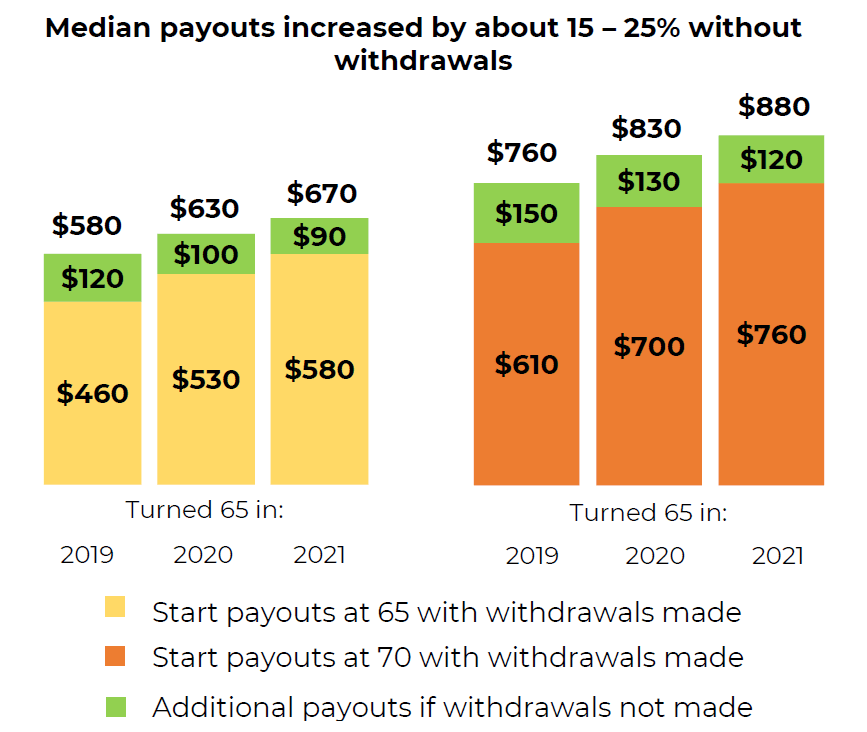 MONTHLY PAYOUTS EXPECTED TO GROW
The Board also said monthly payouts are expected to grow further for future cohorts, due to measures to boost members' CPF savings.
These include a gradual increase in CPF contribution rates for those aged 55 to 70, following the recommendations of a Tripartite Workgroup on Older Workers.
From 2023, the Workfare Income Supplement Scheme for lower-wage workers will also be enhanced with higher payouts. It will also be extended to cover younger workers from age 30.