5 crew members injured after severe turbulence forces BA flight to turn back to Singapore
The plane was on the way to London when it experienced a "rare episode of severe turbulence", says British Airways.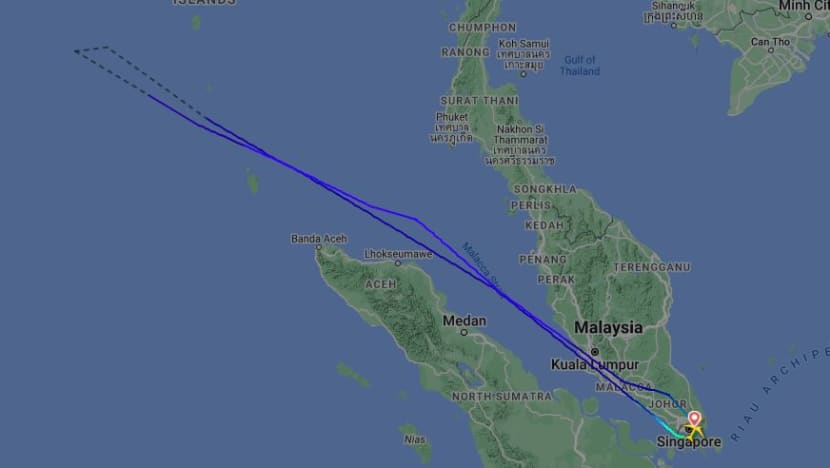 SINGAPORE: Five crew members were injured after a British Airways (BA) flight bound for London turned back to Singapore on Friday (Jun 16) because of severe turbulence.
Flight BA12 departed from Changi Airport at about 11.20pm on Thursday. According to Flightradar24, which tracks flights around the world, the plane was near the Bay of Bengal when it turned back to Singapore.
In response to CNA's queries, BA said that the flight experienced a "rare episode of severe turbulence" and that it returned to Singapore as a precaution. According to Flightradar24, it touched down in Singapore at about 4.05am on Friday.
"We've apologised to customers for the delay to their flight and provided them with hotel accommodation and information on their consumer rights," said the airline in a statement.
"We're rebooking customers onto the next available flights with us and other airlines."
The majority of the crew has returned to London and a team has been sent to Singapore to assist with medical support. The airline did not specify the nature of the crew members' injuries.
BA said occurrences like this are rare but customers should always wear their seatbelts while seated as a precaution.
The US Federal Aviation Administration (FAA) defines turbulence as the air movement caused by atmospheric pressure, jet streams, air around mountains, cold or warm weather fronts, or thunderstorms.
"It can be unexpected and can happen when the sky appears to be clear. Turbulence can give an airplane a sudden jolt that can injure passengers and flight crewmembers who aren't buckled in," said the FAA.