Data centres have become more green, but are limited by Singapore's reliance on gas: Experts
Singapore has more than 70 data centres, which together account for 7 per cent of the country's electricity consumption.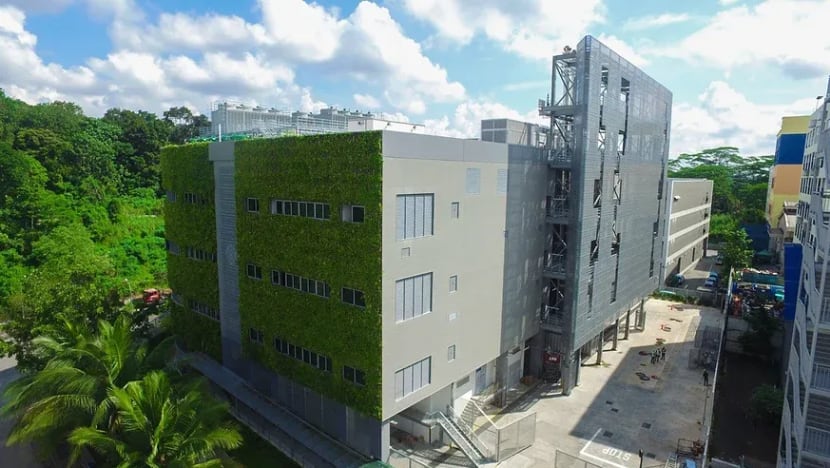 SINGAPORE: Data centres in Singapore have become more sustainable over the years, but for them to significantly reduce their carbon footprint, they would have to overcome significant obstacles.
And the biggest obstacle could be something out of their control – the fact that Singapore relies heavily on fossil fuels, experts said.
Packed with rows and rows of servers to store, process and communicate information, energy-guzzling data centres are used by organisations for everything from e-commerce to cybersecurity.
According to the latest figures in 2021, Singapore has more than 70 data centres, which together accounted for 7 per cent of the country's total electricity consumption. 
The country issued a "temporary pause" on new data centres in 2019. Following a review, the government said it intends to be more selective of such projects, and later released criteria that new centres will have to meet, such as using energy-efficient technology and obtaining green certification.
But the limited availability of renewable energy in Singapore is one of the biggest constraints for data centres when it comes to sustainability efforts, experts told CNA.
About 95 per cent of Singapore's electricity is generated from natural gas, traditionally piped in from Malaysia and Indonesia. Natural gas is a form of fossil fuel – albeit the cleanest form, as it produces the least amount of carbon emissions per unit of electricity. 
"Singapore's limited land area and high population density make it challenging to generate renewable energy on a large scale," said Dr Lee Poh Seng, an associate professor at the National University of Singapore's (NUS) mechanical engineering department.
Solar energy is the most viable option, but whatever is produced here is often snapped up quickly, he said.
Singapore aims to have solar capacity of at least 2 gigawatt-peak by 2030. This would meet the annual energy needs of 350,000 households, but would still constitute only 3 per cent of the country's electricity demand.
Another way to overcome Singapore's reliance on fossil fuels is by importing green electricity from neighbouring countries, said Nanyang Technological University's (NTU) Dr Wen Yonggang.
The government has said it intends to import up to 4 gigawatts of low-carbon electricity by 2035, which could make up 30 per cent of Singapore's projected electricity supply.
Singapore earlier this month granted conditional approval to Keppel Energy for a larger-scale project to import 1 gigawatt of electricity – which would include solar energy, hydropower and potentially wind power – from Cambodia.
"It will be good if data centres can (have) access to these low-carbon electricity imports to reduce their reliance on fossil fuels," said NUS' Dr Lee.
Dr Lee and Dr Wen are directors of the Sustainable Tropical Data Centre Testbed, which aims to increase Singapore's competitiveness in developing sustainable and efficient solutions for data centres.
BALANCING GROWTH WITH GREEN EFFORTS
While data centres are "important enablers" of the digital economy, Singapore recognises that they use large amounts of water and electricity, authorities said.
"The unbridled growth of this energy-intensive sector would be unsustainable and inconsistent with Singapore's climate-change commitments, which we take seriously," said the Ministry of Communications and Information.
Singapore will have to manage the growth of data centre capacity in a way that is consistent with its climate-change commitments, the ministry added.
Under the criteria for new data centres, such projects will have to map out plans for sustainability goals and achieve a power usage effectiveness (PUE) of 1.3 or better.
The PUE measures a data centre's energy efficiency, calculated by taking the total energy consumed divided by the energy used for information technology activities. A lower number indicates better energy efficiency.
The average PUE for new data centres in Singapore was around 1.35 last year, an improvement from 2.01 in 2017, said Dr Wen, an associate dean in NTU's College of Engineering.
EXISTING EFFORTS
Data centre operators that CNA spoke to had varying levels of efforts to be more sustainable.
1-Net, which is owned by Mediacorp, said it has "no other major initiatives" beyond using NEWater, which is recycled water that has been processed and cleaned so it can be used again.
The company has also upgraded its technology to increase energy efficiency. It considered installing solar panels on the roof but said the energy generated would be "negligible".
1-Net also said it does not have net-zero targets.
Another company, Empyrion DC, which is set up by Seraya Partners, aims to recycle 90 per cent of operational waste by 2025 and use 100 per cent carbon-neutral energy sources by 2030, among other goals.
It has also submitted a proposal to build a data centre powered by low-carbon hydrogen.
Empyrion operates one data centre in Singapore and is developing facilities in South Korea, Taiwan and Indonesia.
The data centre in Singapore has an external wall with green plants to minimise the loss of cool air and enhance the building's energy efficiency, it said.
"In locations like Singapore where renewable energy is scarce, the local power grid supplies electricity generated through natural gas," Seraya Partners said, adding that it uses on-site renewable energy for 5 to 10 per cent of electricity needs "where physically possible".
A Singtel spokesperson said its solar energy installation at Bedok Data Centre accounts for 10 per cent of the facility's energy needs, and the company is working towards using only electricity from reputable renewable energy sources.
To reach its goal of net-zero emissions by 2050, Singtel said it also works to avoid cooling its systems too much.
Data centres use a significant amount of energy to keep infrastructure at an optimal temperature in Singapore's hot and humid tropical climate.
But Singtel said some data centres end up going too far, resulting in unnecessary use of energy.
WHAT MORE CAN BE DONE
Dr Lee of NUS said the sustainability of data centres in Singapore varies depending on the specific practices and technologies adopted, but facilities here tend to perform well in terms of energy efficiency compared to global peers.
"While there may be some inertia due to a business-as-usual mindset, the industry recognises the importance of sustainability and the need to reduce its environmental impact," he said.
Clear and measurable standards for sustainability can help to address greenwashing concerns, he added.
Dr Lee also outlined ways to make data centres greener. Besides further improvements to energy efficiency, importing clean energy, buying renewable energy credits and collaborating with the government or other stakeholders, he said the implementation of circular economy principles is a "promising solution".
The circular economy refers to a system where resources are maximised and kept in use, including by using by-products for new purposes.
For example, Dr Lee suggested that businesses could make use of low-grade heat produced by data centres if they are located next to each other.
NTU's Dr Wen highlighted water scarcity in Singapore and pointed to water agency PUB's estimates, which put the median water usage effectiveness at 2.6 here, compared with 1.8 in the US.
"Data centres can reduce their water consumption by implementing water conservation measures such as water-efficient fixtures and recycling wastewater for non-potable uses," he said.