Jail for ex-lawyer who went on run for 15 years, after pocketing almost S$114,000 from clients
The chain of events that led to Khong Siak Meng David's deportation to Singapore began with a conviction for overstaying and working illegally in Shanghai.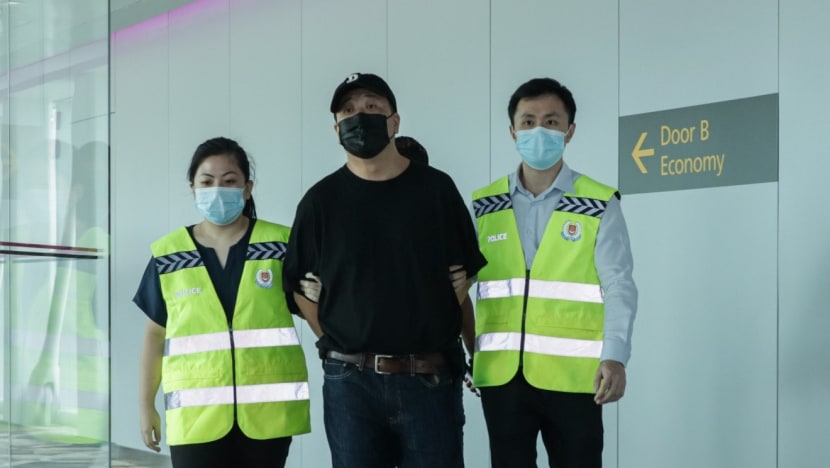 SINGAPORE: A former lawyer who fled to China after pocketing nearly S$114,000 from his clients was sentenced to three years' jail on Tuesday (Mar 28), several months after he was deported to Singapore.
Khong Siak Meng David, 55, pleaded guilty to one count of criminal breach of trust as an attorney. Another two charges were taken into consideration.
The court heard that Khong was a lawyer practising at David Khong & Associates, a sole proprietorship he owned.
He misappropriated money from his clients, including a couple who bought a condominium unit in early 2007.
Mr Loo Yat Fung and Ms Zhang Mengyun wanted to sell the property for S$2.2 million in May 2007, and Khong acted as their conveyancing lawyer.
In June that year, the buyer handed to Khong a cheque for S$88,000, representing 4 per cent of the purchase price of the property.
Khong deposited the cheque into his office account instead of a client account. He later made cash withdrawals and fund transfers from the office account without the couple knowing or consenting to it.
Khong used the S$88,000 to settle his personal debts and expenses. 
In August 2007, after the sale of the property was completed, Khong confessed to his client Mr Loo that he had misappropriated the S$88,000, saying that he was experiencing personal problems.
He gave Mr Loo S$20,000 in cash and asked for time to repay the rest.
Mr Loo told Khong he had three days to pay the remaining money or he would make a police report.
Khong was unable to raise the S$68,000 sum, and instead booked a flight to Shanghai on the night of Aug 18, 2007.
He then remained outside Singapore for more than 15 years. A warrant of arrest and an Interpol Red Notice were issued against him.
"FACE THE MUSIC"
In April 2022, the Jiangsu Public Security Bureau informed the Singapore Consulate in Shanghai that Khong had been convicted a few days earlier for overstaying and working illegally in the Chinese city.
Because of the COVID-19 situation at the time, the Public Security Bureau was unable to detain Khong, but requested that the Singapore Consulate issue him a new passport so he could return to Singapore.
In June, Khong went to the consulate and asked for a new passport. But his application was rejected because he could not produce documents to indicate he had been legally staying in China.
The consulate informed Jiangsu Public Security Bureau and Khong was arrested and deported to Singapore on Sep 23, 2022.
Investigations revealed that Khong had also misappropriated a total of about S$26,000 from three other clients. These clients were unaware as Khong had managed to get money from other sources to repay them.
Khong also still owes Mr Loo S$68,000.
Defence lawyer Goh Choon Wah said Khong had tried to make restitution by returning S$20,000.
He had asked for more time but was not given it, so he "genuinely panicked and left", said Khong's lawyer.
"If he had been given time, he would have, I'm sure, tried his level best and perhaps he won't be in court today," said Mr Goh.
He said this was not an elaborate scheme, and that Khong was back in Singapore to "face the music".
The prosecutor asked for 36 to 42 months' jail for Khong, saying he had chosen to evade justice and remain outside Singapore for more than 15 years.
For criminal breach of trust as an attorney, he could have been jailed for up to 10 years and fined.