Debt collectors to be licensed after Bill passed in Parliament
The Debt Collection Bill seeks to better manage debt collection activities in Singapore, following a rise in complaints from the public.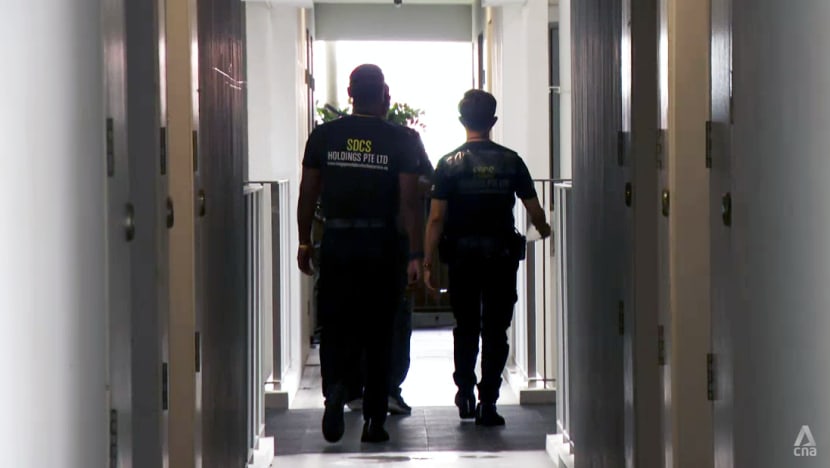 SINGAPORE: Debt collectors will soon have to apply for a licence and be subject to regulations after a Bill was passed in Parliament on Tuesday (Sep 13).
The Debt Collection Bill seeks to better manage debt collection activities in Singapore, following a rise in complaints from the public.
Standards will be set for debt collection companies, and errant businesses and debt collectors will be taken to task.
Minister of State for Home Affairs Sun Xueling, who tabled the Bill, said that the number of police reports lodged against debt collection businesses and debt collectors regarding their conduct has remained high.
An average of 367 reports were lodged each year from 2018 to 2021.
"The reports were mainly against debt collection tactics aimed at pressuring debtors into payment by causing public embarrassment and inconvenience to them," Ms Sun said. 

She recalled a 2019 case which made headlines after a debt collector dressed in funeral clothes to harass a debtor. The debt collector had carried a banner with the debtor's face, a funeral lantern and incense paper while chanting, shouting and kneeling outside the debtor's workplace. 

"Debt collection is a legitimate economic activity that facilitates the fulfilment of financial obligations. However, individuals and businesses should not be subjected to debt collection methods that clearly exceed what may be considered reasonable pressure for payment, especially if these methods also affect the public's sense of safety and security," said Ms Sun. 
GUIDELINES ON IMPROPER DEBT COLLECTION BEHAVIOUR
Members of Parliaments (MPs) welcomed the Bill as "timely" but sought clarifications on its scope, such as whether the Bill would set out what is considered improper debt collection behaviour.

MPs Yip Hong Weng (PAP-Yio Chu Kang), Louis Chua (WP-Sengkang), Leon Perera (WP-Aljunied), Dennis Tan (WP-Hougang) and Foo Mee Har (PAP-West Coast) asked if there were clearer regulations defining which methods were unacceptable.
Ms Foo said a code of practice would be useful "to prescribe a clear set of lawful practices".
"It should contain clear rules of what is and what is not allowable, in order to provide debt collectors with a clear framework within which to operate, and I think as well as to educate debtors on their rights," she added.
Mr Chua raised an example of a debt collection agency that livestreamed its process of demanding repayment and uploaded videos exposing debtors' faces online.
To this, Ms Sun reiterated that the Government would introduce regulations prohibiting behaviour that threatened the physical safety of the debtor or any other third parties.

"Livestreaming of debt collection activities in and of itself is not an offence unless it crosses the threshold for other criminal offences such as the Protection from Harassment Act," she added.

On whether there will be a code of practice, Ms Sun said that since there are regulations to guide the conduct of debt collection businesses and their collectors, the ministry does not intend to issue a code of practice for now.
In response to Mr Tan's question about additional regulations, Ms Sun said that the ministry does not have plans to introduce regulations on prohibited debt collection conduct outside of those stated in the Ministry of Home Affair's public consultation paper.
The paper's debt collection rules and offences for individuals state that a debt collector must not display or use physically threatening words, behaviour, or display notices about debts outside the debtors' property, among other regulations.
MP Murali Pillai (PAP-Bukit Batok), asked for the "rules of engagement" in the event of disputes between debtors and collectors.
Ms Sun responded that debt collectors will be required to ensure that there is a proper contract detailing the terms of appointment by the creditor, the debt amount, the payment schedule and the debtor's identity, in order to minimise disputes.
In cases where victims' identities are misused by impersonators to borrow money, debt collectors will be required to verify the identity of the subjects they collect from against the contract.
"The debt collection regulations will also prohibit debt collectors from continuing to collect debt from a debtor if the debtor has informed the debt collection business or collector that the debt is in dispute, or that the debtor has initiated a process to settle the debt through other means (such as mediation or court proceedings)," said Ms Sun. 
DEFINING "FIT AND PROPER"
Several MPs also raised questions about how debt collection companies and their employees will be deemed "fit and proper" to be issued a licence.
Under the new licensing regime, debt collectors must be assessed by the police who will consider past offences committed under a range of laws, such as the Organised Crime Act and the Vandalism Act. The licensing officer may also consider "any other matter or evidence that may be relevant".
MP Louis Ng (PAP-Nee Soon) described the current provisions as "broad" and asked for examples that may be used to determine if someone is "fit" to be a debt collector. Echoing similar concerns, Mr Chua said it is important to have regulatory clarity so as to avoid instances of unfair discrimination.
Mr Perera suggested that firms be allowed to provide testimonials on behalf of their existing employees who might fail the approval process due to previous convictions, and that "adequate" resources be put in place to hear such appeals.
He also urged authorities to consider other factors, such as the company's record and years of experience, in the decision process.
In her response, Ms Sun said that apart from past offences, the licensing officer will also consider the severity of these offences and the length of time that has passed since then. She added that these considerations are similar to those used for security officers.
On the issue of ensuring opportunities for ex-offenders, Ms Sun said the licensing officer will consider "circumstances on a case-by-case basis".
PUBLIC EDUCATION
MPs also raised the importance of educating the public about the new laws and having a proper channel for reporting incidents.
Mr Tan, who urged authorities to look into a public education campaign, said public awareness will help to "reduce … unnecessary intimidation and harassment" and better enable people to report errant practices so that proper action can be taken.
Ms Sun replied that information on this new regulatory regime will be published on the police's website, while authorities will study Mr Tan's suggestion to hold a public education campaign.
Currently, members of the public may lodge a police report about errant debt collection activities, either online or at a police station. "If immediate police assistance is required, they should contact the police at 999," she said.

MPs like Mr Yip and Mr Perera also stressed the need to ramp up public education on borrowing and debt, as well as "risky" retail financial products such as some cryptocurrency products. 

They also asked if community legal clinics are adequately equipped to help residents with relevant concerns, and whether credit counselling and debt restructuring services can be made more widely available, among others.

Ms Sun replied that these questions and feedback are beyond the scope of the new Bill, but given their "close nexus with debt collection", they will be passed on to the relevant agencies to be studied separately.