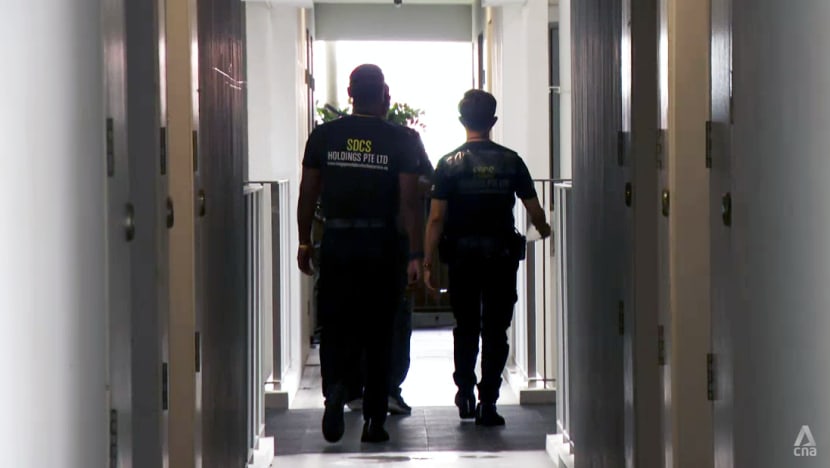 SINGAPORE: Debt collectors may be subject to screening by the police and debt collection companies may have to apply for licences, under a proposed law to regulate and better manage debt collection activities in Singapore. 
With the Debt Collection Bill introduced in Parliament on Monday (Aug 1), the Ministry of Home Affairs (MHA) also seeks to provide the police with the "necessary levers" to stem "problematic" debt collection practices.
Over the past few years, there has been a "high number" of police reports against debt collection companies and debt collectors for collecting debts in a manner that caused "alarm and nuisance" to the public, said the ministry in a press release. 
There were 272 such reports in 2021, up from 134 in 2015. The number of reports on debt collection harassment hit a peak of 590 in 2018.
"Debt collection is a legitimate activity that facilitates the fulfilment of financial obligations, and MHA will adopt a pragmatic approach towards regulating such activities," said MHA.
This comes after the ministry sought public feedback on proposals to regulate debt collection activities from Jun 15 to Jun 29. In March, Minister of State for Home Affairs Desmond Tan also said in Parliament that MHA would put in place a new debt collection regulatory framework.
If the Bill is passed, debt collection activities will be defined as "any activity undertaken in Singapore that involves finding the debtor of a debt, or requesting, demanding or collecting from the debtor money due under the debt", said MHA in the press release. 
Under the Bill, any person who wants to become a debt collector for a licensed debt collection company will have to be approved by the police. Debt collectors will be subject to screening by the police and must be assessed to be "fit and proper".
For example, the police will consider if the person has committed any offences under a range of laws including the Organised Crime Act, Vandalism Act and Protection from Harassment Act. 
Debt collectors must not display or use any physically threatening words, behaviour, writing or signs. They also must not post or display any notices relating to the debt on a property that does not belong to the debtor, or at his workplace or any public place.
Debt collectors must not continue to try collecting money from or communicate with the debtor if the person has informed the debt collection entity or the collector that they are not the debtor - unless the debt collector has taken all reasonable precautions to ensure that the person is in fact the debtor. 
They also should not continue to pursue the debtor if the latter has informed them by any verifiable means that the debt is in dispute and that they wish to settle it through other legal means.
Under the proposed law, police approvals can be rescinded if, for example, the debt collector breaks the law, rules or regulations. 
LICENCES FOR DEBT COLLECTION COMPANIES 
The Bill also proposes introducing a licensing regime for debt collection companies. 
"These companies will have to apply for a licence to carry out debt collection activities and will be held accountable for the conduct of their debt collectors," said MHA. 
Debt collection companies, including their "key appointment holders", must be assessed by the police to be "fit and proper" to offer debt collection service. 
People and entities who collect debts owed to themselves that were not purchased from another party do not fall within the scope of regulation, said MHA. 
For example, this includes individuals collecting personal loans owed to them, and in-house credit control departments collecting debts owed to the company. 
If the Bill is enacted as law, debt collection companies must not make false declarations during an application for or to renew a licence; or knowingly allow certain people who are not fit and proper to continue acting as key appointment holders for them. 
The Bill also proposes a class licensing regime for banks, merchant banks, licenced credit card or charge card issuers, finance companies and licensed and exempt moneylenders. 
These are entities that are carrying on a regulated business which is primarily in the lending of money and collecting of money owed to their own business. They are distinct from debt collection companies that collect for others, and receive significantly fewer complaints. 
These entities will not need to be individually licensed, said MHA, adding: "Compared to individual licences, a class licensing framework allows the police to impose regulatory conditions on such lower risk groups, while minimising regulatory compliance costs." 
Additionally, if the Bill is passed in Parliament, entities whose activities have been assessed to pose a "low risk of public disorder" will be excluded, said the ministry. 
These include people carrying out court-administered debt collection, licensed insolvency practitioners, regulated legal practitioners and non-practitioners, joint law ventures, licensed and qualifying foreign law practices, and Singapore law practices. 
Under the Bill, unlicensed debt collection activities will be criminalised with penalties including fines and imprisonment for up to five years. This will include the deployment of unapproved individuals to act as debt collectors for debt collection entities, said MHA.