Public image as 'gangsters' or 'loan sharks' will change with new law, say debt collectors
Some worry the need for staff to be screened by police could affect hiring. One firm believes it will have to close down because of this.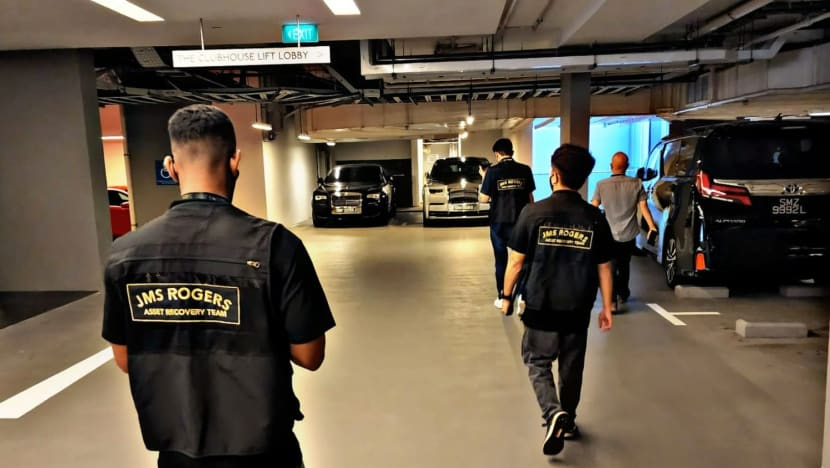 SINGAPORE: A proposed law to regulate debt collection activities with measures like police screening and a licensing regime will help professionalise and remove the stigma attached to the industry, companies told CNA.
"This law will improve the general public's perception that all debt collectors are 'gangsters' and 'loan sharks'," said Rocket Debt Collection founder Christabel Sia.
"It also helps solidify and boost clients' confidence that they are choosing a legitimate and ethical agency." 
Some debt collection firms, however, expressed concerns over the potential impact of stricter regulations on their recruitment and hiring of staff.
"You cannot expect a university graduate to be working in this industry," said Resolute Debt Recovery's director, who asked to be identified only as Alan.
"Our employees are mostly ex-prisoners or inmates... We are unlikely to be able to get (a) licence."
Introduced in Parliament on Monday (Aug 1), the Debt Collection Bill seeks to provide the police with the necessary levers to stem "problematic" debt collection practices.
The Ministry of Home Affairs (MHA) noted in a press release then that over the past few years, there has been a "high number" of police reports against debt collection companies and debt collectors for collecting debts in a manner causing "alarm and nuisance" to the public.
"Debt collection is a legitimate activity that facilitates the fulfilment of financial obligations," said MHA, adding that it would adopt a pragmatic approach towards regulating such activities.
Mr Israel Shankar Ganesh, legal head for debt collection agency JMS Rogers said this statement from MHA nullifies the "widespread misconception that debt recovery activities are illegal".
The proposed law will better protect the general public while also educating them on actions by debt collectors that are prohibited by law, he added.
"Errant debt collection companies would have to face repercussions ... this will indeed assist in filtering out the 'black sheep'," said Mr Ganesh.
IMPACT ON RECRUITMENT
Under the Bill, any person who wants to become a debt collector for a licensed debt collection company will have to be approved by the police. Debt collectors will be subject to screening by the police and must be assessed to be "fit and proper".
For example, the police will consider if the person has committed any offences under a range of laws including the Organised Crime Act, Vandalism Act and Protection from Harassment Act. 
Such screening will require extra effort on the debt collection companies' part, said Mr Ganesh.
"We can definitely foresee a delay in the recruiting process as organisations would have to perform a more meticulous background check on individuals who are looking to join the industry," he said.
For current employees who might fall short of police approval due to previous convictions, Mr Ganesh suggested that companies send testimonials to the authorities outlining the achievements and value of these individuals to the organisation. 
"JMS Rogers has always prided itself in its inclusivity principles and already has plans for such testimonials to be prepared should any of its current employees fail the screening process," he added.
Resolute Debt Recovery's Mr Alan said the proposed law would "put a lot of us out of business because most of these debt collectors are ex-inmates".
"For my company, we are going to close down because both of our directors have a chequered history ... We will not be able to get approval from the authorities to carry on business," he added, noting that his firm has been in the industry for more than a decade.
Accurate Debt Recovery employee Tommy Yong told CNA that that his company's operations would definitely be affected if his staff were to fail police screening.
"Finding staff is not easy," he said. "But licensing and police approval are more important, to keep the public safe."
"LOOPHOLES" TO EXPLOIT?
Mr Yong and other debt collection agencies also said they were worried that under the proposed law, debtors would find "loopholes" or excuses to evade payment, for example by providing their workplace instead of residential address.
The Bill proposes that debt collection companies must not post or display any notices relating to debts on a property that does not belong to the debtor, or at his workplace or any public place.
Debt collectors must also not display or use any physically threatening words, behaviour, writing or signs.
Some companies however said they were unconcerned as they have consistently adhered to a code of conduct established by the Credit Collection Association of Singapore.
The association is the industry's first professional organisation representing the debt collection agencies in Singapore and overseeing their behaviour and training.
Ms Sia of Rocket Debt Collection said she makes sure her company works within the association's guidelines, for instance by watching body-cam footage from daily visits conducted by her collectors.
"Having concrete laws and regulations that will stipulate how exactly debt recovery should be carried out lawfully, will definitely legitimise the industry in the eyes of the public," said JMS Rogers' Mr Ganesh.
The KX Unit debt collection agency's senior manager Shawn Lee hopes that after the law is enacted, people will see debt collectors in a more positive way.
"We are not here to create problems," he said. "We are here to settle problems."