'Seasoned criminal': Prosecution describes former radio DJ Dee Kosh's sexual offences as highly premeditated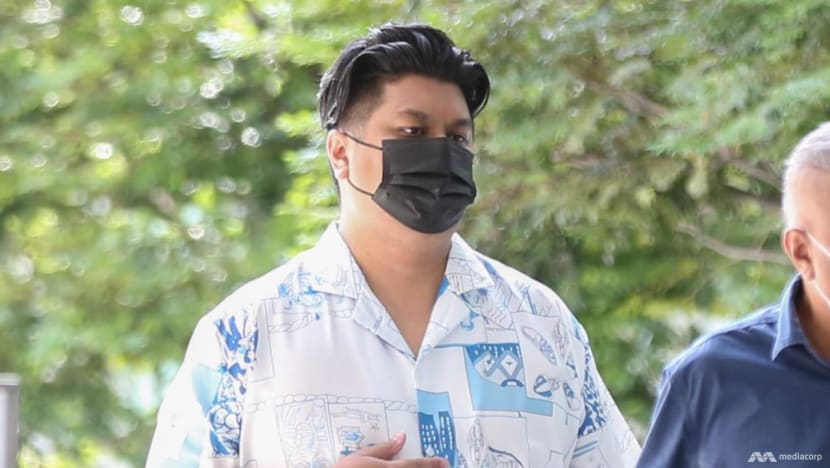 SINGAPORE: The prosecution is seeking five to eight months' jail for former radio disc jockey Dee Kosh, who has admitted to sexual offences involving two teenage boys.
A district court also heard that Kosh's posting of a YouTube video about his case earlier this year was sub judice conduct. The video has been taken down.
Sub judice is a form of contempt of court, referring to actions that can unduly influence court proceedings.
The prosecution and defence made oral arguments on Wednesday (Aug 3), and Kosh will return for his sentencing on Friday.
The YouTuber, named Darryl Ian Koshy in court documents, previously admitted to soliciting paid sexual services from three victims between 2017 and 2020.
Two of the victims were underaged at the time. Kosh, 33, also secretly filmed himself having sex with the third victim, then aged 23 to 25.
All the victims' identities are protected by gag order.
In May, Kosh pleaded guilty to attempting to procure an indecent act from a young person, communicating with a minor to obtain sexual services and making an obscene film.
Four more charges will be considered for sentencing.
The court had ordered Kosh to undergo a psychiatric examination at the Institute of Mental Health (IMH) to assess whether he has a paedophilic disorder and his risk of reoffending.
On Wednesday, defence counsel Johannes Hadi informed the court that Kosh was found not to suffer from paedophilic disorder and that his risk of offending was deemed low.
The lawyer sought a shorter jail term of two-and-a-half months for his client.
"SEASONED CRIMINAL", SAYS PROSECUTION
Urging the court to impose a longer jail term, Deputy Public Prosecutor Lim Ying Min argued that Kosh deliberately sought out minors to proposition even though he knew the victims' ages.
She described Kosh's conduct as highly premeditated and persistent, arguing that he capitalised on his celebrity status and used money to entice the victims.
Ms Lim also said it was aggravating that Kosh took steps to conceal his wrongdoing.
The defence argued that Kosh moved his conversations with the underaged victims to Telegram's "secret chat" and Snapchat because he wanted to be discreet about his sexuality.
Calling this explanation "fanciful" and "an afterthought designed to mislead", the prosecutor retorted that Kosh had "no qualms" about flirting with boys he met on social media, and that this was not discreet behaviour.
Ms Lim also contended that Kosh's admission to the offences was not motivated by remorse.
In doing so, she referred to a more than nine minute-long video that Kosh posted on YouTube on Jan 26. This was a day after indicating he would plead guilty.
Ms Lim said that posting the video was sub judice conduct as his case was still before the courts, and that Kosh took the video down after the prosecution requested its removal.
Reading out extracts from a transcript of the video, she said Kosh used it to mislead the public and lighten his offences to a case of mistaken assumption of the victims' ages, when he in fact knew they were underaged.
Ms Lim also highlighted that after allegations of sexual misconduct started surfacing in August 2020, Kosh's lawyers issued a letter to an alleged victim demanding that he cease and desist from publishing his claims on any platform.
Describing Kosh as a "seasoned criminal skilled at avoiding detection", she added that his status as a first-time offender should be given little mitigating weight as his sexual propositioning of minors took place over three years.
KOSH IS REMORSEFUL, SAYS DEFENCE
In response, Mr Hadi said that Kosh made the video to address news reports and "false rumours" about his case.
He argued that his client was remorseful, and read out other extracts from the video transcript in which Kosh said he had made "terrible mistakes".
Mr Hadi also asked the court to consider the report of the IMH doctor who examined Kosh and found that his risk of offending was low.
Citing the IMH report, Mr Hadi said the reasons for this finding were that Kosh was remorseful, employed and did not suffer from substance abuse or psychiatric disorder.
He also argued that his client was relatively young and had good prospects for rehabilitation.
District Judge Jasvender Kaur said she would deliver her sentence after considering both parties' submissions.
Kosh attended the hearing at the State Courts with his supporters, including social media personalities Wendy Cheng, also known as Xiaxue, and Aiman Haikal.
PROPOSITIONED TWO TEENAGE BOYS
Kosh rose to fame on YouTube and was a presenter on radio station Power 98, a position he held during the offences.
Power 98 has said that Kosh was suspended since being charged in August last year. Before that, he was placed on no-pay leave pending investigations.
The court previously heard that in March 2018, Kosh used his verified Instagram account to message the first underaged victim, identified as A1 in court documents. A1 told Kosh he was under 16.
Kosh then suggested moving their conversation to a Telegram "secret chat", where messages could be set to be automatically deleted and could not be forwarded to others. Kosh would also be informed if a screenshot was taken.
On this platform, Kosh offered A1 S$100 to S$250 in exchange for sexual services.
A1 was shocked and initially thought Kosh was joking, but the man's persistence made him realise it was not a joke.
A1 gradually stopped talking to Kosh after he made another offer of money for sex.
Their conversations took place over four months until June 2018. A1 did not cease communications immediately as he was afraid of offending Kosh.
Kosh saw the second victim, identified as A2 in court documents, outside Takashimaya on Orchard Road during a video shoot in February 2017.
He approached A2 and was later put in touch with him through social media. They communicated over WhatsApp, with A2 informing Kosh that he was under 18.
Kosh suggested that A2 work for him, offering to teach the boy about production work, how to take selfies and increase his confidence.
They started talking and Kosh initiated a "question game". He started to ask the victim questions of a sexual nature.
This led to Kosh telling A2 that he had an "indecent proposal" and suggested moving the conversation to Snapchat, which shares some features of a Telegram "secret chat".
Kosh asked A2 for a shirtless picture so that he could "blackmail" him if he talked. A2 did not send the photo, but assured Kosh that he would not talk.
Kosh then asked A2 what it would take for him to allow someone to perform a sexual act on him. He added that A2 would be blindfolded and would not know the person's gender.
Eventually, Kosh revealed that the person who would perform the sexual act was himself, and offered the victim S$400. He gradually raised this amount to S$2,000 after A2 repeatedly declined.
Their conversation was recorded on video by A2's roommate using another phone.
SECRETLY FILMED SEX PARTNER
In 2016, Kosh started following the third victim, identified as A3 in court documents, on social media.
They started chatting and Kosh invited A3 to his home. The victim agreed as he thought it might lead to a recruitment opportunity at Kosh's production company.
At Kosh's home, they chatted for a while before going into the bedroom, where Kosh performed a sexual act on A3.
After this, A3 continued to go to Kosh's house to hang out and engage in paid and unpaid sexual acts from 2016 to 2020.
On one of these occasions between 2016 and 2017, Kosh used a hidden camera to film them having sex without the victim's knowledge or consent.
None of the victims reported the offences to the police immediately, as each thought he was the only victim and was afraid of going against "a celebrity with a large following", said the prosecutor.
Allegations of sexual misconduct by Kosh surfaced online in August 2020, when a man posted on Instagram that he was sexually harassed by Kosh.
Shortly after, more victims came forward on social media. Kosh initially denied all the claims, but later addressed them on social media, admitting that there was some truth to them.
The victims realised that they were not the only ones targeted by Kosh, and A1 made a police report on Aug 16, 2020. Kosh was arrested on Oct 5, 2020.
Kosh could be jailed for up to five years, fined up to S$10,000 or both for attempted sexual exploitation of a young person under the Children and Young Persons Act.
For communicating with the purpose of obtaining sexual services of a minor, he could be jailed for up to two years and fined.
The penalty for making an obscene film is a jail term of up to two years and a fine of between S$20,000 and S$40,000.