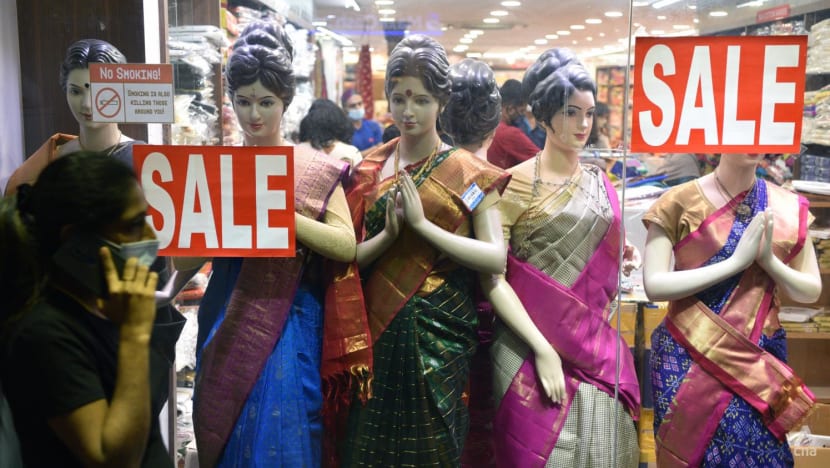 SINGAPORE: Though Deepavali is just around the corner, businesses in Little India – traditionally the heart of festivities – say that sales this period have remained subdued amid ongoing COVID-19 restrictions.
Crowds have also paled in comparison to the festive period last year, when there were fewer restrictions on social gatherings, said the stallholders that CNA spoke to.
Singapore's COVID-19 restrictions under the Stabilisation Phase were originally scheduled to last until Oct 24, but have been extended for another month, covering the Deepavali holiday which falls on Nov 4. Under the rules, social gatherings are capped to two a group.
Ms Kathija, who sells festive cookies and snacks under the brand Alisa Mahal, said of the thinner crowds: "Last time, the whole family would come. Now it's only one person coming. You can see the difference."
Her sales have dipped 30 per cent compared to a year ago, and are just half of what they were pre-pandemic.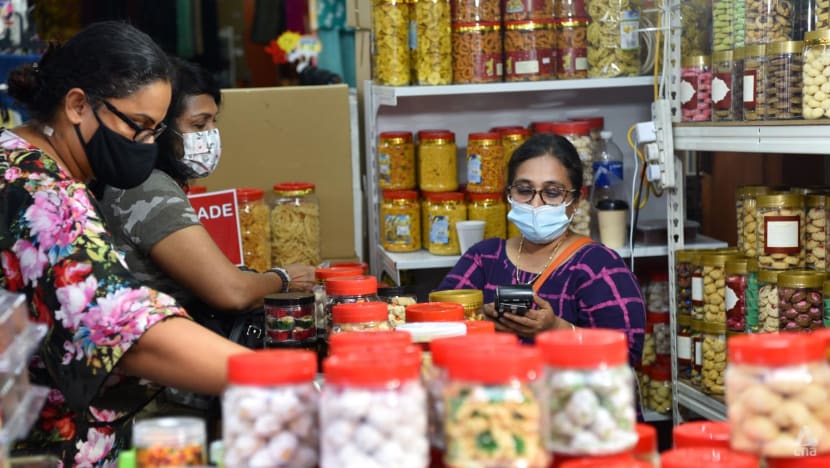 "First of all, (people) are afraid to go out. And I also think that money is an issue because a lot of people are not working, so they just buy smaller bottles, and then they just buy for prayers."
She added: "The festive mood is there, but because of low budgets and the cases are going higher and higher, everybody is worried."
CROWDS THIN OUT EARLY
Mrs Rai, who runs a boutique in the area named Amba Ji, added that sales have been poor as customers have been "very hard-pressed".
"You say it's S$30 – they'll say S$20 can or not? … People are so hard-pressed. They have no job, no money, how to spend money when they have no money?"
Adding that the area has been "quiet" in the lead up to Deepavali, Mrs Rai said the stall now closes around 9.30pm, much earlier than in the past.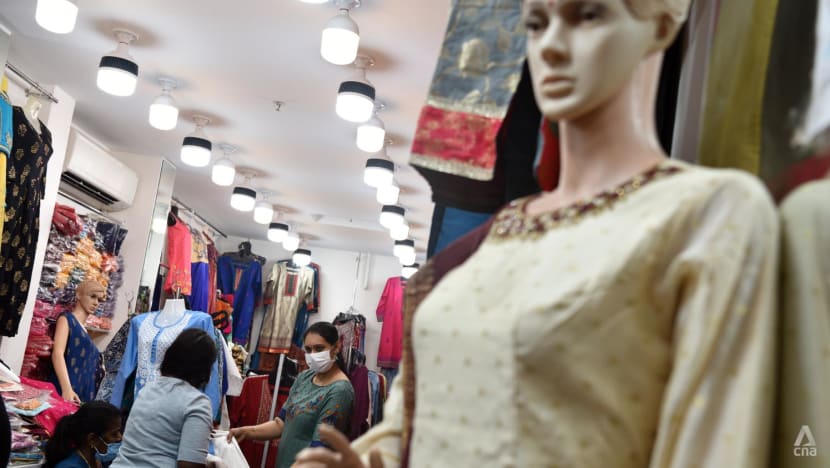 For Ms Prema T, who helps run Jothi Store & Flower Shop, footfall in the daytime is "still okay".
But she echoed: "Now (past 9pm) it's already a bit slow. Last time, until 11pm, 12am, you could see the bus stops were full of people."
"I think a lot of them are quarantined or maybe they are just scared to go out."
The store, a fixture on Campbell Lane, is also facing a manpower crunch because they cannot bring in workers, and stock delays have left them little time to properly set up, Ms Prema said.
With a few days to Deepavali, sellers like Ms Kathija say they are "praying for the best".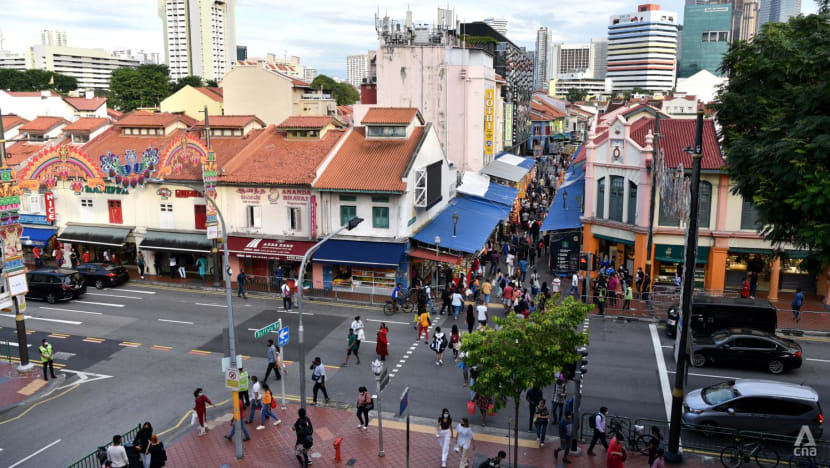 "SOMETHING WE LOOK FORWARD TO EVERY YEAR"
Though stallholders say footfall has fallen, the streets of Little India were bustling when CNA visited on Friday (Oct 29) evening.
Crowds meandered through Campbell Lane, browsing through colourful rows of flower garlands, racks of vibrant clothes and an assortment of decorative and prayer items.
One visitor, Priyanka Rajan said: "When you're here, I think the mood gets to the next level.
"It's something we look forward to every year. With COVID, things are little different, but we're just making the best out of it."
Another visitor, who only wanted to be known as Madam Bindu, was shopping for clothes and prayer items with her family.
Her strategy for staying safe: "We plan our movements, what we want to buy … and then fast one and then leave. We don't intend to spend so much time here."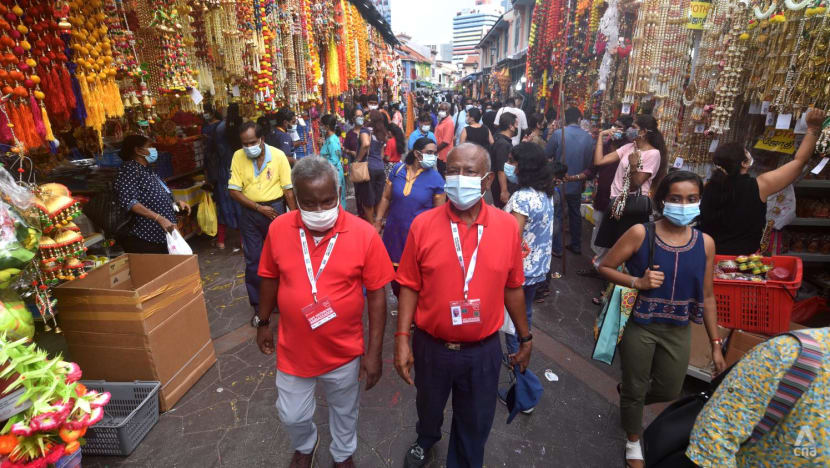 ENFORCING SAFE DISTANCING
Numerous safe distancing ambassadors (SDAs) were also seen making their rounds – including Mr Pavaday Sivaraj, 67, and Mr Sokalingam Alagasamy, 61.
Having covered the Little India precinct for about one and a half years, the two SDAs have become familiar with stallholders in the area, they said.
Mr Pavaday said: "When we detect something is violated … we will look for the person in-charge and explain to them: 'Your stall is very small. You're not maintaining the 1m social distancing'."
"And they will comply. Immediately they take action, they flush some of their customers out and they have to wait outside."
Amid thicker crowds during the Deepavali period, Mr Sokalingam added: "More people (means) more advisories need to be dished out, but it's still under control.
"It's not the same case compared to last year … People were new to wearing masks, new to all these safe management measures. So now that they know, it's a lot easier for us."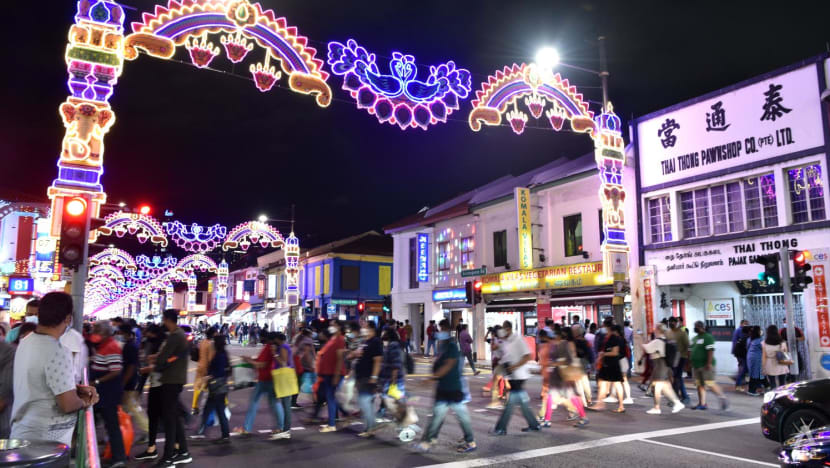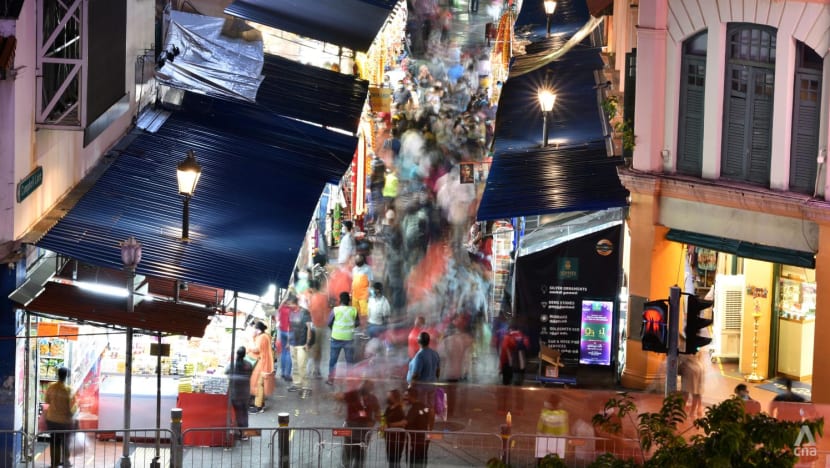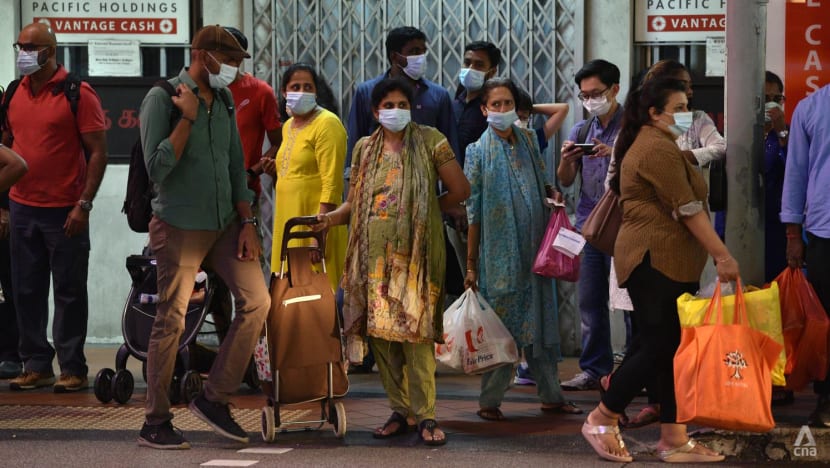 To manage the influx of visitors in the run-up to Deepavali, authorities will block off a popular pedestrian crossing at the junction of Campbell Lane and Serangoon Road between 6pm and 1am from Oct 29 to 31.
This crossing will also be closed from 6pm on the eve of Deepavali (Nov 3), to 2am on Deepavali itself.
Pedestrian traffic will be redirected to two other crossings at Sungei Road and Dunlop Street to prevent choke points during peak periods, said the Singapore Tourism Board.
While the thinner crowds and sales are a reminder of COVID-19's impact on festivities, stallholders like Ms Prema remain upbeat.
She said: "The festive mood is there no matter what, as it is a once-a-year thing."