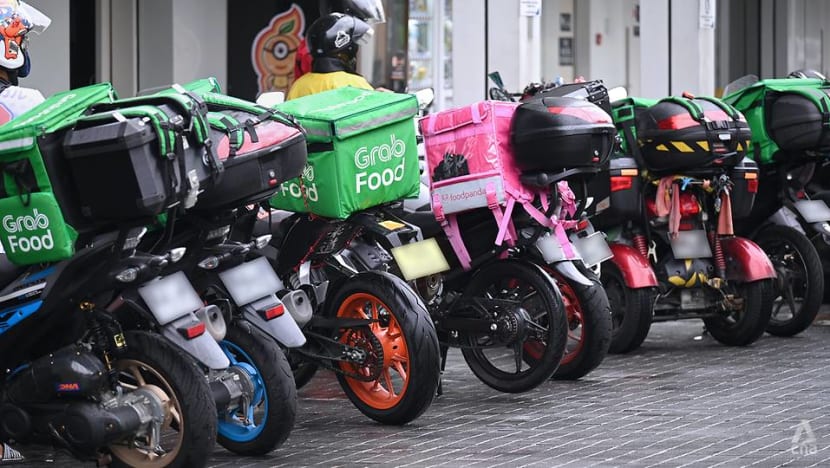 SINGAPORE: Delivery workers welcomed comments made by Prime Minister Lee Hsien Loong acknowledging the struggles they face, and said that more can be done to improve their livelihoods.
Suggestions such as Central Provident Fund (CPF) contributions, union representation and a basic salary could be potential ways to ease their burden, some said.
In his National Day Rally address on Sunday (Aug 29), Mr Lee touched on the welfare of delivery riders.
He noted that these workers "lack the basic job protection" that most employees enjoy because they have no employment contracts with the online platforms they work for. 
It is important to address this to give them more secure futures, said Mr Lee. The Ministry of Manpower (MOM) is looking into the issue and will be doing consultations, he added.
Mr Muhammad Ruzhael Marwazi, a part-time Grab delivery driver, said it felt good that riders were recognised for their contributions.
"I honestly felt quite moved. Because after COVID hit, people were like: 'Oh delivery riders, you guys are our heroes.' There was this big change in the way people saw delivery riders, but at the end of the day, nothing much was being done. We still had the same challenges ... nothing changed."
Mr Ruzhael's award-winning short film Kejar, which told the story of a delivery rider, was cited by Mr Lee during his speech. The film was directed by the second-year student at the Institute of Technical Education (ITE) College Central, who has been a part-time delivery driver since he was 18.
Another delivery rider, who only wanted to be known as Mr Zheng, told CNA he was looking forward to seeing "positive changes" following Mr Lee's comments.
"(It was) good in a way that delivery riders are recognised and (the) Government has plans to improve riders' well-being," he said. "Looking forward to seeing positive changes to the sector without affecting riders' earnings and job flexibility."
One way things can be improved is through the formation of a union, Mr Zheng noted. 
As food delivery riders are not contracted employees, they do not have a union of their own.
However, they come under the umbrella of the National Delivery Champions Association, which represents freelancers whose main source of income is from food or package delivery, regardless of the mode of transport.
"Union representation may help to voice concerns from the riders who are on the ground all the time," Mr Zheng said. "However, the union should be made up of riders themselves because they truly understand the job as a rider and can speak on behalf of fellow riders."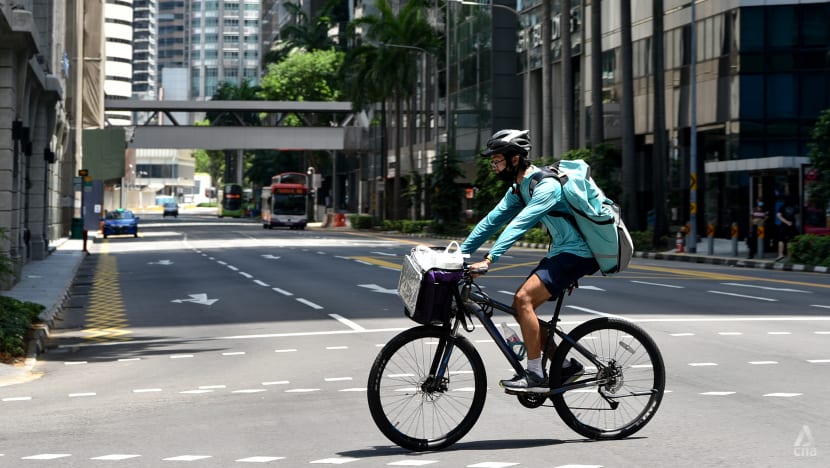 In a Facebook post on Monday, Senior Minister of State for Manpower Koh Poh Koon said an advisory committee has been formed to study how to support self-employed people who work for online platforms – specifically delivery workers, private-hire drivers and taxi drivers.
"The advisory committee will look into strengthening protections for this group of workers, such as improving their retirement and housing adequacy, ensuring adequate work injury compensation and allowing union representation," Dr Koh said.
"This is to ensure a fairer and more balanced relationship between platforms and platform workers."
Mr Zheng, a part-time rider who has worked for a number of food delivery platforms, said that the lack of CPF contribution is one downside of his job. But he also noted that some riders need the cash for immediate expenses and a CPF contribution could affect that.
"CPF contribution ... is extremely useful for public housing and healthcare. However, it should not be made mandatory as some riders may need the cash for family commitments and that few hundred dollars CPF contribution will significantly reduce their take-home earnings," he said.
Full-time rider Chung Thi Yen noted that the option for CPF contribution from both riders and employers would be beneficial. This is especially since both Mdm Chung and her husband are delivery workers.
"While this job gives us flexibility, we have young children. CPF allows one to save money, which can be used to pay things like medical bills," she explained.
Riders who spoke to CNA also noted the irregularity of demand when it comes to orders and suggested that a minimum daily guaranteed earnings per rider.
"No two days' earning(s) are the same and it depends on the demand for riders on the day. Over the last couple of years, riders' have experienced reduction in earnings probably due to more riders competing for the same size of cake," said Mr Zheng.
"On some days, earnings drop 30 to 40 per cent despite working the same number of hours. A reasonable minimum daily guaranteed earnings would be ideal to make up for the riders' 'bad day'."
Mr Ruzhael agreed. He noted that the earnings can be "very inconsistent".
"You might earn S$100 today, but earn S$80 tomorrow … So if there was any way the Government could come in and help to balance it out, so that the full-timers earn a good base amount for them to survive on, that would be good," he said.
"That's one of the biggest struggles for riders. You're at the mercy of the season."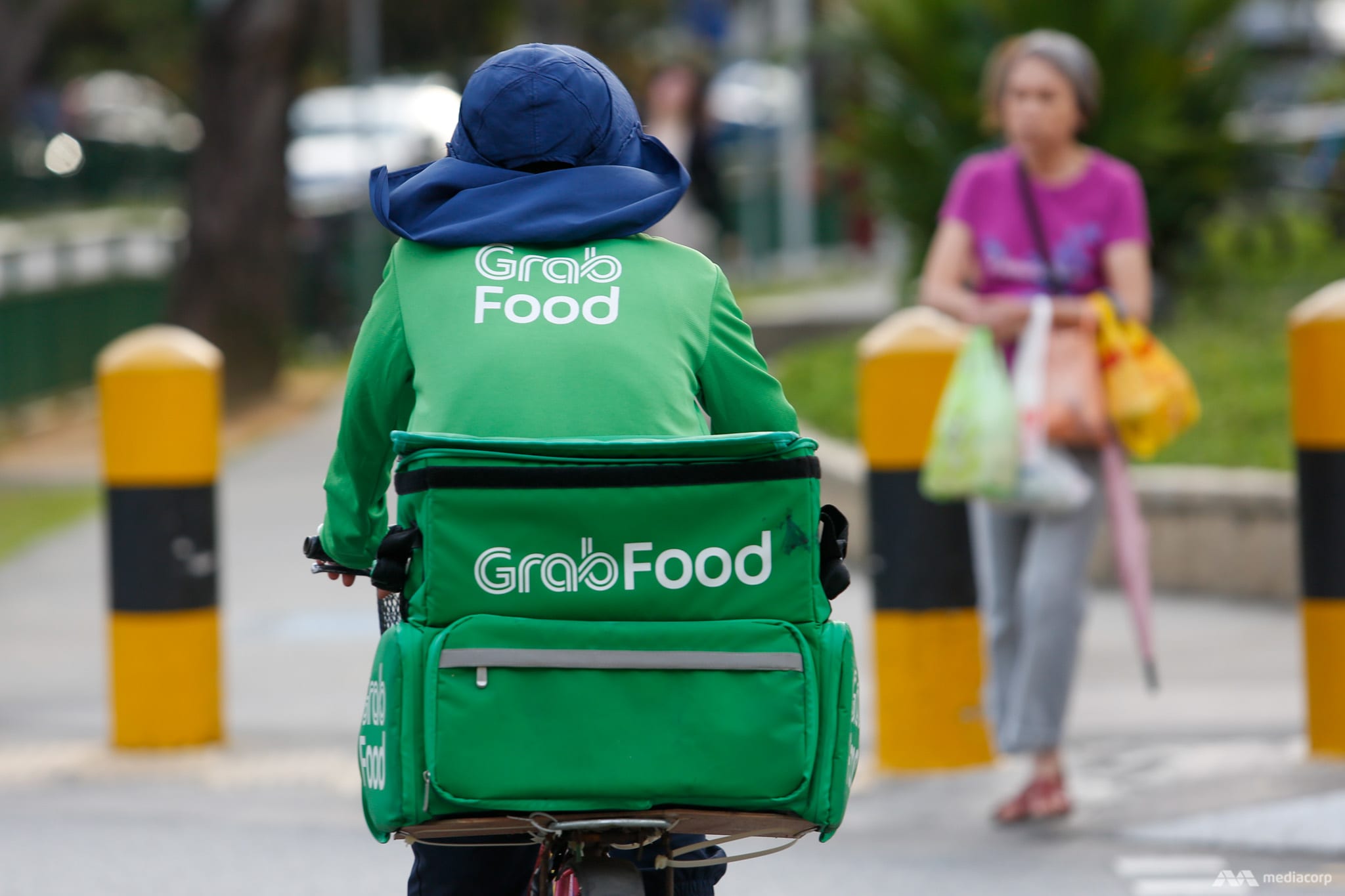 In response to queries from CNA, Grab said it was supportive of the recently announced moves by Mr Lee and has discussed such issues with the National Trades Union Congress (NTUC) and Manpower Ministry.
"As we further discuss how we can improve protections for this group of workers, we would have to find a way to work in a tripartite manner to take into account the unique nature of gig workers and the current state of industry protections," said a Grab spokesperson.
Gig workers enjoy many flexibilities that employees do not have, Grab said. These include being able to move between platforms, stop work at any time and determine their own working hours.
A set of common standards across the industry could ensure these workers receive similar protection even if they move between companies, the spokesperson added.
Deliveroo said riders are "important partners" in its business and their welfare is the company's "top priority".
"As a company, we continuously explore ways to provide greater protections and benefits for self-employed riders while ensuring that they can enjoy the flexibility that comes with working with us.
"We are always open to new ideas about strengthening rider engagement. However, any such mechanism should respect the fact that riders are self-employed and overwhelmingly want to remain such," it said.
Foodpanda also said its riders value the "flexibility and autonomy" that comes with an "independent (gig) working model". 
"The bulk of our riders are transient and are on the platform for a brief period of time as a supplemental gig – the gig economy is unique because of its flexibility and freedom for riders to choose what arrangement works for them," said a spokesperson for the food delivery service.
"Job losses have been much higher than other years due to the pandemic and we've been able to provide temporary income-earning opportunities for thousands of retrenched workers. The flexibility we offer individuals to freely enter and exit the gig has been a key lifeline for retrenched workers to find critical temporary income relief at a time where the job market is uncertain."