Roaring demand for lion dance performances; troupes turning down bookings due to labour constraints
One troupe facing labour issues has even raised wages by 30 per cent, just so it can meet its confirmed bookings.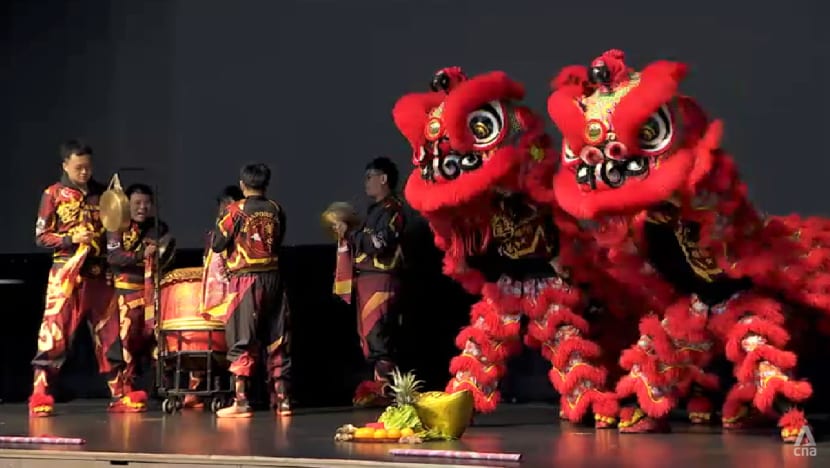 SINGAPORE: More Singapore homes are ushering in the Chinese New Year with a roar. 
The demand for lion dance performances has gone up by about 30 per cent, compared to the pre-pandemic years.
But with many lion dance troupes struggling to recruit new members, they have had to turn down nearly a fifth of booking enquiries this month.
He Xin Lion & Dragon Arts Troupe, for instance, has seen requests for its services rise by 30 per cent this year, compared to the same period before COVID-19 struck.
TURNING DOWN BOOKING ENQUIRIES
The troupe's founder Bernard Tan, said customers "want to get back some of the Chinese New Year feeling" after the pandemic, with some engaging lion dance performances for the first time.
For the first day of Chinese New Year, the troupe could only fulfil a quarter of booking enquiries, he added. "Actually, there's more, but we are unable to cope with the bookings because we don't have enough manpower."
Mr Tan has increased wages by nearly 30 per cent this year, just so his members can deliver the confirmed performances.
"We want to let our members know that we are trying hard," he said. "We have to understand, because most of us have our full-time jobs."
Even so, lion dance troupes have to work around tight budgets. 
Mr Mervyn Neo, a coach at Times Cultural Arts, said its funds are largely for expenses such as props, attire, and rental space. 
"Usually, we don't really earn a lot from the whole Chinese New Year period," he added. 
DIFFICULTIES ATTRACTING THE YOUNG
The troupe faces a similar manpower issue, and is counting on seasoned veterans to get through this peak period.
"Out of my 30 members, about 80 per cent have learned lion dance for more than 10, 20 years. Some even for 30 years. Nowadays, the younger generation might not be really into this Chinese culture anymore," said Mr Neo. 
"Actually, we need to hire more, but it's very hard. We have to deal with this Chinese New Year period with our existing manpower pool."
Lion dance troupes like Times Cultural Arts have been finding ways to bolster their ranks, including attracting more young members through social media.
But even if they are willing, being proficient in the art can take a year of hard work.
Not many are like 23-year-old Nick Lee, who started learning the basics of lion dance from a young age. 
"When I was very young, my grandparents brought me to watch lion dance in the Chinatown area. So I wanted to try, because I found it very cool with all the defying stunts and cool moves," said Mr Lee, who got into the sport at the age of nine. 
These days, the full-time national serviceman would usually head straight to training as soon as he books out of camp.
"I'm willing to sacrifice my nights to train with my teammates. Youngsters nowadays prefer to play computer games at home," he added. 
"But it'll be good if we can promote this culture and sports to them."