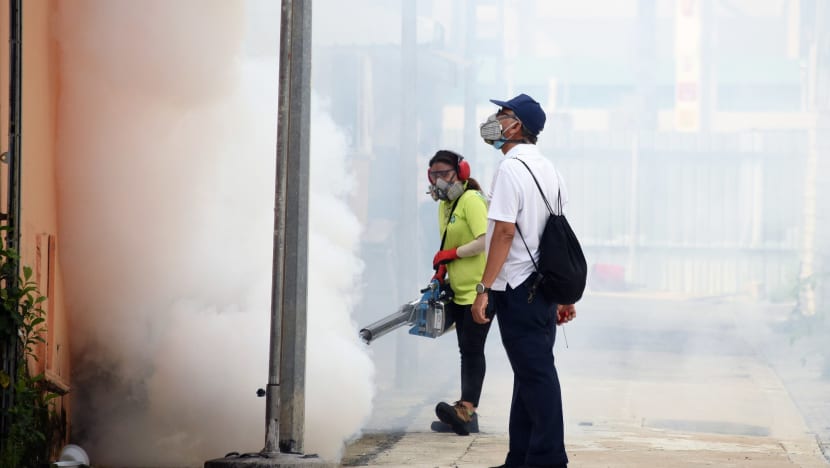 SINGAPORE: Members of the public have been urged to "stay vigilant" in order to prevent a rise in dengue cases towards the end of the year.
Continued vigilance is needed especially as the Aedes aegypti mosquito population in Singapore has increased, the National Environment Agency (NEA) said in an advisory on Tuesday (Oct 26).
The Aedes mosquito population grew by 22 per cent in September this year, compared to the previous month, with the mosquito population particularly high in some areas of the country, said NEA. 
These areas include Geylang Bahru, Jalan Berseh, Kelantan Lane, Kelantan Road, Jelapang Road and Woodlands Street 81. 
More than 4,500 dengue cases have been reported in Singapore since the start of the year, and there are currently 12 active dengue clusters. 
While recent weekly dengue cases have been lower than in the same period last year, the virus "remains a serious public health threat", the agency said. 
The proportion of dengue cases due to a less common strain of the virus has also increased. 
The Dengue virus serotype 3 (DENV-3) has accounted for more than 50 per cent of the serotypes sampled since May this year, NEA said. 
The strain has been detected in 121 of 254 dengue clusters where serotypes were identified this year, including the active 195-case cluster at Florence Road/Hougang Avenue 2. 
The agency added that DENV-3 has now replaced DENV-2 as the dominant serotype in Singapore.
Prior to 2020, DENV-3 had not been the dominant serotype during any major dengue outbreaks in Singapore over the past three decades, said NEA. 
"Population immunity against DENV-3 is low, and more people are susceptible to infection with this serotype," it added. 
Active dengue clusters
Florence Road / Hougang Avenue 2 / Hougang Avenue 2 (Block 701, 702, 705, 706, 707, 708, 709, 710, 711, 712) / Jalan Arif / Jalan Tani / Lim Ah Pin Road / Poh Huat Road / Simon Place / Upper Serangoon Road
Compassvale Link (Block 268C) / Sengkang Central (Block 271B, 272B, 272C)
Poh Huat Road / Robey Crescent
Hougang Avenue 4 (Block 604)
Hougang Avenue 8 (Block 658, 673, 677)
Tampines Street 33 (Block 322, 338, 343)
Chencharu Link
Hougang Avenue 1 (Block 165) / Lor Ah Soo (Block 134)
Hougang Avenue 3 (Block 15, 19)
Hougang Street 92 (Block 941) / Yio Chu Kang Road (Hundred Palms Residences)
Jurong West Street 91 (Block 936, 953)
Lorong 7 Toa Payoh (Block 14B, 15)
The agency also noted that more people are staying in and working at home, which could translate to more "biting opportunities" for the day-biting Aedes aegypti mosquito, potentially increasing the risk of dengue transmission, it said. 
"If left unchecked, the current high Aedes aegypti mosquito population, coupled with circulation of the previously uncommon DENV-3 and a sizeable proportion of people staying in and working from home, would add to the dengue risk this year-end," said NEA. 
The agency urged members of the public to take steps to prevent mosquito breeding. Examples include removing stagnant water by lifting and emptying flowerpot plates as well as overturning pails and wiping their rims. 
NEA has conducted about 523,000 inspections for mosquito breeding habitats islandwide in the first nine months of this year. 
About 14,300 such habitats were uncovered and actions were taken against 5,500 premise owners for mosquito breeding. 
The agency said it continues to conduct targeted inspections at areas with higher mosquito populations and has stepped up operations at dengue clusters.