Weekly dengue cases fall to lowest in 'historic outbreak year', NEA urges continued vigilance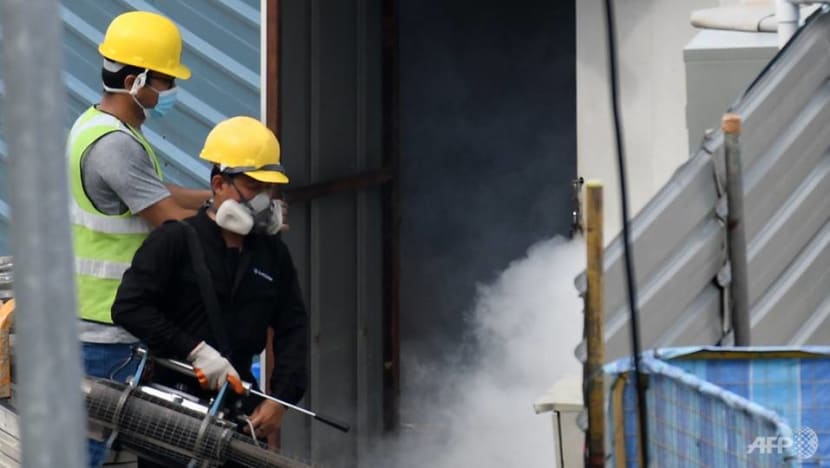 SINGAPORE: Weekly dengue numbers in Singapore have fallen to the lowest this year, with 228 cases reported in the week ending Dec 12, said the National Environment Agency (NEA) on Friday (Dec 18).
This is seven times lower than the peak of 1,792 cases in July and the fourth consecutive week where case numbers have stayed below 300.
However, the weekly numbers of between 200 and 300 are still "relatively high" for this time of the year, NEA said as it urged continued vigilance in eradicating mosquito-breeding sites.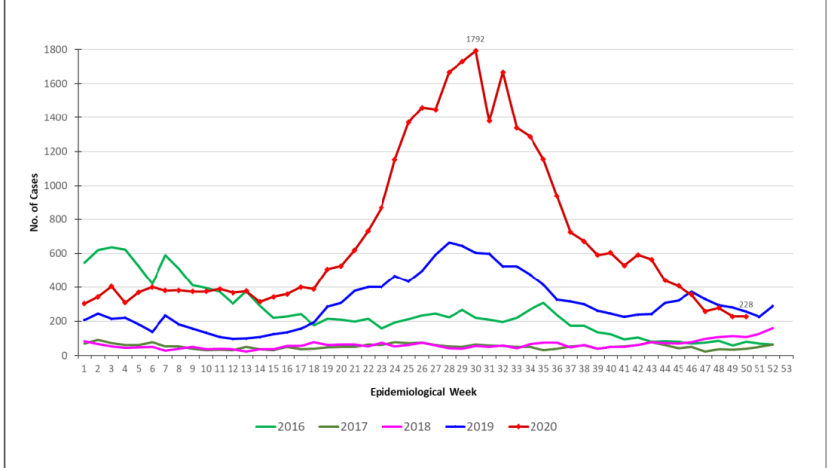 Singapore's tally of dengue cases hit a record in August, surpassing the high of 22,170 cases in 2013.
As of Thursday, 34,844 dengue cases have been reported this year.

Describing 2020 as a "historic dengue outbreak year", NEA said that it was caused by a "confluence of factors" including the effects of the COVID-19 pandemic and the presence of the less common DENV-3 dengue virus serotype, to which the community has low immunity.   
Weekly cases rose sharply in May shortly after the "circuit breaker" period and eventually peaked in July, noted NEA.
Work-from-home arrangements increased the probability of contact with the Aedes aegypti mosquitoes, while the suspension of work at construction sites led to a tripling of mosquito breeding at these places from April to June compared to January to March, NEA said.
More mosquito breeding was also found in homes, the agency added, suggesting that this was "perhaps due to the challenges faced by residents in juggling working from home, higher housekeeping load and home schooling of children".

"Collective efforts of all stakeholders have helped to bring this year's dengue outbreak under control," NEA said.

CONTINUED VIGILANCE URGED
While weekly numbers have fallen and are lower compared to the same period last year, NEA pointed out that the case count is still about three times higher than the average number reported during this time of the year between 2016 and 2018.
"Two other indicators that bear watching are the 20 per cent increase in (the) adult Aedes aegypti mosquito population in November - there are currently over 230 residential areas with high Aedes aegypti mosquito populations - and the relatively higher proportion of DENV-3 and DENV-4 serotype cases which are less common in Singapore," the agency said.
"We therefore urge everyone to stay vigilant against the dengue threat, and to sustain the good efforts and efforts so far in stemming dengue transmission."

NEA has closed 98 per cent of dengue clusters reported this year, or 3,003 out of 3,060, although it cautioned that large clusters remain at Admiralty Drive, Bukit Batok Street 21, Geylang Road and Tampines Street 11.
Between January and November, NEA conducted about 954,000 inspections for mosquito breeding across Singapore, including 6,900 checks at construction sites.
About 21,500 mosquito breeding habitats were discovered during the inspections, and 7,060 enforcement actions were taken against owners of premises where mosquitoes were found to be breeding.
STAYCATION PRECAUTIONS
NEA also urged those going on staycations to mosquito-proof their homes.
This can be done by covering toilet bowls, floor traps and the overflow pipes of cisterns, adding Bacillus thuringiensis israelensis (Bti) insecticide to potential breeding sites, as well as clearing debris and blockages from gutters and drains.
Home owners should also turn over all water storage containers and wipe the rims dry, and ensure that flower pots, plates and trays do not collect water.
"The risk of dengue is real given that the virus is endemic in Singapore, the historic dengue outbreak seen this year and with a sizeable proportion of residents still working from home," the agency said.
"Residents, especially those residing in dengue cluster areas, should do their part and carry out the three protective actions against dengue - spray insecticide in dark corners around the house, apply insect repellent regularly and wear long-sleeve tops and long pants."