Dengue vaccine Dengvaxia approved for use in Singapore
The vaccine is approved for use only for those aged between 12 and 45, and requires three doses to be administered over 12 months, says the Health Sciences Authority.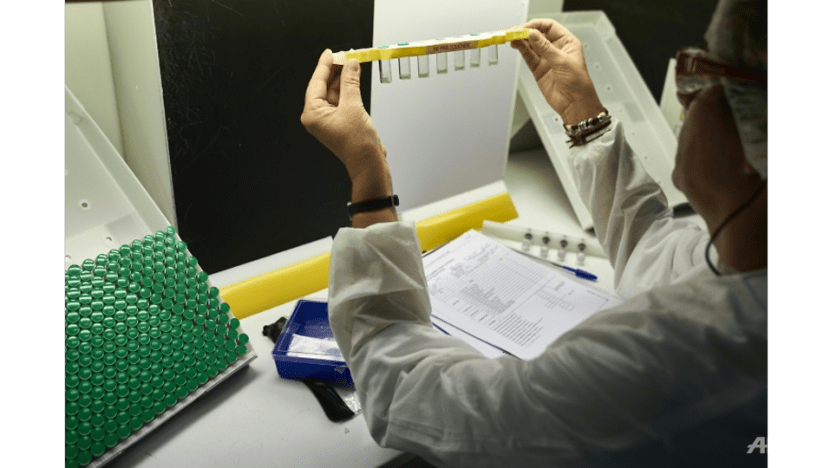 SINGAPORE: A vaccine for the dengue virus has been approved for use in Singapore and is expected to be available in a few months' time, the Health Sciences Authority (HSA) said on Tuesday (Oct 4).
Developed by Sanofi Pasteur, the Dengvaxia vaccine requires three doses to be administered over 12 months by injection. It is effective for up to four years after the third dose.
Dengvaxia is the first available vaccine against all four strains of dengue. It is currently approved for use in nine other countries, including Indonesia, Thailand, the Philippines, Mexico and Brazil.
It is currently approved for use only for those aged between 12 and 45. Those outside of the approved age group but who want to be vaccinated will have to seek a doctor's advice, the HSA said in a media briefing.
In response to Channel NewsAsia's queries, vaccine maker Sanofi said that, following HSA's approval, it is completing the local administrative processes with the Singapore authorities and aims to make the vaccine available "as soon as possible".
Sanofi added that the price of the vaccine in a private healthcare setting would vary between clinics and hospitals, as it "may include additional fees for related services charged by the private physician or clinic."
VACCINE MORE EFFECTIVE IN THOSE WITH PREVIOUS DENGUE INFECTION
A total of 24 clinical studies with more than 41,000 subjects were conducted by Sanofi. Dengvaxia was approved by Singapore authorities after a review to ensure that the vaccine is relevant for the Singapore population and its benefits outweigh the risks, the HSA said.
Two groups of experts from HSA's medical advisory committee and dengue expert panel – comprising doctors and infectious diseases specialists – were consulted during the review.
The 24 studies reviewed include two major clinical studies conducted in Latin America and Asia on individuals between two and 16 years old, and 22 supportive studies assessing the antibody levels in individuals following vaccination.
Overall, the vaccine was effective in reducing dengue illness by 60 per cent, and reducing severe dengue illness by 84 per cent.
The vaccine was also most effective in those who already have baseline immunity due to a previous dengue infection. It was 81 per cent effective in those who had dengue previously, compared to 38 per cent in those who had not been infected before.
However, the studies also showed that the vaccine is less effective against the DENV-1 and DENV-2 strains of dengue, which are the predominant strains in Singapore.
VACCINE SAFE, WITH MINOR SIDE EFFECTS: HSA
The vaccine was found to be safe and "generally consistent" with the safety profile expected of a vaccine, HSA said.
"All vaccines can cause side effects. Most of these are minor – for example, a sore arm or low-grade fever – and they usually go away within a few days."
However, in vaccinated children between nine and 11 years old, the studies showed a 30 per cent increase in risk of hospitalisation and three times the risk of severe dengue. Hence the vaccine has not been approved for use in younger children, the HSA said.
There was also "insufficient evidence" on the safety and efficacy of the vaccine in those above 45 years old.
"HSA is prepared to review the approved age range when more clinical data becomes available that reduces the concern on those under 12 years old, and that provides more data on those above 45 years old," it said.
NOT PART OF NATIONAL VACCINATION PROGRAMME
The vaccine has been shown to be more effective in countries where there is a high prevalence of dengue, the Ministry of Health (MOH) said.
"Singapore has relatively low prevalence of dengue infection compared to other Southeast Asian countries. For this reason, the vaccine will be less effective here," it said.
The ministry's expert committee on immunisation does not recommend rolling out Dengvaxia vaccination as a national programme as it "would not be a clinically and cost-effective means to tackling dengue infection in Singapore".
As such, there will be no subsidies or Medisave usage for those who choose to take the vaccine, MOH added.
Those interested in getting the vaccine should consult their doctors on the benefits and risks of the vaccination, said HSA. The authorities will also distribute educational materials to doctors and patients detailing the approved indications and limitations of the vaccine, particularly for those without a previous dengue infection.
But infectious diseases specialist Dr Leong Hoe Nam from Mount Elizabeth Novena Hospital cautioned against rushing to get vaccinated, saying that the vaccine will not provide immediate protection against a dengue outbreak.
"If there's a cluster happening in your household you shouldn't rush to get vaccinated, as you will get full protection only after one year and three shots," he said. "So your dengue cluster will happen and probably burn out within a month or so, and during that time you will not have the immunity required from the dengue vaccine."
"You may, however, want to take up the vaccine for future protection," he added.