Determination and a desperate daughter's plea: The ban mian seller who turned her life around
Alone, penniless and with a young child to take care of, Mdm Vivian Leong was once on the brink of suicide. But a desperate plea from her daughter brought her to her senses - and on the path to open her own ban mian stall.
SINGAPORE: She moves quickly and with assurance around her tiny stall: Kneading the yellow dough, adding a sprinkle of flour before passing it through a noodle-making machine. Once, twice, until a clump of hand-made noodles lands on the counter.
It is a flurry of activity for Mdm Vivian Leong, who is hard at work at her ban mian stall tucked away in a coffee shop at Holland Close (The stall moved to the Central Business District area in 2019). 
She keeps a watchful eye on the handmade noodles as they are dunked in boiling water, waiting until they are cooked to just the right texture before transferring them to a bowl and adding a dash of sauce, made from her mother's traditional Hakka recipe. A handful of braised mushrooms, minced meat, blanched vegetables and a poached egg – if requested – are tossed in, and another hungry customer is served.  
Food bloggers have come and gone away satisfied. Laminated food reviews and photos of the 42-year-old Mdm Leong posing with variety show hosts line the front of her stall. Each bowl of handmade ban mian is lovingly made, says Mdm Leong with a smile, and customers can tell by how it tastes.
She is worlds apart from the person she says she used to be: Abandoned, depressed and on the brink of suicide.
And it was a plea from her daughter that brought her to her senses.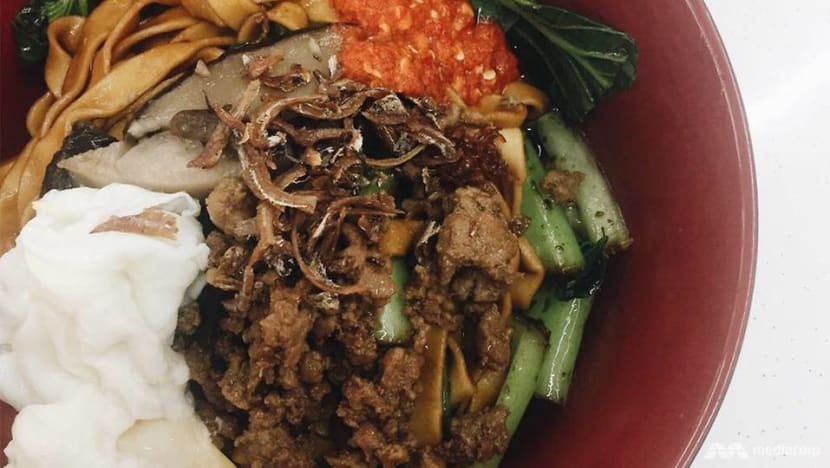 A DESPERATE PLEA
She still remembers the day her world turned upside down. It was Apr 1, 2012, and she was in the middle of cooking curry chicken when the phone rang.  
It was her husband, calling from Shanghai where he was based, asking her for a divorce.
"I was completely taken by shock, and my mind was a blank," she recalled. "I asked him why, and he said that our personalities were not a good fit for each other.
"I felt so misunderstood and wronged," she added. "For so many years, I had tried my best to be a good wife to him … taking care of him, looking after our daughter and loving him the best that I could.
"I loved him so much, and I felt that the past few years of my life was all for nothing."
She later found out that he had found another partner and wanted nothing more to do with Mdm Leong and her daughter Ivory, who was then seven years old.
Away from her family in Malaysia, Mdm Leong found herself alone and penniless, with a young daughter to take care of. "I really lost all hope, and felt that there was no more meaning to my life," she said.  
Three weeks later, she was standing on a chair at a window in her flat, looking at the ground below.
She remembers crying to her daughter, who was kneeling down begging her not to jump. And she also remembers the words her daughter said to her that eventually led her to turn her life around.
"Mummy, please don't jump. If you jump, I will go down with you," she recalled Ivory saying to her. "When I heard that, my heart was so painful, and I knelt down, hugging her and crying."
"Mummy, don't worry," Ivory had said as she hugged her mother. "The ban mian you make is very good. If you open a stall, many people will come and eat."
WORKING HER WAY UP
The very idea seemed absurd to Mdm Leong. How could she, a penniless single mother, open her own food stall?
"To me, it was impossible," she said. "I had no savings and had never worked here (in Singapore) before. The skill I had was to cook for my friends and family."
And indeed, it was a long, arduous journey for Mdm Leong. She started from the bottom, washing dishes at a coffee shop and worked her way up step by step: From cutting chilli and vegetables at the cooked food stall, she progressed to writing receipts, taking customers' orders and recommending dishes. Finally, when she was ready, she was "promoted" to keeping the books.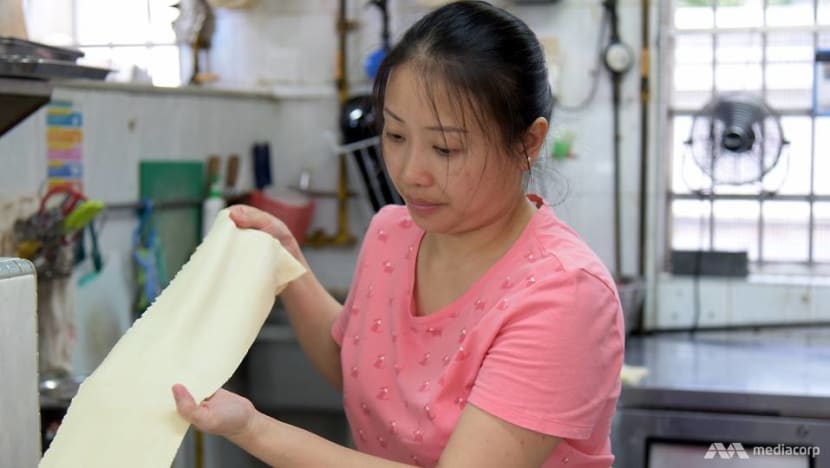 "I was so heartened," she said. "I managed to work my way up, and get experience. This, to me, was the foundation of this ban mian stall."
She is also grateful for the kindness of a coffee shop owner she met.
"I think he saw how hard I was working at the cooked food stall, and he asked me to come to his coffee shop and take over an empty stall there," she said. "I didn't have to pay a deposit. Instead, I gave him S$50 a day from my earnings."
In late 2015, two-and-a-half years after she contemplated suicide, Madam Leong Ban Mian officially opened for business.
PEACE IN HER HEART
Initially taking up just half a stall unit, the business has gone from strength to strength, thanks in no small part to Mdm Leong's dedication and hard work. Today, she has expanded to take over the whole stall, and now offers yong tau foo and Thai food as well.
She was over the moon, she says, when her ban mian stall opened. But the daily grind is far from a walk in the park.
"Every morning, I am up at 6.30am to get my daughter ready for school. Then I have to open my stall, make the noodles, prepare the chilli, cut the ingredients ... all before my stall opens at 10am."
Her break time, taken in the mid-afternoon when the lunch-time crowds have tapered off, is spent taking care of her daughter and helping her with her homework, before heading back to her stall to serve the dinner crowd.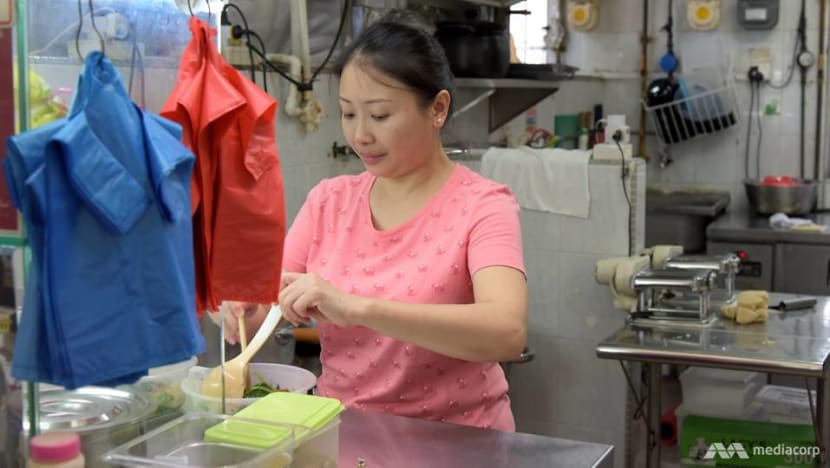 "Sometimes, I feel like my body really has no strength to continue, especially when I get sick," she said. "When I really have no choice, I will close my stall for one or two days, quickly take some medication, see a doctor and hope that I can get well."
She admits that at times, she also questions her choice. "Late at night, I sometimes ask myself. Why do I want to continue, especially when I only make enough to cover my expenses? What if my daughter wants to go to university, or if I want to buy a house?"
"But God tells me that my journey has not ended yet. And I feel peace in my heart."
The past few months have also been particularly stressful for Ivory, who is entering secondary school next year. With her PSLE results, which have qualified her for the Normal (Academic) stream, she hopes to go to St Margaret's Secondary School. 
It is clear that Mdm Leong has high hopes for her daughter. And ultimately, when her hands are aching and her back is sore, that is what keeps her going.
"My daughter tells me, no mee hoon kueh, no life. No mee hoon kueh, no home, and no love," she said with a chuckle. "And that, to me, is a miracle: God's words, and my daughter's encouragement. God guides me and shows me the way. I really thank God."