Device to keep tabs on blood sugar levels without finger-pricking available in Singapore
Doctors say that the device could help in the war on diabetes, as finger-pricking tests may influence patients' decision not to monitor their blood sugar.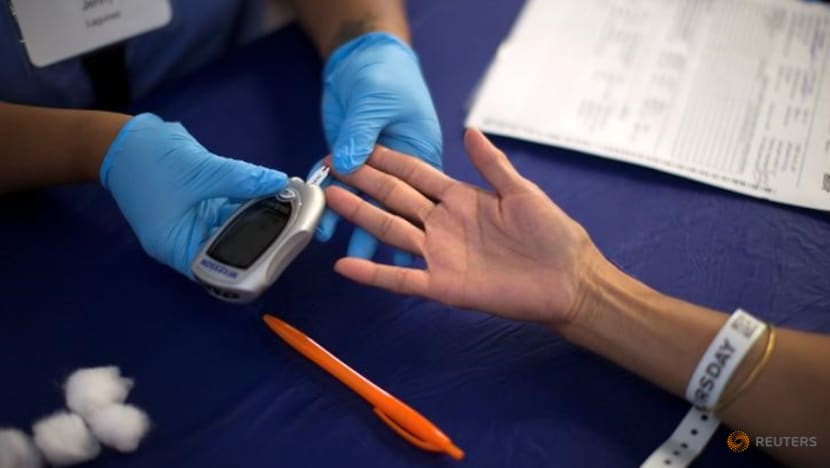 SINGAPORE: When Mr Kevin Lim was diagnosed with diabetes in June last year, the 40-year-old wanted to do all he could to improve his condition.

The first step would be to start monitoring his blood glucose levels so he could get a better sense of the severity of his diabetes. With that, however, he faced the inevitable task of pricking his finger almost daily - or so he thought.

Through some research, Mr Lim, who works in an innovation lab, discovered a flash glucose monitoring device online that he could buy and use at home that could do away with the need for pricking his fingers.

Self-monitoring for diabetes patients typically involves pricking the finger for a drop of blood that has to be transferred onto a test strip and read with a small machine.

The flash glucose monitoring device measures the glucose level of tissue fluid through a sensor about the size of an old Singapore 50-cent coin. The sensor is attached to the back of the upper arm by painless self-insertion and an adhesive pad. Readings are made by scanning the sensor with a separate machine. 

The sensor that can be worn for up to two weeks and holds eight hours of 15-minute glucose readings at any time is water-resistant. Mr Lim ordered it on eBay, but the device, that for a few years has been available in the US and Europe, landed in Singapore in May this year.
With the device, Mr Lim has been able to observe which foods cause his blood glucose level to spike, which activities help him to maintain a healthy blood sugar level, and whether the medication he was prescribed were effective. In diabetic patients, high blood glucose levels after a meal has been linked to heart disease.

The monitoring being more discreet than finger-pricking is something Mr Lim appreciates. "It's demoralising to scare colleagues and friends when you've (got) to take out the kit to do traditional finger-pricking," he said.
Financial planner Sharon Ho, 36, likes that even her fiance can access her readings that can be uploaded onto a computer.

Vice-President at the Diabetic Society of Singapore Dr Kevin Tan said that the biggest issue with the finger-pricking approach is pain, which either prevents a person with diabetes from monitoring his blood glucose or makes him less keen to monitor more often. Type 2 diabetes patients typically monitor themselves a few times a week, he said.

"In the end, all he gets are snapshots of his daily blood glucose variations which does not give him a comprehensive understanding of his condition," added Dr Tan, who is also an endocrinologist at Mount Alvernia and Mount Elizabeth hospitals.

DOCTORS SAY NEW MONITORING SYSTEM HAS SEVERAL BENEFITS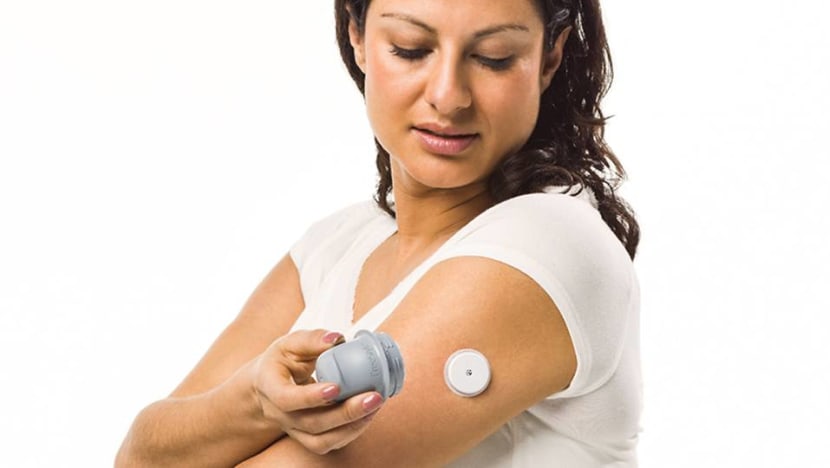 Senior consultant in the division of Endocrinology at the National University Hospital Professor Tai E Shyong said that flash glucose monitoring could be more informative than HbA1c reading, which is the measurement of an average of about three months' worth of blood sugar levels.
When a patient is told "your HbA1c reading is high", he has to think back about what happened in the past three months. "I don't know about you but I have problems remembering what I had for lunch yesterday, never mind what I ate on a daily basis the last three months," he joked.

While HbA1c is a good measure of how good the blood sugar is controlled, it provides "very little" information to the patient as to what he or she is doing in terms of diet, exercise and medication and how it affects the blood sugar, he said.

"Inevitably, when I see my patients and give them 'bad news' about their HbA1c reading, I am not really able to tell them exactly what they did or did not do which caused it. This is immensely stressful for the patient," he said.

Prof Tai said that the measurement the device provides is "tremendously empowering".

"With the device, the patient can see almost immediately what happens after they take their medication, or eat something, or exercise, and they know immediately what they need to do to prevent the next big spike in blood sugar," he said.

It also allows the patient and a medical practitioner looking after the patient to make the necessary changes to treatment so that the sugar levels can be managed more effectively, said Dr Ng.

For doctors managing people with diabetes, the data obtained from flash glucose monitoring systems can be read through a standardised visualisation chart, and can offer reliable and predictive trends on a patient's glucose readings, Dr Tan said.

Particularly in diabetes in pregnancy, where at present, women have to finger-prick up to six times a day for blood glucose data, this system could be be useful, if it receives approval for use during pregnancy, he said.

Such frequent pricking causes mothers-to-be emotional stress, he said.

However, doctors said that patients may notice a slight discrepancy in their flash glucose monitoring measurements compared those from finger prick tests especially during times of rapid changes in sugar levels.

"The sugar levels in the tissue fluid may not accurately reflect the same readings compared to the sugar levels in the blood. In such situations, it is recommended that patients co-relate their readings with a blood glucose meter," said Dr Ng.

NEW SYSTEM COULD HELP IN WAR ON DIABETES

While the technology is relatively new in Singapore, doctors said that it could help in the battle against diabetes in Singapore.

Prime Minister Lee Hsien Loong spoke about diabetes as a "very serious" long-term issue for Singapore during his National Day Rally this year. He cited sobering statistics - one in nine Singaporeans has diabetes.

"I think this device can be potentially instrumental in the war against diabetes because for the first time, patients are able to have ready access to their own data and sugar level trends. This will empower patients to have more meaningful discussions with their doctors," said Dr Ng.

Regular blood glucose monitoring and knowledge helps a person to see the impact of a correct or wrong diet, food and meal choice or by exercising or not exercising or by taking or not taking one's medication as prescribed on blood glucose levels, Dr Tan said. 
"The more blood glucose data one has, the better the knowledge of one's control on a day to day basis, and flash glucose monitoring is definitely a tool that will be key in this regard," he added.

The majority of the patients who have tried this found it "really useful" and several of them remain on the device, Prof Tai said.

However, the doctors said that cost could be an issue, as using the sensor and the reader for just two weeks will cost almost $200 the first time. The reader lasts three years, so subsequently patients may buy just the sensor that costs $92.

Some patients also do not like the idea of a 4mm wire sitting under the skin, the doctors said. Others also do not want to be constantly reminded of their chronic condition, they said.

But still, Prof Tai said this is a "breakthrough" not so much for doctors but for patients. He added that there is a need to make sure that the data is provided in a way that is helpful.

"Sometimes too much information can also cause a lot of distress. There is still a great deal to learn about how best to use this technology," he said.