Meet Butter, a dog that can potentially save its diabetic owner's life
While Ms Stella Chew has trained five diabetic alert dogs, they are not common in Singapore and Asia.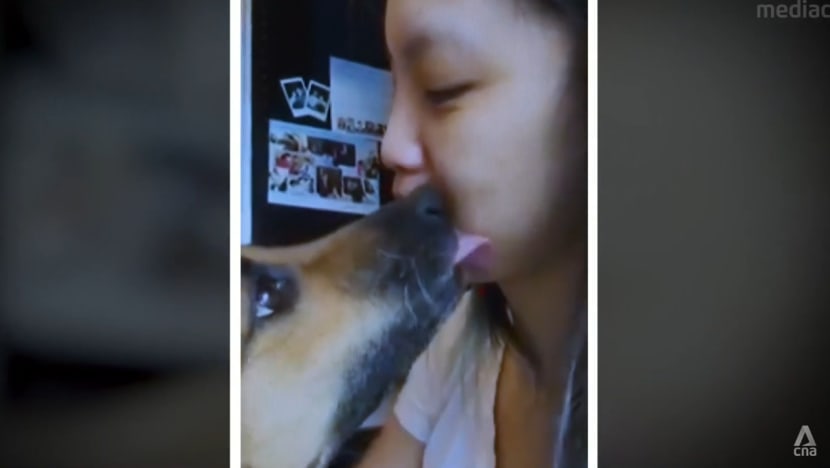 SINGAPORE: When Stella Chew's dog licks her, it may not be out of affection. It may be because Ms Chew is experiencing low blood sugar.
The service dog, Butter, is trained to identify the unique smell that Ms Chew, a Type 1 diabetic, emits when she is starting to get hypoglycemic, meaning her glucose level is low.
Butter would then lick her and continue until Ms Chew manages to consume some sugar. It can also fetch her a sweetened beverage that will raise her sugar levels when needed.
The diabetic alert dog, among five that Ms Chew has trained, can potentially save lives.
Describing the most severe stage of hypoglycemia, Ms Chew said that when the blood sugar levels are dangerously low, patients start to perspire.
"You literally feel like you are dying. And that's a very scary feeling," she said.
"Sometimes at that stage, you can't even help yourself, you can't even get out of bed. You can't even get yourself some sugar."
She added that even if there was someone around and willing to help, patients may not be able to articulate themselves as they cannot think.
HOW DOGS ARE TRAINED
Dogs are trained to help diabetics through rewards and logic, Ms Chew said.
"When we go into a hypoglycemia episode, our bodies produce some smell. So, it's all about telling that dog if you smell this, let me know," she said.
For a dog to identify the smell, which she said is produced when the stress hormone is activated and the body is breaking down fats, it is trained using rewards.
For this to happen, the patient has to collect saliva samples on tissue paper while experiencing hypoglycemia and freeze it in a bag. The bag is then used to train the dog to identify the smell.
"The minute the dog shows interest in the smell, just give it a treat," Ms Chew said.
The training, which takes less than five minutes a day, is conducted until the dog gets so attuned to the scent that it knows that once it detects and reacts to the smell, it will get a treat. 
"You can hide the sample behind the sofa, under the sofa and then they will just go search for it. At that point in time, you know, okay, the dog is ready," she said.
WHICH DOGS ARE SUITABLE?
Dogs that have a strong sense of responsibility and like to work are more suited to being diabetic alert dogs, Ms Chew said.
While the breed does not matter too much, she said that labradors and golden retrievers lend themselves to such a role because of their eagerness to serve and to please.
Some Singapore specials - local mixed-breed dogs - have a similar temperament, she said.
It is one such eight-year-old Singapore special that belongs to Kaylee Koh, who suffers from congenital hyper-insulinism - a rare genetic disorder that causes seriously low blood sugar in babies and children.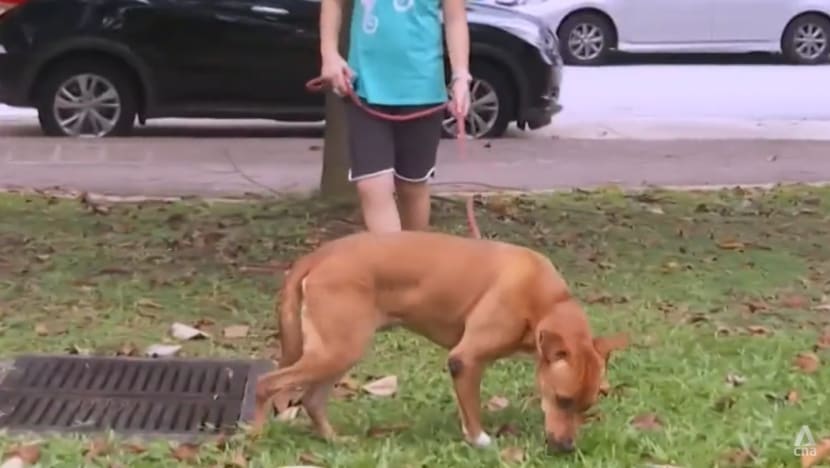 The nine-year-old always feels protected because her dog sleeps beside her everyday, she said.
Such diabetic alert dogs are common in countries like the United States, but less so in Asia and Singapore. Ms Chew attributed this to a difference in culture.
"It's a matter of culture because (in) the western society, they have this culture of using dogs for hunting and things like that. So when they have a problem, their natural thought process is: 'Can a dog do this?'"
While diabetic alert dogs may solve a big problem for diabetics, the science is inconclusive on how effective they are.
Some studies have shown the dogs to be accurate 70 per cent of the time, but the diabetic alert dog industry is unstandardised and largely unregulated.