New scheme to help 60,000 lower-income families obtain Internet access, digital devices
Currently, 92 per cent of households in Singapore have access to a computer, and 98 per cent have broadband.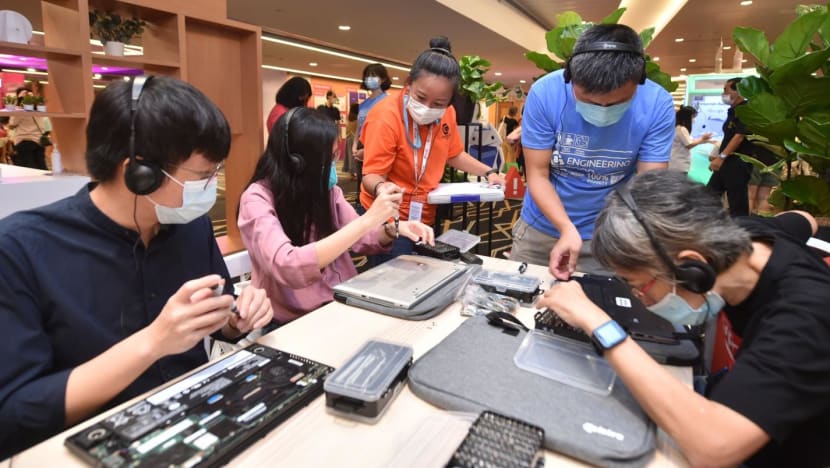 SINGAPORE: A new scheme will provide 60,000 low-income Singaporean families with subsidised broadband and laptops or tablets, Minister for Communications and Information Josephine Teo said in Parliament on Tuesday (Feb 28).
About S$80 million has been set aside over the next four years to fund the DigitalAccess@Home scheme, which replaces the NEU PC Plus and Home Access schemes. More than 46,000 households have benefited from those two schemes since 2020.
Mrs Teo said that currently, 92 per cent of households in Singapore have access to a computer, and 98 per cent have broadband.
"One group we remain concerned about are lower-income households. For most households, digital connectivity has become as essential as water and electricity. But for some, connectivity can still feel costly," she said.
DigitalAccess@Home will take effect from Apr 3. Compared with the existing schemes, it will have a simplified application process and more flexibility in the choice of device and broadband connectivity, said the Ministry of Communications and Information (MCI).
The scheme is open only to those living in Housing Board flats, with at least one member of the household a Singaporean.
Families must also have a monthly gross household income of S$1,900 or less, or a monthly per capita income of S$650 or less. If there is a primary school student or person with disabilities in the household, the gross and per capita income ceilings are raised to S$3,400 and S$900 respectively.
Eligible households will be able to choose the package – broadband-only, device-only, or both broadband and device – that best suits their needs. They can also choose from different broadband speeds and tablet or laptop models.
Those living in one- to three-room flats will pay S$10 a month for broadband subscription, while those in larger flats will pay S$15 a month. Households can double their bandwidth from 500 Mbps to 1 Gbps for another S$5 monthly.
Existing recipients of selected government assistance schemes, such as the Public Rental Scheme and ComCare Assistance, will pay S$5 a month for a broadband subscription at 500 Mbps.
Households with students on the Education Ministry's Financial Assistance Schemes may also receive the highest level of subsidy depending on income, said MCI.
A tablet would cost S$75 to S$250 while a laptop would cost S$220 to S$710 depending on the model chosen and type of flat in which the household lives.
To streamline applications, the Infocomm and Media Authority (IMDA) is working with the Ministry of Social and Family Development to automatically refer ComCare beneficiaries for DigitalAccess@Home when they sign up for ComCare.
Other applicants can apply online or in hard copy submissions, and can approach any of the SG Digital community hubs and the four self-help groups for assistance.
MCI said the new scheme follows the IMDA's regular review of support for digital inclusion of low-income households, and took on board suggestions from a Forward Singapore conversation earlier in February.
The scheme is supported by partners from other sectors. Non-profit organisations Engineering Good and SG Bono will provide up to 1,000 refurbished laptops a year to support beneficiaries with larger families who may need additional laptops.
Other partners will provide up to 2,200 new training places in digital skills over the year. For example, Microsoft will offer classes for children from low-income families on technology topics like the Internet of Things.
Editor's note: This story has been updated to reflect a clarification from MCI on the percentage of Singapore households which have broadband.