Helping disabled and disadvantaged cooks find the opportunity to showcase their skills
She may be deaf, but Mdm Tay Lee Keng did not let that stop her from becoming a skilled baker. Now, the 62-year old Dignity Kitchen beneficiary is giving her skills a boost with a training stint at a Marina Bay Sands restaurant.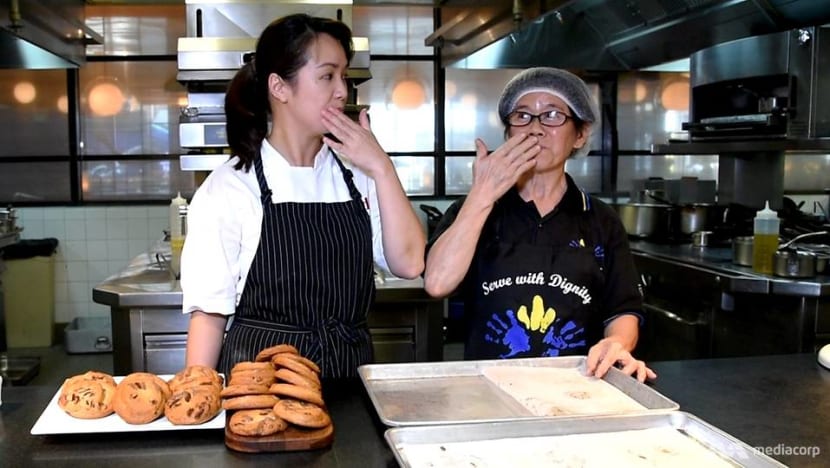 SINGAPORE: They stand side by side in the restaurant's kitchen, hands moving nimbly as they piped batter into baking moulds. The pair is hard at work preparing the restaurant's signature madeleines, communicating occasionally using sign language, or by writing in Chinese on a paper pad.
"Don't be nervous," pastry chef Mandy Pan writes at one point. Her mentee, 62-year-old Tay Lee Keng, responds with a smile and a thumbs up.
Mdm Tay is deaf, and runs the bakery stall at Dignity Kitchen, a social enterprise and hawker training school for disabled and disadvantaged people. The skilled baker, who counts treats like muffins, pineapple tarts and large cookies as part of her repertoire, has to rely on visual cues such as a timer so she can check when her pastries are ready to be taken out of the oven.
She is, nonetheless, passionate about baking. And her passion has brought her on a new adventure: She has just embarked on a training stint in the kitchens of db Bistro, one of Marina Bay Sands' award-winning restaurants.
Her skills will be put to the test on Friday (Aug 24) evening, where she will work together with her mentor, Chef Pan, in a food truck, preparing and serving food to members of the public.
RAISING AWARENESS
The stint is part of the integrated resort's annual Sands for Singapore Charity Festival. Three Dignity Kitchen beneficiaries, Mdm Tay and stroke patients Roger Chong and Lau Liang Peng, were each attached to a Marina Bay Sands restaurant for three days to hone their skills and learn from a chef mentor, before they head out to work in the food trucks till Sunday (Aug 26).

Proceeds from the sale will go to charity.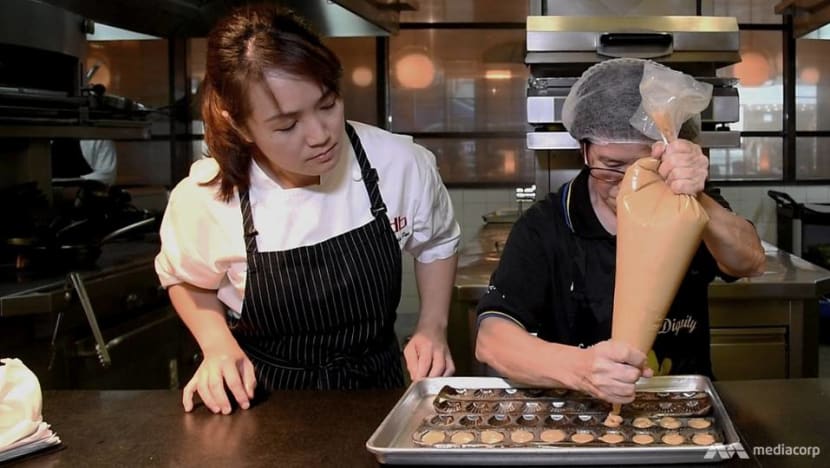 The stint brings many benefits, explained Dignity Kitchen's founder Koh Seng Choon. For one, the trainees are able to pick up new skills and experience that will stand them in good stead as they prepare for placements in food and beverage establishments outside of Dignity Kitchen.  
"Hawker culture in Singapore is single-cuisine," he said. "But in a restaurant like that, it's multi-cuisine, and the environment is also completely different compared to a hawker centre."
Mdm Tay, in particular, hopes to learn to bake other items such as focaccia bread, brioche and fruit tarts.
"I can improve my baking skills when I go back from here," she said through a sign language interpreter. "It prepares me with skills that outside bakeries need."  
Beyond this, Mr Koh also hopes that the opportunity will help raise awareness about the employability of people like Mdm Tay among companies. Dignity Kitchen, he explained, also helps to secure jobs for its beneficiaries, and he hopes that restaurants and other establishments can give them a chance.
"There's a shortage of people in the F&B industry, and I have the kind of people that they want," he said. "So I hope that in this programme, we can show employers that they can work."
BAKING IS A "UNIVERSAL LANGUAGE"
But were there any teething or communication issues at the start of the training?
While Chef Pan, who is an executive pastry chef at db Bistro, admitted that she was a little worried about communicating with Mdm Tay at the start, it turned out that her fears were unfounded.
"I was thinking back, and I realised that I've had similar experiences before," she said, laughing.
"When I was working in New York City, the guys in my team were either French or Mexican ... and I couldn't speak either.
"So it really isn't much different."  
As Chef Pan demonstrated how she instructed Mdm Tay using hand gestures, she pointed out that it was, very simply, "a different way of showing someone how to do things".
"It's not like we're singing, where we have to learn through our voice," she said. "Baking is special, because we learn through observation.
"Your skills with your hands and your eyes are very important."
Describing Mdm Tay as a quick study and "full of energy", she also had nothing but good things to say about her. 

"When she first came in, she had a big smile on her face and you can tell she's really happy to be here," she said. "She's trained in a hawker setting and we're a celebrity chef restaurant, so the processes are slightly different.
"But quite honestly, cooking and baking is a universal language, and if you can do it there, you can do it here."
It was just a few hours into the training stint, but it was clear that the pair have already built a rapport.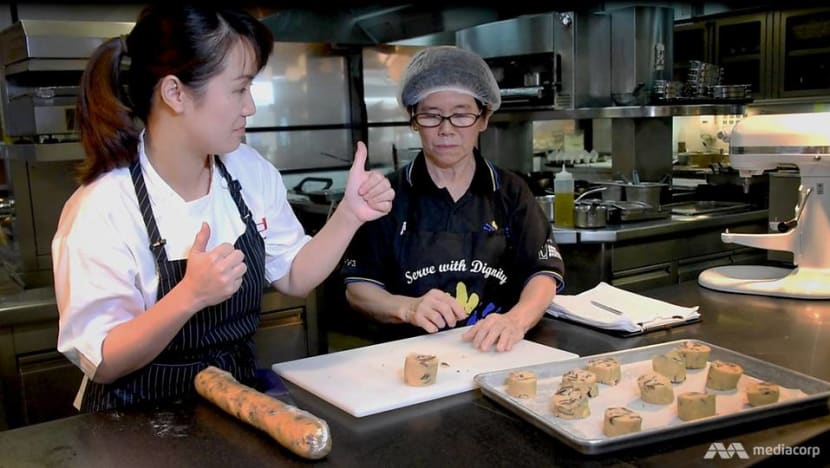 "Chef Mandy is very kind, knowledgeable and ready to share," said Mdm Tay, as Chef Pan put an arm around her and gave her a thumbs-up sign.
Later, as the two posed for a photograph and signed the words "thank you" to each other, Mr Koh admitted to being very encouraged by what he has observed so far. He explained that while businesses – and bosses – are often more than happy to employ people with disabilities, getting coworkers to accept them can sometimes be a challenge.
"I'm very chuffed about this whole thing," he said. "I was so happy at how Chef Mandy and her colleagues treated Mdm Tay, and how well they could work together."
"Maybe it's a positive sign that people are now more receptive to people with disabilities," he added.
"Because they can work. All they need is the platform and opportunity for them to do so."
The Sands for Singapore Charity Festival runs until Aug 26. Mdm Tay and other Dignity Kitchen beneficiaries will be running food trucks at Marina Bay Sands' Event Plaza.