Discount on about 100 essential items at NTUC FairPrice supermarkets every Friday from Mar 4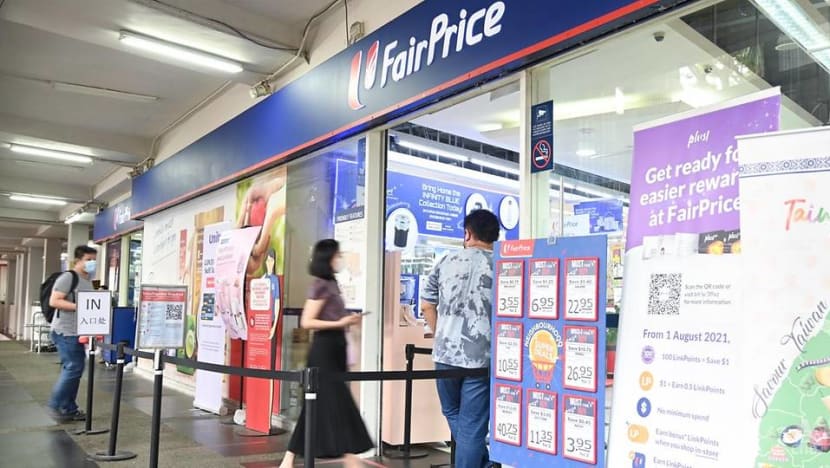 SINGAPORE: From Mar 4, shoppers at all NTUC FairPrice supermarkets and hypermarkets will enjoy a 5 per cent discount every Friday on about 100 "key essential items", FairPrice said on Monday (Feb 14). 
The key essential items comprise daily household staples such as rice, oil, eggs, milk, vegetables, meat, laundry and paper products. The discounts will run until the end of the year.
The move is part of FairPrice's "Stretch Your Dollar" programme to help consumers "cope with the rising cost of living that has been exacerbated by the protracted COVID-19 situation", FairPrice Group said in a media release.
The programme was first introduced in 2007 to 2008 during a financial crisis and was brought back from 2010 to 2011 as an economic downturn loomed.
Daily essential items
These are the daily essential items that will have a 5 per cent discount every Friday from Mar 4.
Fruits and vegetables:
Pasar tomato pre-pack
Pasar Aust M carrot pre-pack
Pasar old ginger pre-pack
Pasar Australia carrot (M)
Holland potato (China) 1kg
Fresh tomato
Chn wongbok
Chef spinach 250g
Chef China garlic 1s
Chef large onion red 700g
Chef Shanghai green 250g
Fresh cavendish banana 1s
Fresh Viet dragonfruit
Navel oranges (L)
Pasar China Fuji apple
Aksun Turkey lemon
Dairy, tea and coffee products:
Milkmaid condensed milk 392g
Marigold king of king e/milk  395g
Lipton yellow label teabag 100s 2g
FairPrice full cream milk 1L
FairPrice low fat milk 1L
FairPrice skim milk 1L
Nutrisoy r.sugar fsh s/milk  1L
Nutrisoy fresh soya milk 1L
Nutrisoy fresh soya milk-almond 1L
Nutrisoy hc f/soya milk nsa   1L
FairPriceg growing up formula s3 900g
FairPriceg junior formula s4 900g
Anlene actifit gold5x plain 1.2kg
Anlene movemax gold choco 1.2kg
Nestle coffeemate 450g
Nescafe 3 in 1 original 35s 19g
Nescafe 3in1 orig 25% L/S 35s 15g
Nescafe orig zero sgr 2-1 35s 9g
Nescafe 3in1 org b/s hcs 30s 17g
Nescafe 3 in 1 coff rich 30s 19g
FairPrice butter 250g
FairPrice  chse slc 12s t/pk 3s 250g
Milo refill pack 900g
Eggs:
Dasoon prem fresh egg 15s 60g
Pasar fresh egg (my) 10s 55g
Sugar:
FairPrice fine sugar 1kg
FairPrice coarse sugar 1kg
Rice: 
FairPrice frag w/rice 100% 5kg
Prepacked food:
Fortune slkn tf w omega3 dha 300g
Fortune chi tf w/omega3 dha 300g
Pork: 
Porkee frz spare rib 500g
Porkee frz minced pork 500g  
Paper products: 
FairPrice f/tiss 3ply4pk 140sh
FairPrice prm kitchen twl 6s
FairPrice 3 ply delx sft bt10s 200s
Oil: 
FairPrice canola oil 1L
Cabbage vegetable oil 2L
Noodles: 
Myojo chicken tanmen 5s 81g
Myojo chicken abalone 5s 80g
Myojo ramen charmee 5s 75g
Myojo mee poh dry 5s 80g
Myojo vegetarian ndl 5s 80g
Myojo chicken curry 5s 83g
Myojo shrimp tanmen 5s 79g
Myojo mee goreng 5s 80g
Ibumie mi goreng (reg) 5s 80g
Ibumie mi goreng-smbl udg5s 80g
Ibumie mi goreng-th t/ym 5s 80g
FairPrice rice vermicelli 400g
Chilli br rice vermicelli 400g
Laundry products:
FairPrice l/liq dtg-anti-bactr 4.4L
FairPrice l/liquid dtg-floral  4.4L
FairPrice l/liq dtg-color care 4.4L
FairPrice detergent powder 1.2kg
FairPrice bleach 1L
Frozen processed: 
FairPrice chk franks 10s 340g
FairPrice chicken nuggets 850g
FairPrice spicy chicken nugget 850g
Frozen poultry: 
Seara frozen chicken wings 2kg
Sadia chicken wings 2kg
Fresh fish/seafood: 
Da-okeanoss frozen batang steak 600g
Bobo fsh fish/b 230g
Bobo chilli fish/b 230g
Condiments/seasoning: 
FairPrice salt-fine 500g
FairPrice tomato ketchup 320g
FairPrice light soy sauce 660ml
FairPrice chilli sauce 320g
FairPrice dark soy sauce 660ml
Chee seng white sesame oil 750ml
Canned food: 
Narcissus whole mushroom 425g
Ayam sard- ovals 215g
Narcissus spiced pork cubes 142g
Maling prem pork luncheon M 397g
Bread and bread spread: 
FairPrice enriched white bread 500g
FairPrice Nonya kaya 410g
Biscuits: 
Khong guan lem puff bisc 260g
Hup seng spec crm crkers 225g
Da-hup seng hi fibre w/meal crac 225g
Da-hup seng sugar crker 225g
Senior care: 
Fairprice adult diaper ultra L 10s
Fairprice adult diaper ultra M 12s
Baby care: 
FairPrice bb easywear pants XL 46s
FairPrice bb easywear pants L 56s
Others: 
FairPrice plain flour 1kg
FairPrice d/wshng lqd rf lemon 600ml
FairPrice breakfast ham 200g
FairPrice inst oatmeal (foil) 800g
"This initiative complements the existing discount schemes already in place for Pioneer Generation, Merdeka Generation, Seniors Discount and CHAS Blue card holders between Monday (and) Thursday," FairPrice said. 
Savings from these discount schemes, including the new 5 per cent Discount Fridays, are projected to exceed S$12 million this year, FairPrice said.
It added that it will be highlighting various existing discounts and rebates available to remind customers to leverage these for more savings.
HOLDING, REDUCING PRICES
FairPrice also said that prices for hot coffee or hot tea, without milk and less or no sugar, will be reduced and held at 90 cents at more than 80 Kopitiam and NTUC Foodfare outlets from Monday, until the end of the year.
It will also be maintaining the prices of breakfast sets until the end of the year. 
Kopitiam is expanding its Rice Garden Programme, which was launched in 2015, to more locations to facilitate more concessionary meals for the needy as well as seniors and union members, FairPrice said. 
Rice Garden is the economy rice stall brand that provides a subsidised meal comprising one meat and two vegetable dishes to ComCare card holders, among others.
There are currently 19 Rice Garden stalls. Kopitiam targets to have 40 Rice Garden stalls by the end of the year. 
FairPrice will also be launching a programme in the second half of this year to provide free meals for the needy. There will also be a "special budget meal initiative" at its Kopitiam and Foodfare outlets.
More details will be announced at a later date.
Group CEO of FairPrice Seah Kian Peng said: "FairPrice Group continues to do our best to moderate the cost of living by holding prices despite increased cost pressures on many fronts such as freight, commodity and packaging, energy, as well as disrupted supply chains.
"Regardless, we share our consumers' concerns over the cost of living and how the COVID-19 situation has affected lives and livelihoods.
"We have developed this programme and introduced new initiatives at our supermarkets, food courts and coffee shops that will help the community stretch their dollar further on essential needs."
He added that FairPrice will "continue to monitor the situation closely" and "explore ways to make lives better for all".