The 'risk-based approach' to installing red-amber-green arrows at discretionary right-turn junctions
Following fatal accidents involving discretionary right turns, such junctions have been installed with the red-amber-green turning arrow where feasible. CNA looks at how such traffic junctions are redesigned.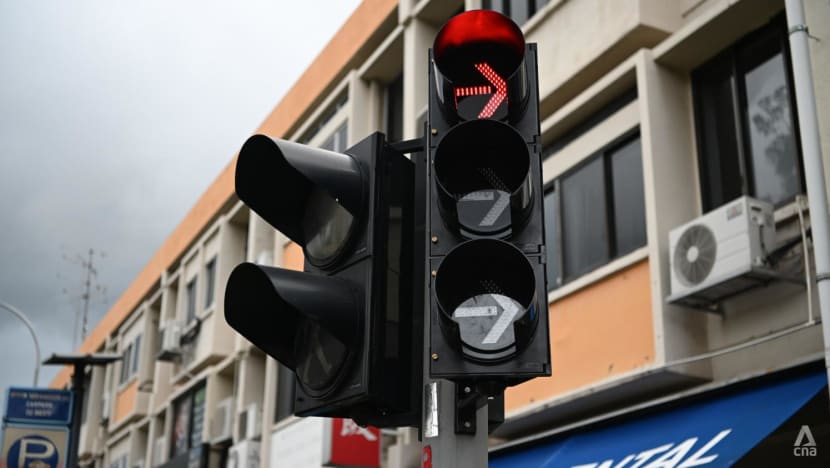 SINGAPORE: The traffic junction of Upper Serangoon Road and Jalan Rengkam – which intersects a stretch of eateries near a row of landed homes – sees a constant flow of vehicles and pedestrians on an average weekday. 
Upper Serangoon Road is a main road with multiple lanes in each direction ferrying all types of vehicles. But at the lane nearest to the eateries, motorists are allowed to park in designated lots by the roadside. They frequently pick up and drop off passengers along the road too. 
Pedestrians also tend to jaywalk across Jalan Rengkam – a small residential lane.  
With such a situation on the road, Mr Png Kong Jin considers it a "complex" junction.
"Because of the activity here, speeds are high and at every lane, a bit different. So that's where a bit of mental workload is required to make a judgment call to turn right," the deputy director of Traffic Scheme Design Development at the Land Transport Authority (LTA) told CNA. 
This "mental workload" was especially required when motorists on Upper Serangoon Road were previously allowed to make a discretionary right turn onto Jalan Rengkam before the red-amber-green turning arrow was installed in mid-January. 
Its implementation means motorists can now only turn right when there is a green arrow. 
Previously, they had to use their own judgment to assess the flow of oncoming traffic and pedestrians crossing before turning right once the coast was clear. 
It wasn't a walk in the park for pedestrians either. Even with the green man, they had to look out for motorists making the discretionary right turn, as well as those on the same side of the road turning into Jalan Rengkam. 
A distracted motorist or pedestrian could result in a fatal accident – and there have been several involving discretionary right-turn junctions.
In 2022, for instance, a Grab driver died after his car collided with a lorry in Ang Mo Kio while he was making a discretionary right turn. A man also went on trial last year for having caused the death of a police officer at a Shenton Way crossing while performing a discretionary right turn in 2019. 
"RISK-BASED APPROACH" TO SUITABLE JUNCTIONS
But road users are no stranger to the red-amber-green arrow. It had been installed at 200 traffic junctions – including some accident-prone locations identified under LTA's Black Spot Programme – before 2018. 
The need for the safety measure was put in the spotlight that year, following a few fatal accidents involving discretionary right turns. 
In April 2018, two people were killed after vehicle collisions at the intersections of Upper Bukit Timah Road and Jalan Anak Bukit, as well as at Commonwealth Avenue West and Clementi Road. The latter, which involved National University of Singapore undergrad Kathy Ong, garnered extensive media coverage. 
The accidents prompted LTA to review the traffic light scheme at such junctions.
During a parliamentary debate the following year on amendments to the Road Traffic Act,  MPs urged authorities to speed up the removal of discretionary right turns at all junctions, arguing that they were "fundamentally problematic". 
LTA then said in 2020 that it would aim to replace discretionary right turns with red-amber-green arrows "where feasible" at the 1,600 traffic junctions in Singapore. 
In August last year, Transport Minister S Iswaran gave an update in a written parliamentary reply that the red-amber-green arrow had been installed at 798 discretionary right-turn junctions, with 1,200 junctions targeted to have the arrow by the first quarter of 2024. 
LTA observed about a 40 per cent reduction in accidents involving right turns after implementing the existing arrows, the minister said.  
But in assessing suitable discretionary right-turn junctions to install the red-amber-green arrows, a "risk-based approach" is taken, said Mr Png. 
"My team of engineers needs to study the junction. Look at the volume (of traffic), the existing traffic phasing, the vehicle profile and even the pedestrians. We also collect information on the surrounding environment and infrastructure, because that may limit what we can do."
When traffic is "high or complex" involving many variables, as in the case of the Upper Serangoon Road and Jalan Rengkam junction, it is riskier to navigate an intersection. 
"(We look at) the operating speed of the road. Some roads are so wide, drivers may feel that they can travel even beyond the speed limit. Higher speed, the bigger the mess should an accident occur," said Mr Png. 
"The other factor is pedestrians. Are there more vulnerable pedestrians in the area? Things like school zones and Silver Zones (where there is a higher population of elderly residents) have to be considered," he added. 
"And then there are multiple lanes – that also affect how big a junction is. Multiple right-turn lanes will have adjacent cars obstructing each other's visibility of opposing traffic, and that adds to the risk."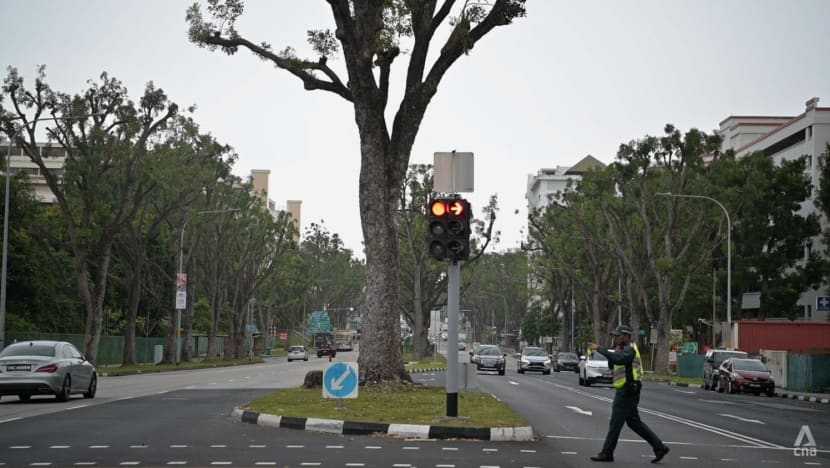 WHAT MAKES A JUNCTION UNSUITABLE 
Major junctions are generally "not a problem", as the centre median strip that divides the road would be able to support the pair of traffic lights: The standard traffic light and the new red-amber-green arrow light. 
"As a best practice, we will definitely try to put a pair (of lights) on the centre median. But sometimes we can't due to site constraints, especially at older roads or junctions, where we just can't install anything on the median. That's a bit challenging," said Mr Png. 
"Or some medians are too narrow; you can't widen it further (due to site constraints) to accommodate that extra red-amber-green traffic light." 
Narrow junctions or junctions with "a single lane or limited lanes" also pose an issue, "especially if it's a busy junction", he noted. 
"At red-amber-green junctions, you're not allowed to turn right even if there is no opposing traffic or pedestrians crossing. So if the lanes are limited, right-turning traffic waiting to turn right would obstruct the through traffic," he explained. 
If such a junction is considered "unsafe", yet the road can't be widened or have more lanes added, the traffic light sequence might need to be changed, added Mr Png. 
"You might have to give that approach a dedicated green time, so both through and right-turning traffic can go at the same time. But that will also result in trade-offs in terms of delays to other approaches." 
Another possible solution is an "overhead" red-amber-green arrow, which LTA has currently implemented at some such junctions. 
"What we do is modify the red-amber-green arrow at those locations, so that the overhead red-amber-green traffic lights are horizontal instead of vertical. This eliminates any civil works on the centre median which then reduces burden on contractors and disruption to traffic," he said.    
Existing roads with overhead red-amber-green arrows include the junctions of Bishan Street 13 and Street 14, Bencoolen Street and Middle Road, and Jurong East Avenue 1 and Street 21.  
REDESIGNING ONE JUNCTION AFFECTS OVERALL TRAFFIC
Nonetheless, Mr Png acknowledged that once a discretionary right-turn junction gets a red-amber-green arrow, there will be "some trade-offs" and "mitigation measures" may have to be introduced.
"It could be something as simple as changing the phasing or the sequence of traffic lights. It could go even further where civil works are necessary," he said. 
"We look at what's the most optimum design. Because with every change, there are multiple variables which change. Everything is related to everything else. It's an iterative process; you have to run the simulation, change the design, run the simulation (again), then come to a steady state of optimisation." 
The entire process could take a couple of months with civil works, especially where there is a need to do trenching of underground pipes in order to lay new cables. 
"It all depends on whether there are enough cables, because if not, you might have to dig a trench to lay pipes, pull the new cables and then connect to the controller. But if the junction has enough cables, then certainly it's faster," he added.  
Drawing on an analogy to explain how the team manages the trade-offs involved during the design process, Mr Png likened a traffic light cycle to a pie from which motorists and pedestrians fight for a slice. This slice represents the amount of time one has to navigate through the junction.
A traffic light cycle is the total time required for the light to serve all signal phases. 
"The trade-off for red-amber-green arrows is delays. The slice of the time is more (with a red-amber-green arrow), changing the proportion of the other slices of the pie," he said. 
"If one person is asking for more time, I need to give a bigger slice of the pie and that could be at the expense of another person. It could be the pedestrian or it could be traffic in the opposite direction that's in conflict. If you increase one portion, you decrease another portion."  
And if everyone needs more time, the overall size of the pie increases. If the increase is "too much", then the waiting time at the junction becomes longer. This would then affect the next junction as it would also need to run with the same traffic cycle, because "it's all synchronised", he added. 
"In order to achieve synchronisation, every junction must have the same (corresponding) size of pie throughout the entire road corridor downstream. As a road user, they will then feel frustrated if they sense that they are waiting longer than necessary."  
That said, motorists waiting for the green arrow during the wee hours, for instance, would experience a shorter waiting time than if they were at the same junction during peak hours.
Singapore's roads have dynamic traffic phasing due to the Green Link Determining (GLIDE) system, which adjusts the green time as traffic flow changes. 
With GLIDE, loop detectors embedded in the road lanes are used to detect the presence and intensity of vehicle and pedestrian traffic, triggering traffic signal adjustments. 
"With off-peak hours, like wee hours of the night, your slices of the pie can be smaller because there is lesser demand for time at the junction, hence the (total) cycle time is smaller. That reduces the frustration of waiting," explained Mr Png.
"We've also introduced repeated right turns at some junctions – within the cycle time that you have, two opportunities to turn right. And if there's no traffic for an approach, then I could give that slice of time to another approach that needs it." 
With motorists at these redesigned junctions forbidden from making discretionary right turns, however, Mr Png hopes that pedestrians don't take their safety for granted and pay less attention when crossing the junction. 
He cautioned that "mistakes can still happen" despite the red-amber-green arrow, which is not a silver bullet to eradicating traffic accidents.  
"The entire driving experience from your home or car park to your destination is a discretionary activity, not just the right turn," he added. 
"Whether you look out for traffic, or decide to turn right or left when you come out of the car park, switching lanes, every time is a discretionary decision."