Doctor who took more than 3,200 upskirt videos struck off medical register
Chu Ben Wee was sentenced to three years' jail in December 2020 after he was convicted of four charges of outrage of modesty for taking upskirt videos of women using a shoe he had modified to conceal a camera.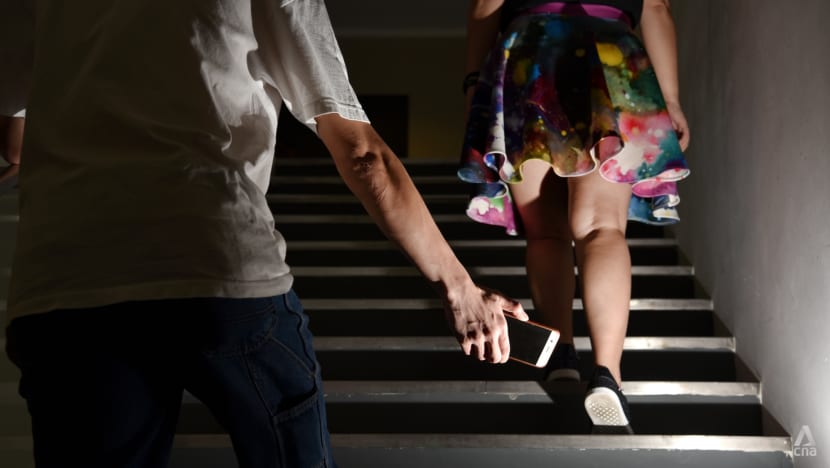 SINGAPORE: A doctor who was found to have taken more than 3,200 upskirt videos was struck off the medical register in July, a disciplinary tribunal for the Singapore Medical Council (SMC) said.
In grounds made available on Tuesday (Sep 20), the tribunal said the strike off order against Chu Ben Wee would "not only be proportionate" to the severity of his offences but also "necessary for it to be a strong deterrence".
"We had to consider whether the reputation of the profession would be placed at risk, if members of the public became aware that a member of the profession who has committed these offences on so many occasions, is still allowed to remain on the rolls after a disciplinary hearing," they said.
A striking off order removes a medical professional from the official register, which bars them from practicing their profession.
Chu was sentenced to three years' jail in December 2020 after he was convicted of four charges of outrage of modesty for taking upskirt videos of women using a shoe he had modified to conceal a GoPro camera.
He took the videos at places like hospitals, malls and junior colleges – including an incident in which he wore a uniform to pose as a student during a career fair at Victoria Junior College (VJC) while on bail.
In total, he was arrested three times.
In view of his offences, the SMC proposed that Chu's name be removed from the Register of Medical Practitioners, as well as to pay the costs and expenses related to the proceedings, including the costs of solicitors for the Council.
Chu countered in his mitigation plea that a suspension of 13 months – with "the other usual consequential orders" – is "fair and appropriate". His lawyer also proposed a suspension of 13 to 14 months.
"PREMEDITATED AND ELABORATE MANNER" OF OFFENCES
However, the tribunal said in its grounds that there were factors in his case that caused harm to public confidence in the medical professions.
They noted that he recorded the videos on at least 630 occasions, aggravated by the fact that the offences took place in multiple locations and over a long period of time. It was also highlighted that he reoffended twice after he was first arrested in January 2018.
In their submissions, lawyers for the SMC said Chu's actions had "severe consequences as they erode public confidence in the medical profession to a serious extent because of the large number of victims, potential harm caused to those victims, and that the victims included students in a junior college within their own school campus".
They also pointed out the "premeditated and elaborate manner" in which he went about recording the videos to avoid detection.
The tribunal had considered the "extent and nature" of Chu's actions in issuing the striking off order and recognised the fact that the offences were committed in both a professional and a public setting.
"We were particularly disturbed by the extent of the deception which he employed to keep his criminal activity under wraps," the tribunal said.
They noted that the methods he used "demonstrated extreme sophistication" in enabling him to record the videos and avoid detection and punishment.
"What was particularly disturbing to us was that after his Jan 18, 2018 arrest and while investigations are ongoing, (Chu) not only failed to stop in his criminal conduct, he continued to perpetuate it," the tribunal said, adding that his lack of self-awareness and insight led to his second arrest.
"Unfortunately, (his) conduct did not stop even after he was out on bail. Just three months later … he was found to have put up an extremely elaborate ruse to move around undetected in a junior college."
The tribunal pointed out the advance planning he took to purchase a uniform and equipment, as well as choosing the day of the career fair "as it would be easy for him to go into the school and move around undetected".
Chu not only "failed to express remorse at an early stage", but also allowed his urges to get the better of him and continued to offend, allowing it to escalate to the incident at VJC.
The tribunal added that Chu's actions showed that he "lacked insight", as he had more than ample opportunity to reflect on his conduct and seek help to control his urges after his first two arrests.
While they acknowledged that he may be under the impression that there is stigma associated with seeking psychiatric help, they did not agree that there is "sufficient excuse of justification" for him not to do so between arrests.
"If he knew that it was a problem, he could and should have sought help at an early stage," they said. "Instead, he allowed his misconduct to escalate which was extremely unfortunate."
The tribunal, however, said that the striking off order does not mean the end of Chu's medical career, adding that he could apply to restore his name to the register three years after the date of his removal.
ARRESTED THREE TIMES
Chu was first arrested on Jan 18, 2018, at Novena Square 2 mall, where he used his shoe to record an upskirt video. Police found at least 2,900 upskirt videos on Chu's devices during a search of his home the following day, including several taken at two hospitals.
They also seized his modified shoes – a black pair from Decathlon with a small hole on the right side – and a camera.
On Apr 27, 2019, while still under investigation for the prior offences, he was arrested again at Plaza Singapura for using a GoPro camera concealed in his shoe to record upskirt videos. Police seized several items from Chu, including an iPhone, the GoPro, the shoes and a memory card.
He was arrested again for the same offence on Jul 31 at VJC, while out on bail. He had bought a VJC round collar t-shirt and a pair of long pants to disguise himself as a student and took 97 upskirt videos of students using a camera inside his shoe.
He was caught after two students alerted a teacher to him. A group of teachers found him behind the school hall, during which he claimed to be from the Ministry of Defence and that he was manning a booth at the career fair. After further questioning, he changed his answer and said he was just a visitor.
Teachers called the police, who questioned Chu. He then claimed that he was simply there to attend the career fair and wore the VJC attire to avoid standing out.
SMC's lawyers argued that there was a "high" culpability in Chu's case, due to his intentional and deliberate state of mind.
However, Chu's lawyer submitted several mitigation factors, namely that he pleaded guilty "at the first earliest opportunity" and fully cooperated with the investigations and disciplinary tribunal proceedings.
He also noted that Chu suffers from paraphilic disorder, specifically a voyeuristic disorder, which was agreed upon by two doctors.
He had "never stopped seeking treatment" and sees the prison psychologist weekly. Additionally, Chu "practices medication and continues his research on further steps he can take to address his disorder", his lawyer said.
However, the tribunal did not agree with Chu's lawyer, who said that there was only moderate harm because Chu "acknowledged that his offences would undermine public confidence to the medical profession" and because "there was no patients involved and no actual injury or harm caused".
"We found this argument both flippant and factually wrong," they said.