Dogs dragged to their death, starved and abused: The rising number of animal cruelty reports
AVA attributed the increase to greater awareness of animal welfare, as well as an increased willingness to report and provide useful information.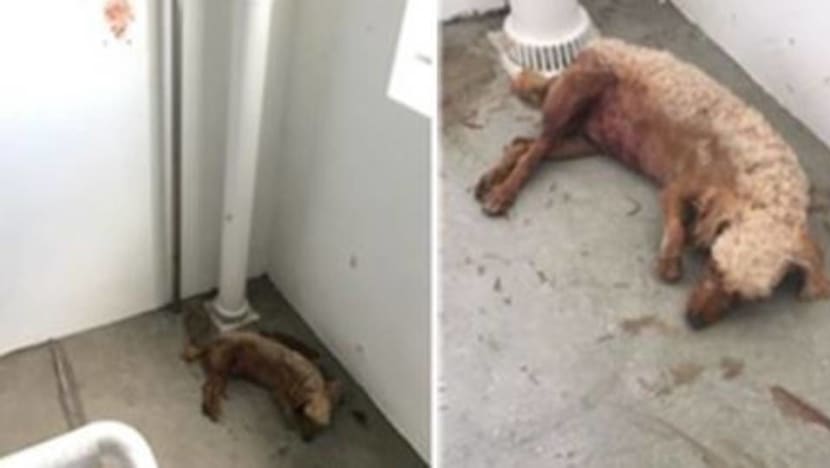 SINGAPORE: Feedback on alleged animal cruelty has increased, going by numbers from the Agri-Food and Veterinary Authority of Singapore (AVA).
The authority has received 270 cases of feedback on alleged animal cruelty from January to October this year, a slight increase from the 260 during the same period last year. AVA said, however, that most of those alleged cases do not involve abused animals.
"The increase in the number of reported alleged cruelty cases could be attributed to greater awareness of animal welfare, as well as an increased willingness to report and provide useful information for our investigation," a spokesperson said.
Thanks to the feedback, there has been a slight rise in enforcement, including prosecution in animal cruelty cases. Last year, 4 per cent of the feedback resulted in enforcement and prosecution, while the proportion so far this year is 5 per cent.

Last month, 45-year-old Yeo Poh Kwee was sentenced to the maximum jail term under the law, 18 months, for animal cruelty. He had wanted to abandon his poodle because his neighbours said it barked incessantly when he was away.
Investigations showed that Yeo, with his dog attached to him on a leash, ran down 20 floors of an HDB block. He then left the bleeding dog to die. The abuse was discovered after a cleaner saw blood stains on the staircase walls and informed his supervisor.
CATCHING THE CULPRITS
Senior inspector Ramesh Singh, who was involved in investigating Yeo's case, said the most challenging part of the job is establishing the identity of the suspect or suspects involved in animal cruelty or welfare cases.
Mr Singh, who handles 10 to 20 cases a month, said the job requires "extensive groundwork", including gathering witnesses, interviews, reviewing footage and collating evidence.
"Many of us work here because we genuinely care for the animals and would like to play a part in safeguarding their welfare," he told Channel NewsAsia.
Mr Singh joined AVA's investigation section in the regulatory department in 2016. He previously worked with the Society for the Prevention of Cruelty to Animals (SPCA). 
"I have always wanted to play an active role in protecting animal welfare. I decided to join AVA as an enforcement officer where I am empowered to apprehend offenders and prosecute them in court," he said.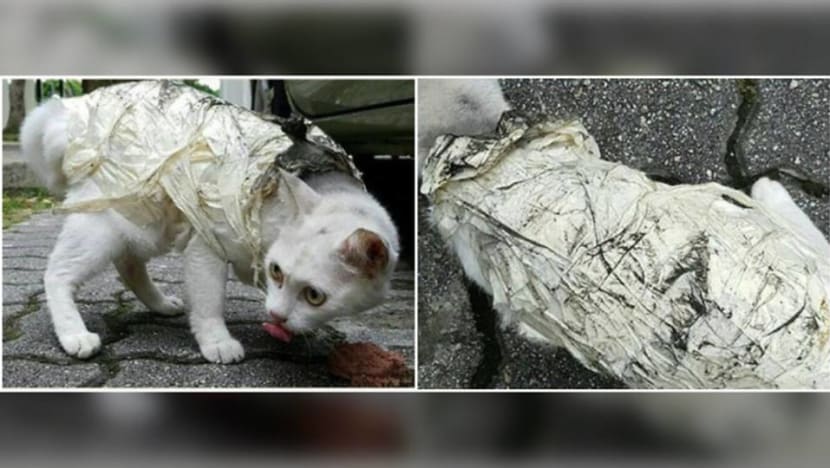 Among the unforgettable cases he has attended to is one in which the abuser used masking tape to tape up a cat. 
"We reviewed a total of 200 hours of camera footage before the suspect was identified. The follow-up investigation and the final apprehension of the suspect was unforgettable for me because it led to a successful conviction," he said. 
WHAT HAPPENS TO ABUSED ANIMALS?
Mr Singh said that while some members of the public may have the impression that all animals surrendered or taken in by AVA will be put to sleep, this is not the case.
"In fact, as much as possible, we try to find new homes for these animals," he said, adding that AVA works closely with animal welfare groups on this.
President of animal welfare group Voices For Animals Derrick Tan said that the rehoming of the animals depends on the condition they are in, or the severity of their injuries. While shelters try their best efforts to rehome every animal, some abused animals may have been discovered too late and unable to survive, he said. 
SPCA executive director Dr Jaipal Singh Gill said that animals that are abused have to be examined by a veterinarian and treated if necessary. Any wounds or injuries are documented as part of evidence that will be used in court. The SPCA receives 50 to 70 cruelty and welfare complaints every month, he said, adding that the number has remained stable over the years. 
Think abuse and cruelty and alarming visuals of pets all taped up, being kicked and full of open bloody wounds come to mind. However, Mr Tan said that abandonment, neglect and allowing pets to roam freely without regard for their safety also count as abuse.
He said that in cases of neglect, he has come across dogs with severe skin issues and malnutrition.
"When the dog reaches that stage, many owners are stingy when it comes to paying for medical care and abandon their dogs instead," he said. 
WHY ARE PEOPLE CRUEL TO ANIMALS?
Dr Lim Boon Leng, a psychiatrist at Gleneagles Hospital, said that a person may project their anger and frustration onto the animals with violent acts, thinking that there will not be any consequences.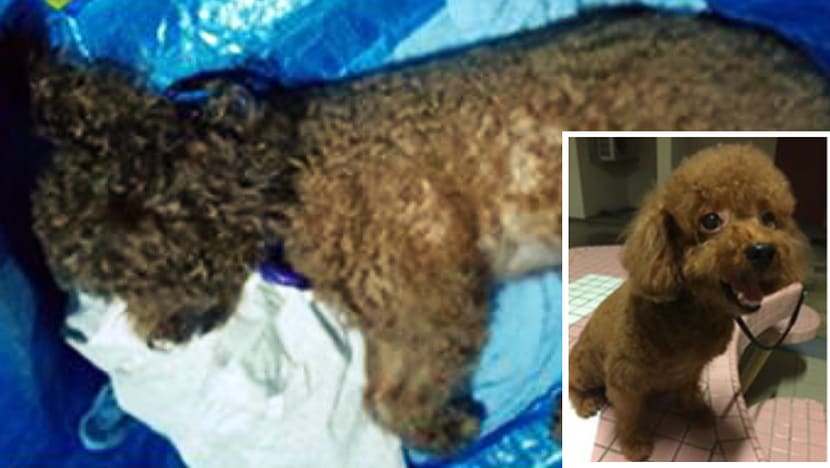 Neglect is also an act of abuse and this may arise simply due to an owner's ignorance of or carelessness in the care for the pet, he said.  When it comes to pet abandonment, Mr Tan from Voices For Animals said that this tends to happen when a couple has a baby, or when the animal becomes sick.
While some may assume that abusers have mental health issues, Dr Lim said that most offenders do not have mental illness.
"The cruelty necessary in abusing animals need not arise from any mental health issues and is a reflection of the individual's lack of empathy," he said. As most acts of abuse are in no way related to a mental illness, there is no necessity for treatment. Instead, he said children should be counselled about the moral wrongfulness of the acts.
Witnessing such cruelty is traumatic, especially for children
"The witness may suffer insomnia, nightmares, anxiety and flashbacks," he said, adding that these symptoms will resolve over time.
If an individual is repeatedly a witness to such violence, that person may become desensitised, he said.
"There may be concerns that the individual, particularly a child, may then feel that such violent acts are acceptable and mimic them."
IF YOU SEE AN ABUSED ANIMAL, TAKE A PICTURE OR VIDEO
In order for AVA to take enforcement action against animal cruelty cases, the public has to report suspected cases of animal cruelty and provide evidence such as photographs and videos to support the report, the spokesperson said.
Additional information, such as written statements to serve as evidence in court, and witnesses who are willing to testify in court will also help to support the case, she added.
SPCA's Dr Gill advises that anyone who is witness to suspected cases of animal cruelty or abandonment should call the police immediately. They can also inform the SPCA through their 24-hour hotline at 6287 5355 ext 9.
The witness should take a picture or video of the suspect if it is safe to do so, and note any distinguishing features of the person and clothing or accessories or vehicle number, he said.
"If the animal is dead, do not move the body. Note the exact location, including the street name, bus stop number and even lamp post number," he said. 
He also advised taking a photo of the animal and the surrounding area, and to send them to SPCA at inspector [at] spca.org.sg. Animal cruelty or neglect that do not require immediate attention can be reported at http://spca.org.sg/services_inspectorate.asp.
Editor's note: An earlier version of this story stated that there were 320 cases of feedback on alleged animal cruelty from January to October this year and 230 cases the whole of last year. AVA subsequently clarified that there were 270 cases from January to October this year and 260 in the same period last year.