'Safer, more efficient and less labour intensive': Drones to be used to conduct building facade inspection
SINGAPORE: How does one begin to inspect the facade of a 37-storey building, such as The Gateway, the pair of towering skyscrapers located along Beach Road? 
For now, physically and without a drone. 
But the use of drones will soon be encouraged for facade inspections to make the process "safer, more efficient and less labour intensive", as part of the ongoing transformation efforts for the Built Environment sector, announced the Building and Construction Authority (BCA) on Thursday (Oct 21). 
"Currently, facade inspections are pretty much done by our inspectors (who) go up to site. You're physically on the building maintenance unit, or the gondola carrying out a physical inspection," Kabi Subramaniam, the asset services lead at Arup, told reporters in September. 
"At the current moment, we do not use drones as part of facade inspection because it's not a regulatory requirement for us to do the 100 per cent visual inspection. The current procedure is for us to do a representative physical inspection of the facade." 
When a client identifies a "failure to the facade", such as a cracked glass or granite panel, a fallen panel or water ingress, they would engage a consultant to investigate, Mr Subramaniam added. 
But there is "no such requirement" stipulating a fixed frequency for facade inspections at present.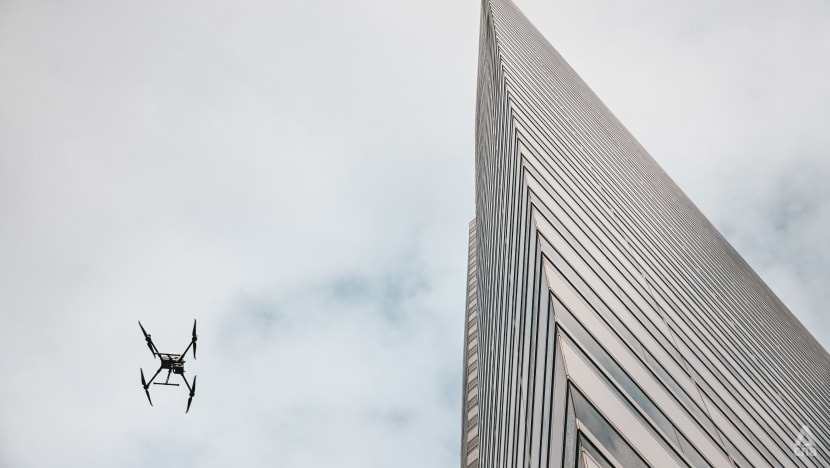 NEW REGIME FOR FACADE INSPECTION 
Under the new Periodic Facade Inspection regime, however, facade inspections will need to be conducted "every seven years for buildings that are more than 13m tall, once they are over 20 years old", said BCA in a press release. 
Landed houses and temporary buildings are exempted from these requirements, it added. 
The regime, which will take effect from Jan 1, 2022, will help building owners to detect and address facade deterioration in a timely manner. 
"Responsible parties, such as building owners, town councils and management corporations, have a duty to ensure that building exteriors are properly maintained," said BCA.
"Responsible parties must appoint a Competent Person, such as a professional engineer or registered architect with a Certificate in Facade Inspection, who can be assisted by a facade inspector, to conduct the facade inspections. The Competent Person will need to propose appropriate rectification works if deterioration is detected."
HOW DRONES HELP 
For starters, drones would mainly come in handy with "complex" facades and tall buildings. 
"If it is a three-, four-storey building, we really don't need a drone because from ground level itself, we'll be able to see the condition. There needs to be a practicality in terms of when we deploy the drone for such inspections," said Mr Subramaniam. 
Arup, which is one of BCA's industry partners, sees the benefit in using drones because "it gives us the initial information on the condition of the facade", he added. 
"(With) the images which you get from the drone covering the entire facade side, you are able to identify critical defects at locations. And that will then drive where we actually do our physical inspections to further analyse and identify the potential causes of these defects."
Mr Subramaniam also noted that using drones would also help to speed up the facade inspection. For instance, a 30- to 40-storey building would take about "a day to a day and a half, in principle", notwithstanding weather conditions.
"With the new requirements, they stipulate that you need to do 100 per cent visual inspection. To do this, you could either use drones, or you could get one of the team members or facade inspectors to actually take a camera and capture the images of the facade from different locations (and) different angles depending on the height the building," he said. 
The accuracy of images captured will also be "enhanced" by using a drone, he added. 
"Lastly, the main reason we're doing this is to identify critical defects. The whole purpose is to mitigate risk. We want to mitigate risk of any facade failures from occurring. And using the drones and capturing the images from the drones really helps to mitigate those risks. That's a key thing here."
PRIVACY CONCERNS
Lest individuals in high-rise buildings worry about privacy or having their data captured with drones, BCA has developed a Technical Reference that provides a set of specifications and good practices when using drones to conduct building facade inspections.
These include giving at least three days of notice with details of the inspection to building occupants, how images or video recordings taken during facade inspections using drones should be handled, as well as the implementation of systems and processes to prevent any unauthorised usage of images and footages captured.
"Responsible parties and drone service providers should put in place such systems and processes to safeguard data privacy. For example, images of residents captured during facade inspection should undergo anonymisation through masking using a masking software or by other methods to render them unidentifiable," said BCA.
If an "inadvertent capture" happens, such as of someone's face, the face-masking algorithm will recognise the elements detected and "blank out" the face within the system, said Justin Chan, who handles business development at drone services firm Avetics Global. 
The captured footage would then be deleted from their servers before handing over the images to the client, he added. And if the client had received the images, they would also have to delete the footage from their end.  
"That will potentially negatively impact an inspection mission. It means that a large cluster of images, regarding a certain area have to be deleted, but that is a trade off that we must accept because the privacy requirements are very important in Singapore," he said.