New mask-wearing rules: MSE to take 'judicious' approach in enforcement action as public adapts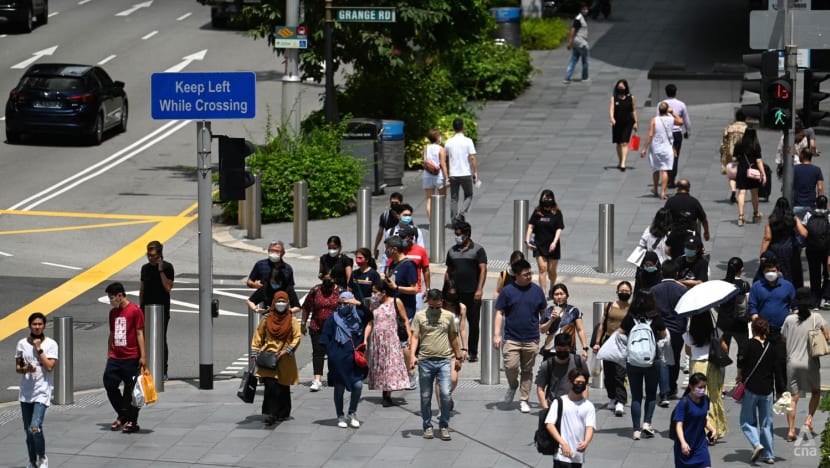 SINGAPORE: Enforcement action against those who do not adhere to the new safe management measures (SMMs) will be carried out in a "judicious manner" depending on the circumstances of the alleged breach, said the Ministry of Sustainability and the Environment (MSE) on Thursday (Apr 7).
This follows the easing of SMMs on Mar 29, one of which saw mask-wearing becoming optional when outdoors.
Examples of these places include HDB void decks, bus stops and open-air sheltered walkways and bridges.
In response to queries from CNA, a ministry spokesperson acknowledged that there could be  "some unfamiliarity" around the definition of outdoors versus indoors, as the public adapts to the new SMMs.
"While we will not be introducing a grace period, enforcement action will be taken in a judicious manner, depending on the circumstances of the alleged breach," the spokesperson added.
Under the new guidelines, wearing a mask indoors is still required. Such places usually refer to areas within buildings or enclosed places which typically have clearly defined entrances or exits.
Examples are office buildings, shopping malls, public transport and classrooms. Hawker centres, coffee shops, wet markets and HDB retail shops and other shophouses also count as indoor spaces. 
MSE said that safe distancing ambassadors and enforcement officers will continue to ensure compliance with prevailing SMMs, both indoors and outdoors.
"There is no change in penalties against breaches of SMMs. Firm enforcement action will continue to be taken against individuals and owners/operators of premises who do not comply with prevailing SMMs. This could include fines or even prosecution in court for egregious cases," said the spokesperson.
MSE also urged everyone to do their part to keep Singapore safe.
"As we make further progress in easing measures and living with COVID-19, social responsibility by individuals and premises owners will become more critical to keeping everyone safe," added the spokesperson.