From eating disorder to loving food: How one undergrad overcame her condition
Rashyr sought help when she became suicidal, and learnt not to use food as a coping mechanism for the depression and anxiety she faced.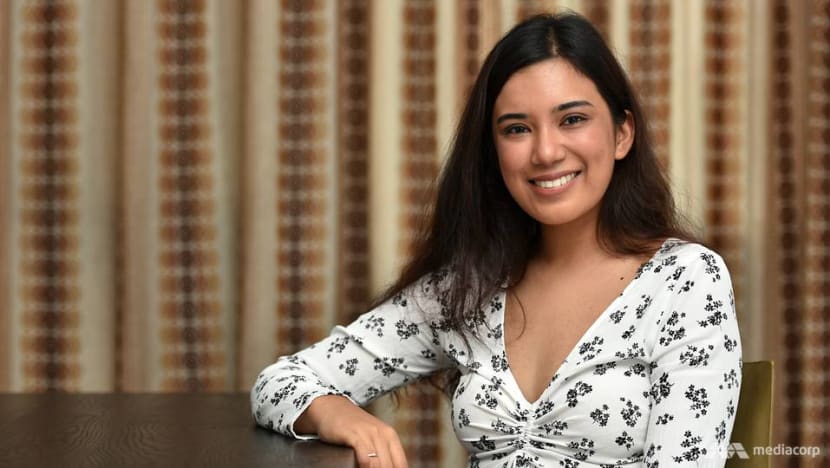 SINGAPORE: Rashyr Perez Ramanathan was 15 years old when comments from her schoolmates and distant relatives made her start hating the way she looked. She was going through adolescence and gaining weight. 
She was too fat, they said.
Now 25 years old and an undergraduate, Rashyr recalled one incident in her co-ed secondary school that made a mark when a schoolmate asked her whether she had eaten.
"I said 'Yeah, have you?' And he said 'It is pretty obvious you've eaten'. That just stuck in my head," she told Channel NewsAsia. 
Her attempts to lose weight and the people who made fun of her took her on a topsy-turvy journey through eating disorders, which came with additional health issues that have stayed long after she recovered four years ago.
Recounting her painful experience, she said she first she cut out meat from her diet. Rice was similarly dropped. Within three months, she had shed 15kg.
The compliments that came spurred her on, and she wanted to lose more weight. 
"I just stopped eating altogether," she said. 
"It started becoming this obsession for me – a reward and punishment system, where if I don't eat that day, I'd be happy, I'd be proud of myself. But if I ate, I'd hate myself so much."
But soon, she started having fainting spells, and her parents knew something was wrong. They started sitting with her to make her eat. That is when she moved on to intentionally vomiting the food she ate.
"I just kind of gave in. I would eat, but then I would just wait a while, wait for them to lower their guard, and then I will go to the bathroom and throw it up," she said.
She also could not concentrate on anything, and was insecure, making things up even to her friends to make herself appear "cool". Her relationships at the time were "toxic", she said.
While she was not diagnosed then, she was exhibiting symptoms of the eating disorder bulimia. 
It was only when she was 21 and looking up ways to kill herself that she knew she had to face her demons. She started by telling her mother everything. Her mother then took her to the Institute of Mental Health, where Rashyr was warded for 11 days.
Although she had sought help because of depression and anxiety, in unpacking her problems, doctors found out about her eating disorders.
"The whole depression part, I used eating to cope with all that. By treating the depression and the anxiety, it kind of helped me not use food as a coping mechanism," she said.
Rashyr has now completely recovered from her eating disorders, but her actions continue to haunt her.
"We don't realise it has lasting effects. Till this day, when I eat, it (her stomach) hurts once in a while and I have to take quite a few pills before I eat to make sure I can digest my food properly, because it's still a problem for me," she said.
She said family and friends have a big part to play in helping eating disorder patients, but cautioned against taking a tough line.
"They think they can scold it out of the person with the disorder, and they think that's going to help. But it doesn't. It just pushes the person away. You don't have to fix us," she said.
Instead, she recommends that family and friends can help by just being there, and being patient.
Rashyr regrets losing her golden years to eating disorders
"When you're young, and you're worrying about your weight so much, those are the best years of your life that you're never going to get back," she said.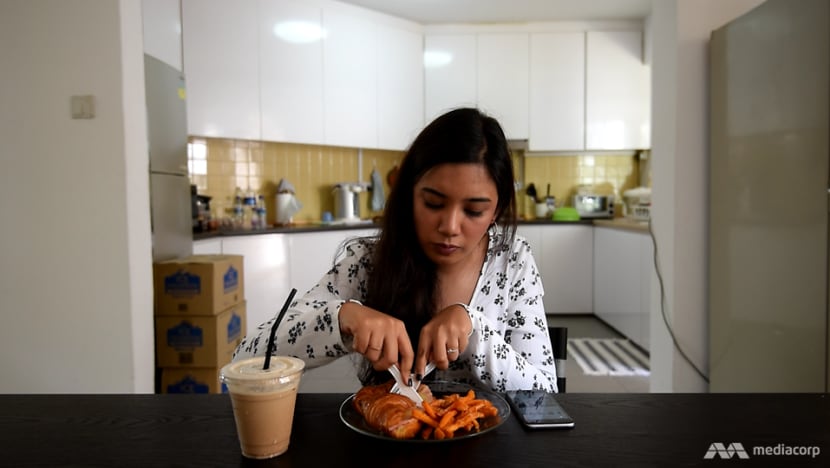 However, the experience drove her and her final-year project mates to raise awareness on eating disorders through a campaign called Breaking Mirrors: You're More Than What You See.
They were prompted to raise awareness on these disorders, given that body dissatisfaction - a major causal factor for eating disorders - is common, according to a survey they did.
The survey found that 85 per cent of the 267 female participants aged between 18 and 24 were dissatisfied with their body.
TYPICAL EATING DISORDER PATIENT FEMALE IN HER 20s: DOCTORS
Indeed, the typical eating disorder patient is typically female and from this age profile, doctors Channel NewsAsia spoke to said.
 
Dr Ng Kah Wee, director of the Eating Disorders Programme at Singapore General Hospital (SGH), said the clinic sees patients who are 13 years old and above. They usually present symptoms between the ages of 17 and 22, he said, with the average age being 20.
 
Doctors said that there are several types of eating disorders, and that the most common are anorexia and bulimia. They said that anorexia involves severe restriction of food intake, resulting in a low body weight, often in a relatively short span of time, while bulimia involves eating, followed by compensatory measures to get rid of the ingested food, such as by purging.
 
Dr Ng said that almost half of the cases at the clinic fall in the category of anorexia, 30 per cent are bulimia and the rest are Binge Eating Disorder and unspecified eating disorders.
 
Symptoms of anorexia include consistent excuses to avoid mealtimes or situations involving food, denial of hunger and feeling fat or overweight despite dramatic weight loss. 
Symptoms of bulimia include evidence of purging behaviours, like self-induced vomiting, laxative or diuretic abuse, and creation of complex lifestyle schedules or rituals to make time for binge and purge sessions, and withdrawal from usual friends and activities he said.
 
Dr Chee Tji Tjian, from the National University Hospital's Department of Psychological Medicine added that while eating orders are complex and "affect everyone", research points to certain risk factors more common in people diagnosed with eating disorders, such as a "perfectionistic" personality and dissatisfaction with body image.
 
MEN CAN SUFFER FROM EATING DISORDERS TOO
 
While Dr Chee said eating disorders disproportionately affect women, men are also susceptible, he said.
 
There appears to be an increase in the number of men diagnosed with an eating disorder, he said, pointing to factors such as an increasing rate of body dissatisfaction among males, "perhaps driven by media depiction of the pursuit of a certain type of muscular, lean physique".
 
"As eating disorders were often seen as a female illness, cultural stigma of men with eating disorders had likely led to under-reporting and diagnosing in the past," he added.
 
Psychologist Dr Lim Boon Leng form Gleneagles Hospital said that from his clinical experience, more males are starting to suffer from eating disorders.
"This is due to the fixation on masculinity in males these days, again influenced by western media. In male eating disorders, the fixation is often on muscle definition and exercising instead of the obsession on thinness."
While local data is not available, in the United Kingdom, a 70 per cent increase in eating disorders among males was seen between 2010 and 2016, he said.
WHAT ARE THE EFFECTS OF EATING DISORDERS AND HOW TO HELP SUFFERERS
Eating disorders can have a serious impact on the physical, emotional and social well-being of sufferers, Dr Ng said. Depending on the type of eating disorder, they could suffer a myriad of physical issues. 
These include cardiovascular complications such as low heart pressure and irregular heart rhythm that could be fatal, gastrointestinal difficulties and infertility.
"At times, co-morbid psychiatric conditions such as depression, anxiety disorder, obsessive compulsive disorder may surface and these conditions would need to be addressed adequately as well," Dr Ng said.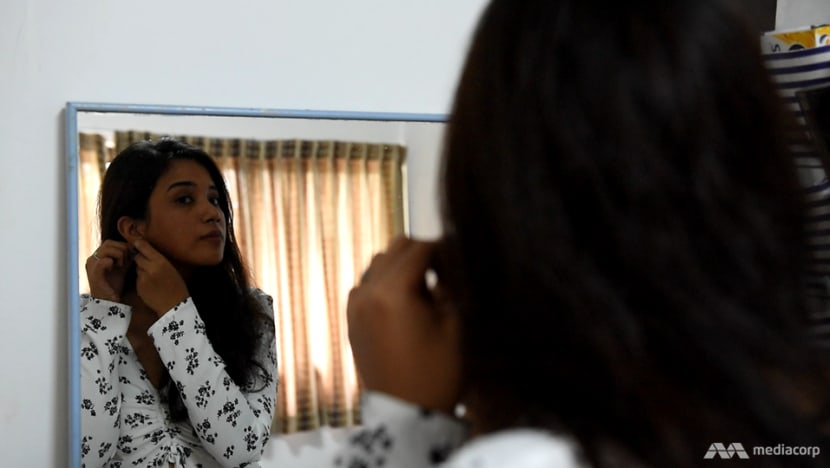 The aim of the treatment focuses on a collaborative approach with the patient to achieve healthy eating habits, he added.
 
Other than professionals, friends and family will also have to play a part in a patient's journey, doctors said. Patients suffering from eating disorders often experience a wide range of guilt, embarrassment, confusion and other negative feelings about their condition, Dr Chee said.
 
The patient's support network could learn about eating disorders and be kind and supportive, Dr Chee said. He cautioned, however, that it is likely that the patient will be in denial and provide resistance to efforts.
 
"Do not take it personally, and do not give up. Avoid giving simple solutions, because the disorder is complex and likely poorly understood even by himself or herself," he said.
 
Dr Lim said improving family relationships and dynamics which may be strained due to the patient's condition could help.
 
Dr Ng similar stressed the role family can play. They can can help by encouraging the patient to focus on recovery, to comply and adhere to the treatment recommendations, because the eating disorder often makes one fearful and avoidant of the treatment recommendations, she said.
 
She also encouraged families to avoid statements about food and weight gain during the treatment process which could take time. She suggested refocusing on other areas such as personal accomplishments and personal values.
 
"Family members can encourage normal eating habits by being role models themselves," she said.
Today, it is evident that Rashyr has overcome the worst.
"I love food now, I don't even know why I hated it in the first place. I have such a good relationship with food right now. I love food," she said.