New eco-pedestrian bridge to be built across Upper Bukit Timah Road by 2026
The bridge will connect Bukit Batok Nature Park with the Rail Corridor, which leads to Bukit Timah Nature Reserve.
SINGAPORE: A new bridge for wildlife and pedestrians targeted for completion by 2026 will be built across Upper Bukit Timah Road, said the National Parks Board (NParks) on Saturday (May 27).
The road separates Bukit Timah Nature Reserve and Bukit Batok Nature Park, both home to a large proportion of Singapore's native species.
Animals have been observed crossing the road, resulting in collisions with vehicles, NParks said.
"These measures will help facilitate safer movement of our native species between green spaces, allow them to thrive by expanding their habitat and genetic pool, so as to increase their long-term resilience," added the board. 
The new bridge will also provide the public with "seamless connectivity" between the two green spaces, with the measures improving the safety of road users near forested areas.
The announcement, which was made at the Festival of Biodiversity held at community hub Heartbeat@Bedok, came on the 10th anniversary of Eco-Link@BKE - the first of its kind in Southeast Asia.
The 62m long, 50m wide hourglass ecological bridge spans across the Bukit Timah Expressway, linking Bukit Timah Nature Reserve with the Central Catchment Nature Reserve.
As of 2021, around 100 species of fauna have been recorded on Eco-Link@BKE. Thirty-one additional species of fauna were found on the bridge for the first time between 2018 and 2021.
"The discovery of additional species using the bridge reflects the effectiveness of the Eco-Link@BKE and provides insights for NParks' ongoing efforts to strengthen ecological connectivity between our green spaces," said NParks.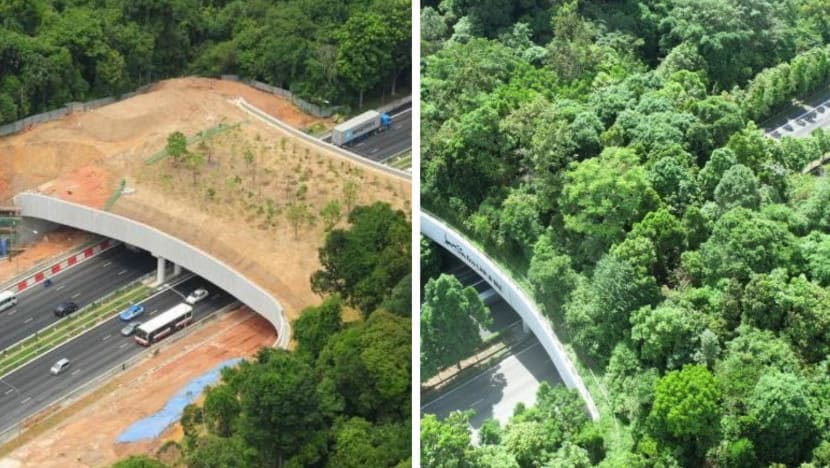 Beyond strengthening ecological connectivity, Singapore looks to nature stewardship by the community as another key pillar in green efforts. 
The new Nature Kakis Network aims to encourage greater participation in City in Nature-related initiatives by the wider community, developed by volunteers at the local grassroots level, known as Nature Kakis.
The volunteers, forming "chapters" within their own constituencies or neighbourhoods, will plan and carry out City in Nature-related initiatives for their community. 
There are now eight established Nature Kakis Chapters, at Boon Lay, Bukit Gombak, Marymount, Moulmein-Cairnhill, Nee Soon South, Pasir Ris, Punggol and Taman Jurong.
"Seed funding of up to S$5,000 from NParks' registered charity and IPC, the Garden City Fund, will also be provided to each Nature Kakis Chapter to help them kickstart," said NParks, adding that resources such as training and workshops are also available. 
Another area which NParks is tapping on is technology, which it utilises for a range of purposes, from biodiversity monitoring to the mitigation of vehicular-wildlife collisions. 
As of February 2023, the Forest Fire Detection and Monitoring System has been operationalised in Bukit Panjang and Ang Mo Kio. 
The management system is equipped with cameras that provide continuous monitoring of the over 2,000-hectare forest cover in the Central Catchment Nature Reserve. 
"This will facilitate the timely deployment of resources needed for fire-fighting, as well as reduce manpower for patrolling of the nature reserves, especially during dry seasons," said NParks. 
Singapore is also currently hosting the semi-finals of the international XPRIZE Rainforest competition at the Central Catchment Nature Reserve, where teams use autonomous technologies for rapid yet comprehensive rainforest biodiversity assessments.