ELD to pilot portable lap booths for nursing home voters, QR code envelopes for overseas Singaporeans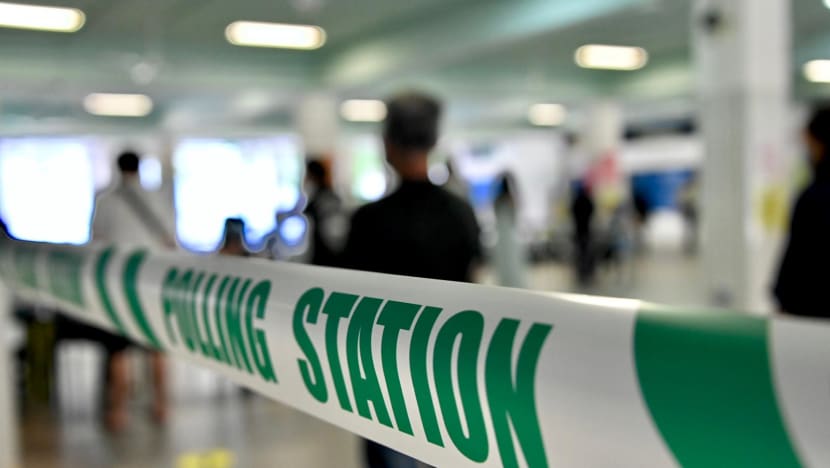 SINGAPORE: Portable lap booths for nursing home residents who require bed-to-bed polling and the option of postal voting for overseas Singaporeans are some new voting arrangements being considered by the Elections Department (ELD).
The department under the Prime Minister's Office had announced in May that it was collecting feedback from stakeholders such as political parties, nursing home operators and overseas Singaporeans on the introduction of special voting arrangements to improve voting accessibility.
On Tuesday (Jul 26), ELD said in a release that it had heard from 13 political parties and 39 nursing home operators, and received nearly 3,300 responses from overseas Singaporeans and members of the public.
ELD plans to pilot a special arrangement implemented in the 2020 General Election - where voters on stay-home notice at designated hotels were allowed to cast votes - for voters living in nursing homes.
About 13,000 residents live in more than 80 nursing homes in Singapore.
Some concerns shared with ELD about the proposed pilot include ensuring voting secrecy and determining whether residents have the mental capacity to vote.
To ensure transparency and secrecy, candidates or polling agents will be allowed to observe polling in nursing homes, said ELD.
"For the bed-to-bed polling by mobile polling teams, a portable lap booth will be provided so that voters can mark their ballot papers in private shielded by the front and sides of the booth," it said.
With regards to concerns that voters may be influenced by nursing home staff, ELD added that it will "provide clear guidelines on what nursing home staff can and cannot do".
For example, nursing home staff can help a voter sit up in bed in preparation for bed-to-bed polling, but will be required to move away when the voter is ready to vote.
Additionally, nursing home staff will not be allowed to mark the ballot paper on behalf of a voter or engage in any actions that may influence a voter when he marks the ballot paper.
"If a voter is physically unable to mark the ballot paper, he can request for an election official to assist him to do so, similar to what is done at a regular polling station," said ELD. "A second election official will witness the process as a safeguard."
For nursing home voters who may lack the mental capacity to vote, the ELD will adopt the current approach at regular polling stations. This includes not issuing a ballot paper if the voter does not respond to the election official's repeated requests for his identification document and poll card.
To ensure the safety of nursing home residents, guidance will be taken from prevailing public health and relevant guidelines. Special voting arrangements will be suspended if these guidelines do not allow election officials to access nursing homes.
Noting feedback from stakeholders that the profile of residents can vary across nursing homes, ELD said it will engage operators further before finalising the parameters and selection criteria for its pilot.
POSTAL VOTING FOR OVERSEAS SINGAPOREANS
In March, Minister-in-charge of the Public Service Chan Chun Sing said the ELD was studying the introduction of voting by post for overseas Singaporeans.
About 200,000 Singaporeans live overseas, though not all are of voting age.
In 2020, 6,570 overseas Singaporeans registered to vote, among whom 4,794 cast their ballots. There are currently 10 overseas polling stations in Australia, China, Hong Kong, Japan, Dubai, the US and the UK.
A total of 3,221 overseas Singaporeans from 64 countries responded to ELD's online survey, of which 82 per cent expressed support for postal voting.
Convenience and being able to exercise the right to vote while living overseas were cited as the top two reasons for supporting the initiative, said ELD. Eighty-three per cent of the respondents who had never voted while living overseas also indicated willingness to take part in postal voting.
Key concerns raised by those living overseas include the security and secrecy of the ballot, transparency of process and the ease and cost of postal voting.
ELD said that postal voters will need to log in securely to ELD's online voter services using Singpass to authenticate their identity, and download a return envelope and postal ballot paper.
The department will implement safeguards such a unique QR code on each return envelope so that only those with valid codes will be accepted. "This will also ensure that only one postal ballot paper from each registered overseas voter will be counted," it said.
ELD will also use technology to verify the wet-ink signature on the return envelope against the specimen signature provided during the registration of overseas voters.
To ensure transparency, ELD will indicate criteria for rejecting return envelopes, such as damaged or unsealed envelopes; multiple envelopes with the same QR code received from one individual; or envelopes containing more than one postal ballot paper.
Information on overseas voters  - such as the number of registered voters – will be made available, to allow candidates and counting agents to verify that there is no ballot paper stuffing or non-legitimate ballots being accepted into the count.
Voters will also receive an update on whether their return envelopes were received by ELD, after the overseas votes are counted.
For administrative convenience, the ELD will provide postage-paid return envelopes for overseas postal voters, where available.
"This will help avoid delays that may otherwise happen due to insufficient postage," it said.
Postal voters can start downloading and self-printing their ballot paper and return envelope starting from the day after Nomination Day.
Marked ballot papers must be posted before Polling Day in Singapore. These should reach ELD no later than 10 days after Polling Day to allow the ballots to be counted in time.
In May, ELD raised the possibility of these arrangements being piloted at the next presidential election. This must be held ahead of the September 2023 expiration date of President Halimah Yacob's term of office.