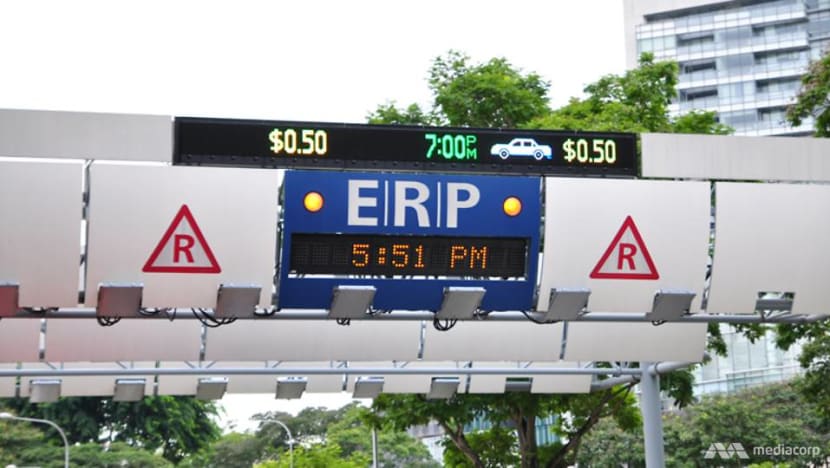 SINGAPORE: Electronic road pricing (ERP) rates will go up by S$1 from Sep 19 at five expressway locations, including southbound CTE after Braddell Road and the AYE after Jurong Town Hall towards the city.
The Land Transport Authority (LTA) said on Tuesday (Sep 13) that "traffic has built up at various stretches of expressways" in August 2022.
"To manage congestion at these locations, ERP rates will be adjusted by S$1 with effect from Sep 19 at the following five locations during the five specific time periods," LTA said.
The last time ERP rates were raised was in July, at four expressway locations, three of which are involved in the latest revision.
Three gantries for AYE after Jurong Town Hall towards the city will see rates rise to S$3 for the timeslot between 5.30pm and 6pm, after an earlier raise in July.
The sets of gantries at Southbound CTE after Braddell Road and PIE Slip Road into Southbound CTE, and Northbound CTE after PIE will also see adjusted rates for the second time in a row, but for different timeslots.
The Southbound CTE gantries will incur S$4 rates from motorists travelling between 8.30am and 9am, the highest of any gantry along the expressway.
In July, rates at these gantries were raised to S$3 between 8am and 8.30am after COVID-19 measures were relaxed, allowing more employees to return to the workplace.
Rates at the set of two gantries at Northbound CTE after PIE will be raised to S$1 from 7.30pm to 8pm, after previously being free for motorists to pass.
Rates for the previous half-hour starting at 7pm were raised to S$2 in July.
Rates for other previously announced timeslots and gantries remain unchanged, LTA said.
"With these adjustments, the number of locations and timeslots charged is still significantly lower than the number charged pre-COVID," it added.
LTA said that it will continue to monitor traffic speeds and congestion levels closely and assess if ERP rates need to be adjusted further.