Extraordinary People: A friend to the homeless
Media technologist by day and friend to the homeless by night, this is the story of 35-year-old Abraham Yeo and his volunteer group, the Homeless Hearts of Singapore.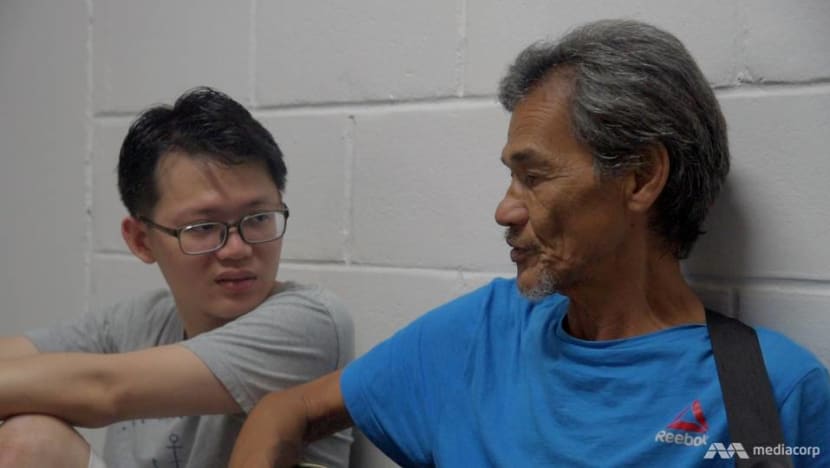 SINGAPORE: It is a Saturday night, and the glitzy shopping mall is lit up with sparkling lights, the storefronts tempting passers-by with special offers of goods within.
It is easy to miss those who don't fit in, among the well-dressed crowds thronging the mall. But move a little closer, and the tell-tale signs are there: Unkempt hair. Feet encrusted with dirt. And the bags they carry, their life's possessions contained in two or three grimy shopping bags.
These are the people 35-year-old Abraham Yeo seeks out, on his twice-monthly rounds on the streets of Singapore. Not with pity, not with condemnation, but with a genuine desire to befriend and love.
A meal here. An embrace there. Visits to the Night Festival or movie theatres to catch a show. Together with his informal group of volunteers, Abraham does his best to make it happen, in a bid to make sure that these people – living on the margins of society and whiling their days away in shopping malls, fast-food restaurants or deserted HDB void decks – are not forgotten.
'PLEASE DON'T FORGET US'
It all began in the form of a desperate plea Abraham heard from tsunami survivors while on a trip to Japan in 2012 to help with disaster relief efforts.
"They had been made homeless by the tsunami, and they felt forgotten," he said. "And the one thing they kept saying was, please don't forget us.
"That really touched my heart, and when I came back to Singapore, I started noticing elderly people around. So I thought it was only right that I help the people in Singapore as well."
Unable to find information online on homeless outreach groups, Abraham and a friend decided to take matters into their own hands and start their own. Today, their informal volunteer group, known as the Homeless Hearts of Singapore, has about 10 regulars who gather every fortnight to seek out and visit their homeless friends.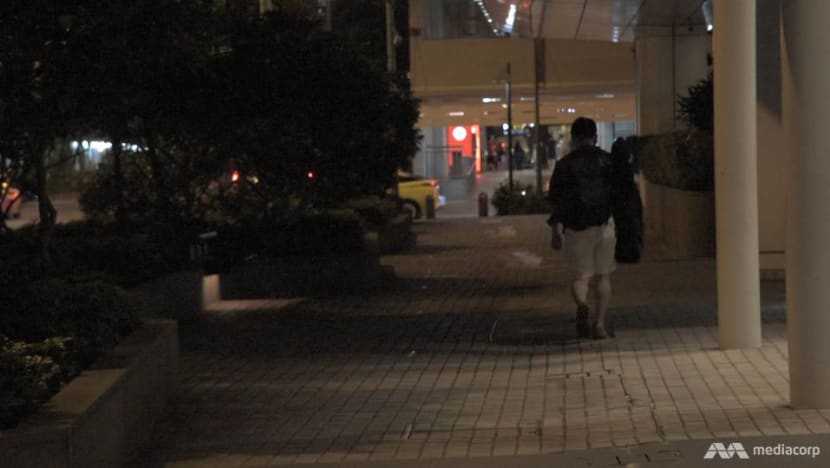 He is quick to stress what he terms the "relational aspect" of his group's approach: Beyond helping them with the bare necessities like food and helping them find a place to stay, he says it is important that they spend time talking to them and building relationships.
"We don't just want to give them food and walk away," he said. "We want to sit down and talk to them as friends.
"There is more to it than just helping them get a place to stay," he added. "There is good welfare in Singapore available for the homeless, but sometimes there is quite a lot of waiting needed, and that really discourages them.
"So that's why emotional support and friendship is important. We want to carry them through this journey, and walk with them."
AN OLD MAN WITH MANY YOUNG FRIENDS
It is getting late, and the crowds in the shopping mall are thinning. The lights are dimming as the stores shutter their entrances one by one. We meet Uncle Lawrence in the darkening basement food hall, as he wolfs down a container of noodles in the company of one of Abraham's volunteers.
He is eating intently, with a watchful eye on the corner where he has left his bags. But when Abraham approaches, his face lights up, and turns to greet him with a warm embrace.
Uncle Lawrence says he has been on the streets for about ten years now, and home for him is currently a bus stop in the Marina Bay area.
He is 63, he says with a rueful smile: "Old man already." But he is quick to add that now, he has many young friends, and Abraham – almost three decades younger – is one of them.
"They are all very young, and they all call me Uncle," he says. "I love them all very much."
Later, we accompany him for a walk around the area, and find a quiet spot to settle down. The two sit side by side, Abraham listening intently as Uncle Lawrence talks. Throughout their chat, he keeps a reassuring hand on Uncle Lawrence's arm.
It is clear that being a friend to those he meets is a priority for Abraham, particularly because, as he explains, many of the homeless are in special need of a friend.
"There's this quote I heard from somewhere. People don't become homeless because they run out of cash, but they become homeless because they run out of relationships," he said. "Quite a lot of the homeless people we meet in Singapore have houses, but they also have conflicts."
One person, he said, wanted to go home but was threatened with a knife by his brother when he showed up at his mother's place.
"So we want to help them find a place where they can be themselves."
MAKING THEMSELVES OBSOLETE
Abraham admits it can be challenging juggling his volunteering with his full-time job as a media technologist. He also recalls times when he has had to break up fights, or when he once got into an argument with a homeless person.
And there is another particular challenge he faces: Abraham is hard of hearing. A high fever that he had as a child damaged his nerves, and he lost about 50 per cent of the hearing in both his ears. With a hearing aid, he says he can hear about 90 per cent of frequencies.
But he is quick to stress that apart from the slight difficulty in understanding those homeless who are drunk or slurring, his condition is "not much of an issue" in his volunteer work. And he is hesitant to draw a link between the two.
"Sometimes I feel a bit awkward when people describe me as a hearing-impaired guy helping the homeless," he said with a laugh. "That would be a bit like saying, 'short-sighted guy helping the homeless'."
He also draws strength from his Christian faith, and the joy he gets from meeting his homeless friends every fortnight.
"When I see them welcome us, when I go, 'Hey Uncle!', and he smiles and says it's good to see me again, it's so touching and refreshing," he said. "One thing I learnt is that God uses these people to give back to us in the most unexpected of ways."
"Some of them have really blessed me back in return, and I am so grateful for all the friendships," he added.
"What I really want to highlight is that these are people, and but for the grace of God, we could be in the same position as them. We want others to see who they really are as human beings with back stories, and their beauty, dignity and worth."
"We want to use this group to act as an incubator for those who want to start their own homeless outreach," he said, highlighting a church group who approached him looking to learn from them.
"We helped where we could, and gave them on the ground experience," he said. "And it was really such a joy when they said they were officially starting their own homeless outreach in the East."
"We want to share the vision, share the dream, and inspire people to make a difference in their own neighbourhood."