Three Malaysians extradited to Singapore over 'fake friend' scams
Since January 2023, more than 1,300 victims of such scams have been cheated of at least S$4.33 million.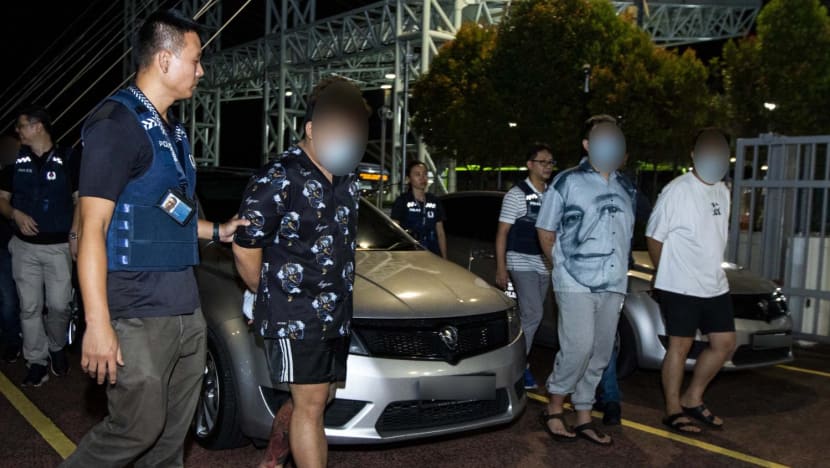 SINGAPORE: Three Malaysians were extradited to Singapore on Tuesday (Mar 28) for their suspected involvement in "fake friend" call scams targeting Singaporeans.
In a joint operation by Singapore's Commercial Affairs Department and the Royal Malaysia Police's Johor Commercial Crime Investigation Department, the men, aged between 18 and 27, were arrested on Mar 20 in a raid at an apartment complex in Johor.
Preliminary investigations showed that the men began their scam operations earlier this year, and are believed to be involved in more than 40 reports with total losses of more than S$250,000, said the Singapore Police Force in a news release on Wednesday.
Since January this year, more than 1,300 victims of fake friend call scams have been cheated of at least S$4.33 million, according to the police.
This is up from figures released by the police on Mar 10, when it said 945 victims had lost more than S$3.2 million since the start of the year.
Such "fake friend" scams typically involve scammers contacting victims through text messages or phone calls, pretending to be someone they know, then asking for financial help.
"Fake friend call scams are on the rise and this is a serious concern," said Commercial Affairs Department director David Chew.
"We will continue to take tough action against individuals who perpetuate scams even if they are based overseas."
The three Malaysians will be charged in court on Thursday with conspiracy to cheat. If found guilty, they could be jailed for up to three years and fined.