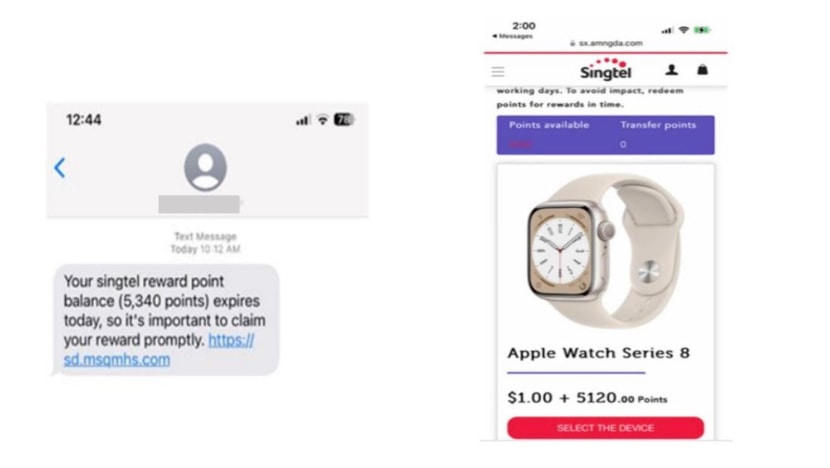 SINGAPORE: At least S$20,000 (US$14,000) has been lost by victims of a phishing scam variant since June this year, said the Singapore Police Force (SPF) on Wednesday (Jun 28).
There have been at least 12 victims of this phishing scam variant, which involves a fake SMS purportedly sent by Singtel and embedded with a fraudulent URL link.
Victims would receive unsolicited SMSes, prompting them to click on the link to claim a reward before their Singtel points expire, the police added. The link would then lead the victim to a fake Singtel site where reward items, like an Apple Watch or Apple AirPods, can be selected for redemption.
The Singtel points would have to be topped up with a nominal amount - S$1 for example - in order to redeem the reward item.
Victims then had to key in their credit card details and One-Time Password (OTP) on the fake Singtel site on the pretext of making payment.
"Victims realised they had been scammed when unauthorised transactions were made to overseas merchant," the police said.
The police advised members of the public to adopt precautionary measures such as setting up security features like multifactor authentication for bank accounts, setting transaction limits on internet banking transactions and using the ScamShield app.
Members of the public should avoid clicking on any dubious URL links and verify their authenticity, while banks should be immediately alerted in the event of fraudulent transactions.