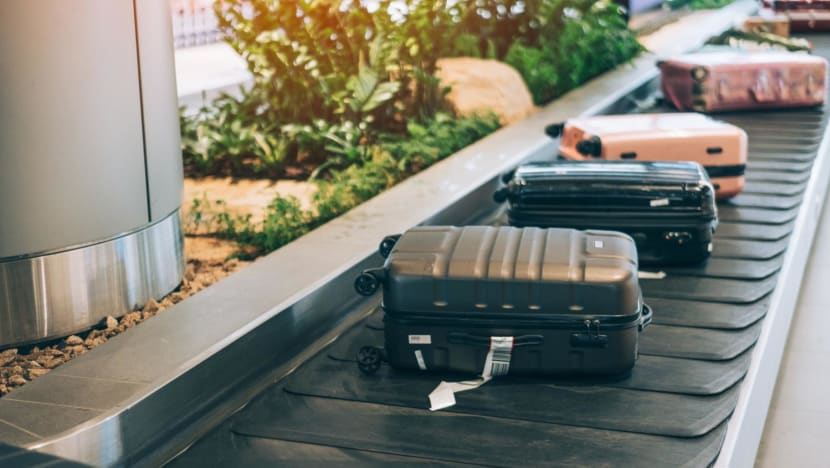 SINGAPORE: After successfully inflating the cost of her damaged luggage in an insurance claim, a woman embarked on a series of fraudulent travel claims totalling more than S$14,000.
Siti Saliha Muhammad Hussain, 30, used photos of damaged goods, receipts, boarding passes and police reports that she found online, and altered some of these with Paint and Microsoft Word applications to support her claims.
On Friday (Jul 29) she pleaded guilty to six charges of cheating, with 14 more charges taken into consideration. She made a total of 20 fraudulent claims between March 2016 and September 2019, of which 17 resulted in payouts.
The companies that fell victim to her scheme were AXA Insurance, AIG Asia Pacific Insurance, NTUC Income Insurance Co-operative, Aviva and FWD Singapore.
Siti Saliha was sentenced to five months' jail and will start serving her sentence in September, after being granted a deferment to settle her work and a loan she took out to make full restitution to the insurers.
FAKE CLAIM FOR DAMAGED LUGGAGE
The court heard that in September 2016, Siti Saliha made a trip to Kuala Lumpur with her mother and two sisters. She bought travel insurance policies from AXA and AIG for her family.
During the trip, the family's luggage, which was worth about S$200, was damaged while being retrieved from the airport's baggage claim.
Siti Saliha recalled that earlier in the year, she was able to inflate the cost of damaged luggage in an insurance claim without providing any supporting receipts.
She had also been able to make a separate insurance claim for a piece of luggage even though it was damaged before the trip.
"The accused felt that this was another opportunity to exploit the slack checks and balances in place for travel insurance claims, and intended to do so without her family's knowledge," said Deputy Public Prosecutor Angela Ang.
She went online and found photos of a damaged Louis Vuitton luggage and receipt, as well as a receipt for Tumi luggage, which she intended to use to inflate the cost of her damaged luggage.
She used these documents to submit claims under her own and her mother's and sisters' insurance policies. AXA and AIG disbursed a total of S$750 and S$1,000 respectively for the four fake claims.
Having "tested the system", Siti Saliha decided to make fake travel insurance claims whenever possible by ensuring that she bought policies for herself and her family before any trips, said Ms Ang.
She would occasionally also buy travel insurance policies for the sole purpose of making a fake claim, despite there being no trip planned.
DOCTORED POLICE REPORT, BOARDING PASS
While on a trip to Tokyo in April 2017, Siti Saliha accidentally misplaced her wallet containing about S$5,000 and her iPhone. As her policy did not cover loss from personal negligence, she made a false police report in Tokyo that her belongings were stolen.
She used the police report in a false claim to AXA. To get around a cap on the payout she could receive, she also claimed that her laptop was stolen, which was not true. The insurer paid out S$2,288 to her.
Later that year, Siti Saliha helped one of her sisters buy travel insurance for a trip to Krabi, and retrieved her sister's used boarding pass after she returned.
Siti Saliha then found samples of adjusting reports and property irregularity reports online, and amended them on her computer to make reference to her sister's laptop and luggage.
She also found old receipts for a laptop and luggage, and searched online for photos of damaged items. She submitted these to MSIG together with her sister's boarding pass, and received a payout of S$1,500.
Sometime before February 2019, Siti Saliha also bought her mother a policy for an alleged trip to Pekanbaru. In fact, her mother had no such trip planned and the policy was bought to make a fake claim.
She made a false claim that her mother was robbed of S$600 in cash and her iPhone, attaching a doctored sample police report and a doctored photo of a boarding pass that she found online. She received S$1,415 from AXA for this.
She repeated this after her mother travelled to Jakarta in March 2019 and after her own trip to Kuala Lumpur in April 2019, claiming that belongings were stolen and submitting doctored police reports when this was untrue.
She also volunteered to buy travel insurance for a friend with whom she was travelling to Kuala Lumpur in July 2019. She did so intending to make fake claims for a theft on their return, and got a payout of almost S$1,500 from AIG.
The offences were discovered after some of the insurance companies found Siti Saliha's claims suspicious and carried out internal investigations. They then filed police reports against her.
"REALLY QUITE IRONIC"
The prosecution sought five to seven months' jail, highlighting the lengths that Siti Saliha went to, including opening different email accounts to buy the policies without arousing suspicion.
Defence counsel Yamuna Balakrishnan asked for a fine on the basis that her client came from a poor financial background and was the only person providing for her family members, some of whom were ill and not working.
Deputy Presiding District Judge Luke Tan said it was "really quite ironic" that Siti Saliha highlighted dire financial circumstances in her mitigation when her offences arose from overseas travel.
He said there was "absolutely no basis" not to impose a jail term, which was supported by the case law.
The punishment for cheating is jail for up three years, a fine or both.