How easy is it to get a fake Singapore university degree certificate, and what are firms doing to detect this?
CNA speaks to HR experts and employers about the issue of local jobseekers using forged educational qualifications to secure employment – and attempts to buy a fraudulent degree certificate.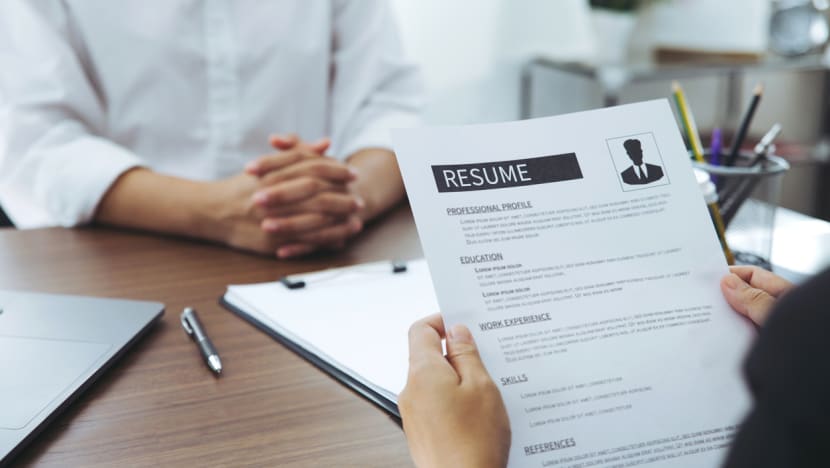 SINGAPORE: Within minutes of this reporter asking how to get a fake Singapore university degree certificate, all of the answers were available over WhatsApp.
How much would it cost? US$700. How long would it take? Two to three days, plus a few more days for shipping. How genuine would it look?
"We make it according to the original, using the original paper and real seal," one forger wrote in a text message.
"Many customers used our documents to apply (for) jobs and they succeeded."
When asked for a sample of the forged degree certificate, all four providers contacted by CNA were more than willing to oblige. The samples looked startlingly identical to this reporter's own Nanyang Technological University (NTU) certificate, though the initial price seemed staggering.
"It's a lot of money, I think I can't afford it. Can it be any lower?" I asked.
The response: "Sorry this is a discount price. You can pay half as deposit first, check the digital version then pay the rest."
A few hours later, the price was lowered to US$630 with an additional comment: "This is the best I can do."
Two others quoted the same price of US$700 while another said it would cost me US$750. Naturally, none of them accepted payment via credit card, with the common methods being international wire transfers or Paypal.
They also provided "order forms" for me to fill in with details like my desired admission and graduation date, degree title, major and student identification number.
These forgery services were readily available through websites that popped up in a simple Google search. While most of the mobile numbers provided on the sites had Hong Kong area codes, it was impossible to tell whether the printers are truly situated there.
But one thing is for sure – it remains extremely easy to get your hands on a fake degree certificate. That is, if you are willing to pay almost a thousand dollars.
If not, a simple solution lies ahead: Doing it yourself.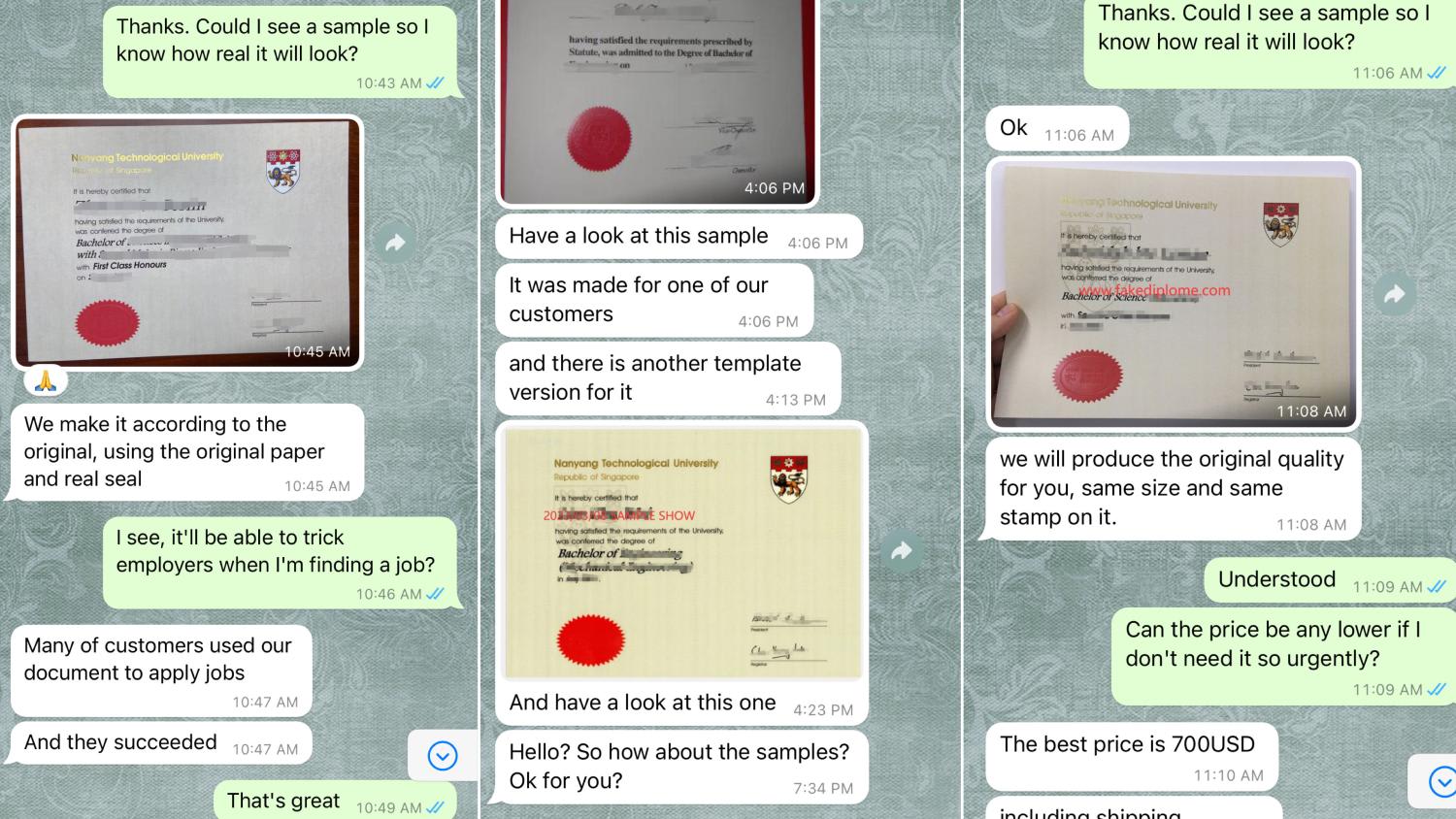 CASES IN THE NEWS
In recent years, several people in Singapore have made headlines for forging or using forged educational qualifications to secure jobs, including high-paying ones.
These ranged from O-Level and A-Level certificates to degree certificates from NTU or the National University of Singapore (NUS), for example.
Their modus operandi was generally similar: Using Photoshop or similar photo-editing applications to insert their own name into existing templates online, or tweaking their own documents to plump up their resume.
In January, a woman was jailed for forgery after using the Microsoft Paint application to doctor an O-Level certificate in support of her application to become a pre-school principal.
Last November, news surfaced of a man who had forged degree certificates for subjects like engineering and law since 2009 to get well-paying jobs. His offences only came to light in 2020 when a construction firm checked with NTU about his qualifications.
One employer told CNA that he came across a similar case several years ago.
It was a simple task involving project management, but a new hire began giving "very lame" excuses as to why he could not complete it, said CHH Construction & Security Systems director Tee Wei Kang.
This immediately roused suspicions. There was no reason that the employee, Chin Ming Lik – who was drawing a monthly salary of around S$7,000 – was unable to do that. After all, he had listed several reputable construction firms in his resume.
The company investigated and discovered that Chin had faked multiple documents and credentials. But it decided to give him a chance and not report him to the police.
"Fortunately, one of our HR managers was friends with middle management in a company that he referenced in his resume. So she asked for a favour from a friend to check his past employment history," Mr Tee said.
He added that most of the past jobs Chin had listed were in "much, much larger companies", which made it more difficult to verify them.
Chin went on to cheat more companies, until a firm checked the authenticity of his NUS civil engineering degree certificate in late 2016. His multiple acts of forgery finally landed him in jail.
Chin used the fake documents to secure employment at 38 companies, earning monthly salaries ranging from S$3,500 to S$9,000. He had heard that project managers in civil engineering drew good salaries and he wanted to obtain such jobs.
Despite being cheated by Chin, Mr Tee said that verifying educational certificates is "fairly straightforward" in Singapore, given that there are not that many tertiary institutions here. Most of the forgery cases he has seen involve foreign employees.
As for professional qualifications, such as electrical skills required for construction work, Mr Tee pointed out that these have to come from testing centres directly under the Ministry of Manpower's purview.
"For local certificates, no matter how hard they try to forge it, if you do a simple check and reference check, it's very easy to see whether the certificate is fake or not."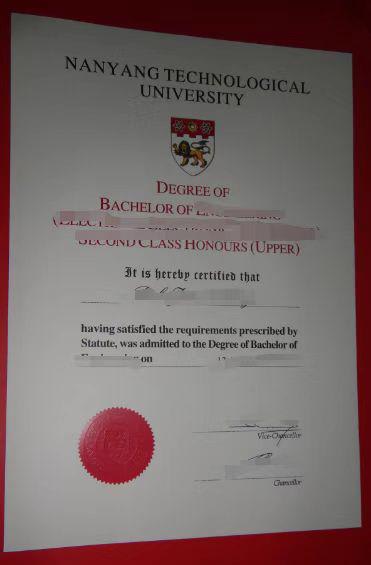 TECH ADVANCES BOTH BOON AND BANE
Other employers and human resources experts told CNA that technology has made it easier for people to make fake documents, but educational institutions and training providers have also used technology to make it harder for their certificates to be forged.
Ms Linda Teo, country manager of recruitment firm ManpowerGroup Singapore, noted that jobseekers need not provide original copies of their certificates at the initial stages of hiring because more companies are accepting applications via digital platforms.
"Many jobseekers may be tempted to submit fake qualifications to try their luck at securing jobs than what they are qualified for.
"However, educational institutions and training providers are implementing more measures to make it harder for their certificates to be forged," she said.
One such measure is tapping blockchain technology to make certificates tamper-resistant. Others issue serial numbers for their certificates which can be verified on their websites.
Many educational institutions have implemented the OpenCerts format – which uses blockchain – to verify their graduates' transcripts, said Ms Zen Soh, manager of commerce finance at Robert Walters Singapore.
These include all five polytechnics, the six autonomous universities, the Institute of Technical Education and Lasalle College of the Arts.
For example, NUS states on its website that it issues "verifiable electric degree scrolls/graduate diplomas and official transcripts" to undergraduates admitted from 2005 onwards, as well as those admitted for higher degree studies from 2004 onwards.
Graduates can share the digital files with third parties, such as prospective employers, who can easily check the authenticity of their qualifications on the OpenCert website.
SKILLS OVER QUALIFICATIONS
Ms Soh said that more employers are also conducting case study assessments in their first round of interviews to better assess their candidates' technical competency.
"As much as candidates claim to have completed certain courses (eg. advanced Excel, data analytics, SQL, Python), it doesn't mean that they would be efficient or skilled in applying these on the job," she added.
"There were also some candidates who did well during the face-to-face interview but did not pass the technical case study assessment, and were not offered the role."
Mr Vinay Dua, managing director of CareerBuilder Singapore, concurred that more employers are shifting their priorities toward skills "instead of being fixated on qualifications".
He also recommended that employers hire a background screening company. While the company has not encountered cases of fake educational qualifications, it has come across "a few" in its international hubs, he said.
"Our strict background checks have been effective in filtering out such individuals," he added.
Aside from requiring candidates to undergo assessments to test their skills and knowledge proficiency, employers can ask them technical questions during the interview to ensure they have the required knowledge level, Ms Teo from ManpowerGroup said.
However, she noted that not all companies will do due diligence because of reasons like urgently needing to fill a position or tight competition for talent.
"Some companies may even skip the verification step because the process can be time-consuming," she said.
In most cases that surfaced in the courts here, the offenders' crimes were discovered when their prospective employers checked directly with educational institutes.
In 2020, a man was fined S$4,000 after securing a teaching job at an international school in Singapore by submitting a forged NUS computer engineering degree certificate.
He had downloaded an image of the NUS certificate online and used Photoshop to insert his name. He was, in fact, a former student but had been dismissed from the course.
When an HR manager asked him to sign a verification of certificate authenticity form, he hesitated, then declared a few days later that he did not complete his final-year project. The manager then checked with NUS and he was fired from his new role.
Another employer, Ms Annie Yap – who founded HR technology services provider AYP Group – said her company undertakes a four-step process before hiring anyone.
This means that it verifies an applicant's identity, contacts their most recent former employer, contacts the educational institution where they obtained their highest qualification, and checks with the most recent immediate supervisor listed in their resume.
Ms Yap said that an experience from a few years ago taught her the importance of doing thorough background checks.
When in India searching for software engineers, one candidate who "effortlessly breezed through our technical evaluations" stood out to her.
Impressed with the interview results, AYP Group decided to verify the candidate's degree qualifications before extending a job offer. But they soon discovered that the jobseeker was not listed in the university's records.
While degree certificates from Singapore can be easier to verify, it can prove difficult to authenticate those from abroad.
Earlier this month, the Ministry of Manpower imposed a mandatory requirement on companies to verify the educational qualifications of foreigners they want to hire on Employment Passes.
Employers will have to submit third-party verification proof for applicants with diploma-level qualifications and above, which Manpower Minister Tan See Leng said was to "safeguard against gaming by submitting fraudulent educational qualifications".
The fake degree providers contacted by CNA also offered forged certificates from educational institutions around the world. When asked if they did other universities, one provider pointed this reporter to its website.
Despite being wooed with discounts and potentially a brand-new job if I bought fake certificates from them, I did not order anything and blocked the forgers on WhatsApp.
Perhaps one day, they will successfully entice a jobseeker here to shell out hundreds of dollars for a better chance at employment – if they have not already.