More families seek part-time help to care for children, seniors after expansion of Household Services Scheme
Smaller households, challenges in communicating with the helper, and issues of privacy are among reasons why some people are choosing part-time helpers.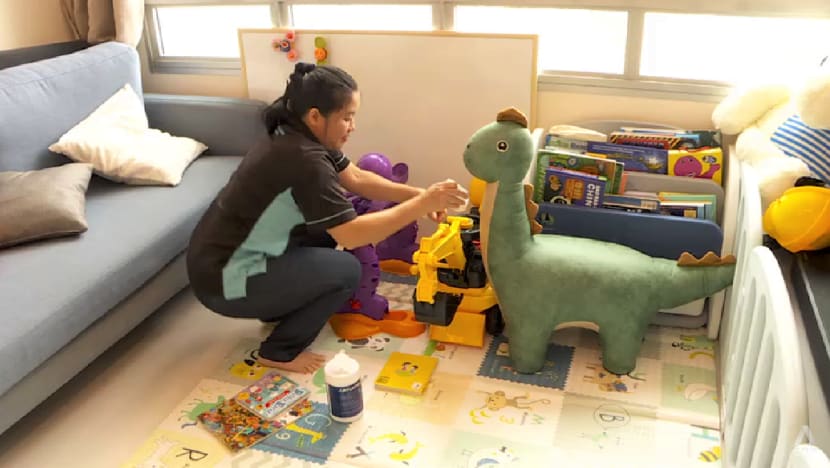 SINGAPORE: More families are looking to tap the part-time Household Services Scheme (HSS) to care for their children and seniors, after the programme was expanded to include basic child-minding and elder-minding services. 
 
Some companies offering such household services have reported a jump in enquiries during the past week, after the Ministry of Manpower (MOM) on Mar 14 launched a two-year pilot programme to expand the HSS. 
 
From Mar 15, companies under the pilot can hire more migrant workers to provide part-time child-minding and elder-minding services to households.
 
This will help families that require such domestic support for only a few hours daily or weekly, and offer them more options to meet their household needs, said MOM. 
REASONS FOR GETTING PART-TIME HELP
More families are choosing part-time household services, said observers. One company has seen demand grow by 50 per cent over the past few years.
Parents Kenneth Lee and Sharon Phang, for instance, have engaged part-time child-minding services for their two-year-old son, Axel. 
 
Unlike many families in Singapore who have a full-time helper stay with them, the couple decided to get a part-time child-minder, who helps with playtime activities, feeding and cleaning toys. 
 
This gives them just enough time to see to other personal demands, like taking care of their baby daughter.
 
"So during the weekend, when we are actually too preoccupied with the kids and housework, we really need someone to help us take care of our son, to play with him, so that we can actually do some cleaning of the house and take care of (our daughter)," said Madam Phang, adding that part-time help suits their lifestyle. 
 
Smaller households, challenges in communicating with a foreign domestic worker, and issues of privacy are among reasons why some people are choosing part-time helpers. 
 
A couple, for instance, may choose not to have a full-time stay-in helper if they value their privacy, especially if they work from home, Dr Cynthia Lim, deputy head of the early childhood education programme at the Singapore University of Social Sciences' (SUSS) S R Nathan School of Human Development. 
"A stay-in helper is more costly, occupies a room, and comes with a risk of employer-helper issues like cultural differences, language differences and the range of problems that we often hear about," she added. 
Ministry of Clean, a cleaning company that also provides care services, said demand has risen over the past few years.
 
To meet the growing interest, the firm is hoping to hire at least another 10 more staff in the next few months.
 
However, finding the right person for the job is not easy. 
 
"I think the challenge is really to be able to scout for this talent. People who have background experience in looking after children, looking after the elders, the right people who have that kind of interest," said Mr Jason Chia, chief executive officer and chairman of Ministry of Clean. 
 
"So typically, we'll go through quite an intensive interview to make sure that we have the right fit, in terms of the employment of these workers."
DEMAND FOR PART-TIME HELP TO CONTINUE
Mr Chia said: "There are a lot of working parents, and sometimes the grandparents are not home to look after the kids. So on an ad-hoc basis, they may require child-minding and they need somebody to look after their kids. 
 
"For elder-minding, there are instances whereby the elders have some unforeseen injuries, so they need those services on a short-term basis to look after the elders."
 
But there are not many in the industry providing such part-time care services, he said. 
 
Full-time care staff are also in short supply, especially professional nurses who watch over seniors, Mr Chia added. 
 
But it is not just about filling the headcount, said observers. They noted that ensuring service quality is also important.
 
"It's good to have the same person visiting your house and providing you services throughout," said Dr Kelvin Tan, senior lecturer of gerontology programmes at SUSS. 
 
"But if that service is flexi, which means it's based on the availability… I'm afraid that sometimes, the more popular and the better part-time helpers will always be much in demand. So then, how do we maintain the quality of services that come with different kinds or different people?"
 
Dr Tan said it is important that companies ensure that their part-time helpers are trained properly, so that they are able to offer household services that are consistent.
 
Currently, about 140 companies provide part-time household services to more than 21,000 homes under HSS. 
 
The scheme was launched as a pilot in 2017, before it was made permanent in 2021.
 
Dr Tan believes demand for part-time care services will keep on rising as long as lifestyles change and work schedules intensify, forcing people to find options with greater flexibility. 
 
Minister of State for Manpower Gan Siow Huang said MOM will monitor the pilot programme, including considering feedback from households and pilot companies, to assess its effectiveness and decide if changes are needed.