SINGAPORE: At Dr Elly Sabrina Ismail's home off Bukit Batok, a punching bag hangs from the ceiling in stark contrast to an otherwise elegant room.

She is awaiting guests and has prepared glasses of mint tea, with no sugar of course. You see, Dr Elly, in her own way, is fighting what has been described by Prime Minister Lee Hsien Loong as a health crisis in the Malay and Indian communities - diabetes.

The 47-year-old general practitioner focuses on eating right and exercise. Her modest collection of exercise equipment, like kettle bells, a battling rope, a cable machine and a squat rack - a birthday gift from her husband - was built over time.

"Others get rings, I get exercise machines," she said with a laugh.

Dr Elly's lifestyle, however, may not be representative of her community's.

Dr Vivien Lim, an endocrinologist at Gleneagles Hospital, said national health surveys through the years show that the prevalence of obesity among Malays has doubled from 13.4 per cent in 1992 to 24 per cent in 2010.

 Dr Lim, who is also president of the Endocrine and Metabolic Society of Singapore, said obesity is the main "driving force" of diabetes.
The increasing prevalence of obesity in the community could be due more to inadequate physical activity than the quantity of food eaten, she said, although national surveys show an increase in the percentage of Malays taking part in leisure-time regular exercise.
The statistics for Malays over the age of 60 is grim - half have diabetes - but Mr Johar Anuar, a shipping coordinator, is intent on bucking the trend.

The 70-year-old starts his day with planking, light weights and exercises with a stretch band, even before breakfast.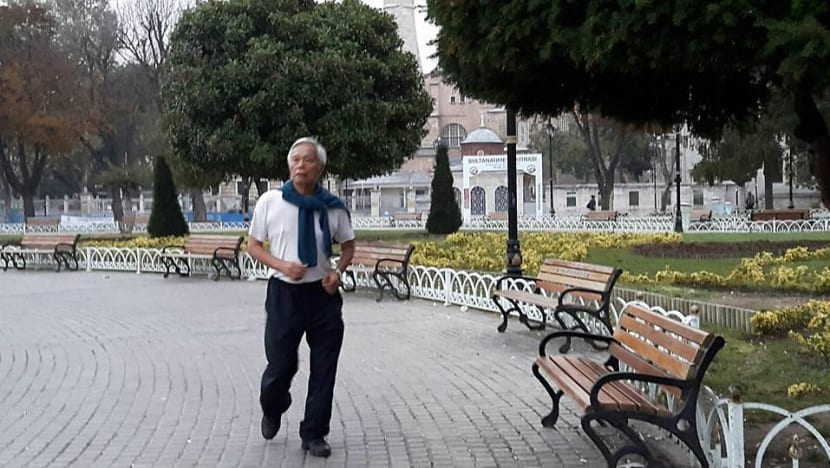 While he has mild hypertension, he does not have diabetes. As chairman of the Bukit Gombak Malay Activity Executive Committee, he also worked with the National Kidney Foundation and community-led exercise group Geng Sihat to introduce a weekly exercise stretching and toning programme - a low-impact activity that is suitable to most older people who have joint aches.

Many Malays are active when they are young - in athletics, football and all. But once they work and have a family, they neglect all these, they don't bother about proper eating.
But for him and his wife, exercise and eating right are part of their lives. 

"It's an excuse that it is hereditary. We try to break away from the trend. There's always time for exercise," he said.

DIABETES A SERIOUS HEALTH PROBLEM

While diabetes is a national issue, the Prime Minister said the disease is a "health crisis" for the Indian and Malay communities during the National Day Rally on Aug 20, given the statistics. Among those above 60 years old, 60 per cent of Indians and 50 per cent of Malays have the disease.

Last year, Health Minister Gan Kim Yong declared war on diabetes. One in three Singaporeans has a lifetime risk of getting the disease and the number of those with the condition is projected to reach 1 million by 2050, his ministry said. 
The ethnic differences are mainly for Type 2 diabetes, the more common type, which has risk factors that include family history and ethnicity, age and environmental influences, and obesity, said Dr Kevin Tan, consultant diabetologist and endocrinologist at Mount Elizabeth Hospital.

He said that the situation is "very serious", enough for public health authorities on a national level and doctors on the ground to use ethnicity as a diabetes risk marker for individuals. 
It is not just diabetes, but the Indian ethnic group also has the highest risk for heart attacks.

"On a national level, inroads are being made into the individual communities to educate on early diabetes detection and prevention, as well as to identify unhealthy cooking practices and food choices and to encourage change," he said.

The prevalence of obesity among Indians has increased from 11.5 per cent in 1992 to 16.9 per cent in 2010.

On the ground, doctors may manage an Indian person with diabetes more strictly in terms of managing his other heart-attack risk factors given his higher risk, Dr Tan said.

A higher prevalence of diabetes in these ethnic groups translate to a heavier healthcare burden for individuals, families, the community and the nation, he added.

"It is not just a healthcare burden of coping and living with diabetes and struggling to manage it by changing ingrained lifestyle practices, but also the socio-economic impact of complications when they arise," he said.

COOKING METHODS, PORTIONS, PART OF THE PROBLEM

On the whole, healthy food is not as readily accessible and available as unhealthy food, Dr Elly said. Most people go to hawker centres and food courts for their meals, places near their homes and offices, and all they want to do is buy food quickly, she said. 
And while healthy eateries sprout regularly in the city, it is less common in the heartlands.

"Not everyone works in the city. If they want to grab food before work, they might get a muffin or curry puff at the MRT station."

Zooming in on Malay food, she said that portion size, method of preparation, and the proportion of carbohydrates to protein and vegetables matter. Dishes laden with coconut milk, oil and sugar, like rendang, lodeh, and goreng pisang, are eaten frequently, she said.

We are eating lavishly every day. We are not reserving certain dishes for special occasions like celebrations. Every day is Hari Raya.

Indian food also has similar issues, said Dr Kalpana Bhaskaran, domain lead for applied nutrition and glycaemic index research at Temasek Polytechnic. Eating healthy Indian food at hawker centres or food courts may prove difficult, as some of the stalls have very limited vegetable dishes, she said.

"If available, they are mostly stir-fried with lots of oil, and are overcooked. Overcooking vegetables completely destroys most of the B vitamins," she added.

She added that crowd favourite biryani rice is made with lots of oil, and that stalls typically offer white rice, and too much of it, in comparison to the amount of vegetables and meat.

When it comes to Western food, pasta dishes sometimes come with a side of french fries, which makes the dish too carbohydrate-heavy, she said.

To cook healthier, she suggested using spices and herbs to flavour food instead of salt and sauces, and cutting down the use of mock meat as it is high in starch and sodium and the quality of the protein is poor.

Dr Kalpana also said she tries to cook at least one meal a day.

"Preparing most meals at home helps train our palate towards healthier fare," she said.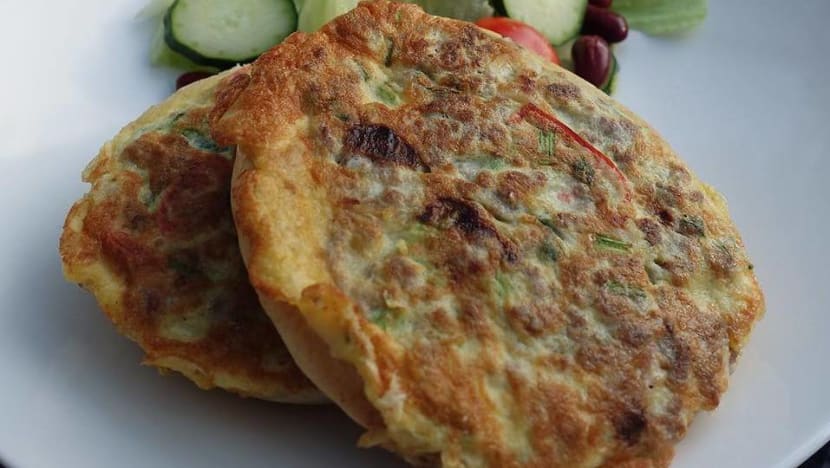 Ethnic food may not be the only culprit in driving obesity up. For Malays, healthy halal options in other cuisines are few and far between, Dr Elly said.

She added that going by the Geylang Serai bazaar earlier in the year, demand for halal hipster food like rainbow bagels was up, but such food is high in calories and low in nutrition.

Even where there is healthy food available, cost becomes a factor. She said that for those who are not able to afford pricey healthy food, cutting back on white rice portions, and getting energy from protein like eggs and tofu will help. She also suggested "lots of fresh vegetables and fruits".

She puts up recipes of home-cooked, healthier alternatives on her Facebook and Instagram pages, and showed Channel NewsAsia that even the much-maligned nasi lemak can be cooked healthier.
The trick is to use basmati rice, low-fat coconut milk, less sugar, less salt, pan-fried fish, boiled eggs instead of fried, air-fried condiments like peanuts and ikan bilis, and an additional vegetable side dish to add to the fibre content of the meal.

"What is important is to identify unhealthy cooking practices, methods and food choices, as well as lifestyle choices, that all races should pay heed to and modify. This is especially important as there is a cultural blend in Singapore and all the different ethnic groups indulge in each other's cuisine," said Dr Tan.

Even as Singapore tries to adopt healthier cooking and eating habits, there is a lack of understanding on what exactly is healthy, said Mr Alex Bauduin, founder of an eatery in Tanjong Pagar called Yolo.

"Healthy food doesn't have to be boring, doesn't have to be tasteless, doesn't have to be just salads, and that's a very important thing," he said.
To ensure that he was serving the right kind of food, Mr Bauduin worked with a nutritionist in coming up with dishes. He also tied up with healthcare provider HealthQuay Medical which provides chronic disease management, physiotherapy and dietetics services.
Patients can opt for a meal programme designed by Yolo to manage, for example, diabetes.

His eatery, which in March turned halal in order to cater to more people, serves regular Asian and Western dishes with a healthy spin.

For example, his meatball spaghetti is made with wholewheat pasta, and the meatballs are made with vegetables like zucchini. For his Peranakan veggie curry, brown rice is served, and the curry, cooked with trim coconut milk, contains kale.

"Just like parents do with their children, we have to trick adults into eating more vegetables," he said.