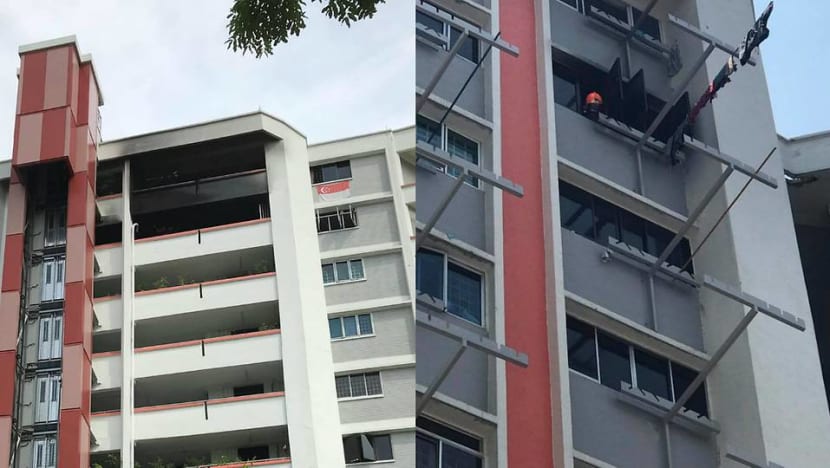 SINGAPORE: A man in his 60s suffered burn injuries after a fire broke out on the ninth floor of an Housing and Development Board (HDB) flat in Jurong East on Tuesday (Aug 21), leaving the unit badly burnt.
The blaze at Block 249, Jurong East Street 24 involved the contents of a bedroom, said the Singapore Civil Defence Force (SCDF), who was alerted to the fire at 12.55pm.
The man was taken to Ng Teng Fong General Hospital. Channel NewsAsia understands that the victim's injuries are not serious. 
Videos of the fire showed plumes of smoke billowing from a window of the flat. The police were on the scene as well. 
The HDB is currently looking to secure alternative housing arrangements for the affected family, Ms Grace Fu said in a Facebook post. She is the Member of Parliament for Yuhua SMC, which oversees the affected block.
The town council has cleaned up the area and restored power supply, Ms Fu added. She also said that an elderly man, who was more than 100 years old, was "badly shaken" by the incident and safely evacuated.
"The unit was badly burnt but fortunately no one was seriously injured," said Ms Fu.
"The community will support the family as best as we can. We will find alternative housing for them today so that they can have a peaceful and restful Hari Raya Haji, in an environment that is as comfortable as possible," she added.
The cause of the fire and extent of damage are under investigation.
Mr Khalid Ajmain, 41, who lives at Block 247, said he noticed the fire from the window of his flat. He had just finished having lunch with his wife when he heard the sirens from the SCDF. 
"When I came downstairs I saw the smoke and the firefighter were doing their job in putting out the fire and save the people if there is anyone there," he said.