New floating solar panel system among 3 clean energy projects to be tested at Jurong Island
The projects are part of a S$6 million push to test-bed new clean energy solutions on Jurong Island.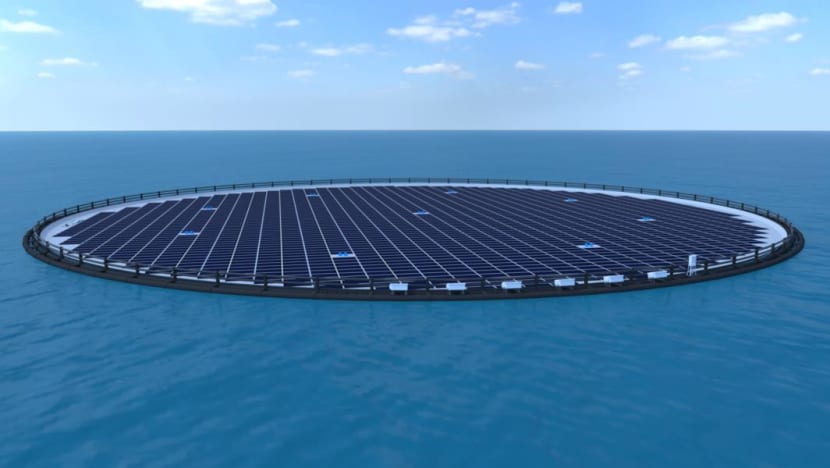 SINGAPORE: A new type of floating solar panel system that is said to be the first of its kind in Singapore will be piloted on Jurong Island.
Compared to conventional solar panel systems used in calmer water bodies such as reservoirs, the new system is designed to withstand stronger waves and rough sea conditions so that solar energy can be harnessed reliably, said Keppel Corporation in a media release on Friday (Jul 15).
"This is achieved by attaching solar panels directly onto large circular reinforced membranes protected by a high-density polyethylene pipe structure surrounding the membrane, which creates a stable and safe platform," the company added.
The system, which was designed based on technology from Norwegian company Ocean Sun, will be tested by Keppel Infrastructure's subsidiary Keppel Energy Nexus.
The patented technology is based on solar modules mounted on hydro-elastic membranes and offers cost and performance benefits not seen in any other floating PV system today, according to information provided by Keppel Corporation about Ocean Sun. 
It was among three projects awarded under a S$6 million grant to test-bed new clean energy solutions on Jurong Island.
The initiatives will support Singapore's climate ambition to achieve net-zero by or around mid-century, said the Energy Market Authority (EMA), JTC and Enterprise Singapore in a media release.
"This will also support Jurong Island's vision of a more sustainable energy and chemicals park in line with Singapore's Green Plan 2030," they added.
"If shown to be commercially viable, the test-bed projects could be scaled up and deployed across more companies on Jurong Island as well as other industrial companies looking for cleaner energy solutions."
"DIVERSE MIX" OF PROJECTS
The projects chosen include a "diverse mix of technologies" and are being piloted for the first time on Jurong Island, said the agencies.
Apart from the floating solar panels, a virtual ledger system to support green hydrogen production will also be developed by Tuas Power and EDF HQ Singapore.
It aims to demonstrate an innovative concept of using a virtual ledger to support the round-the-clock production of green hydrogen, powered with offsite solar energy generation.
If successful, it will address the intermittency of renewable energy so that the production of green hydrogen will not be reliant on when renewable energy is available, said the agencies.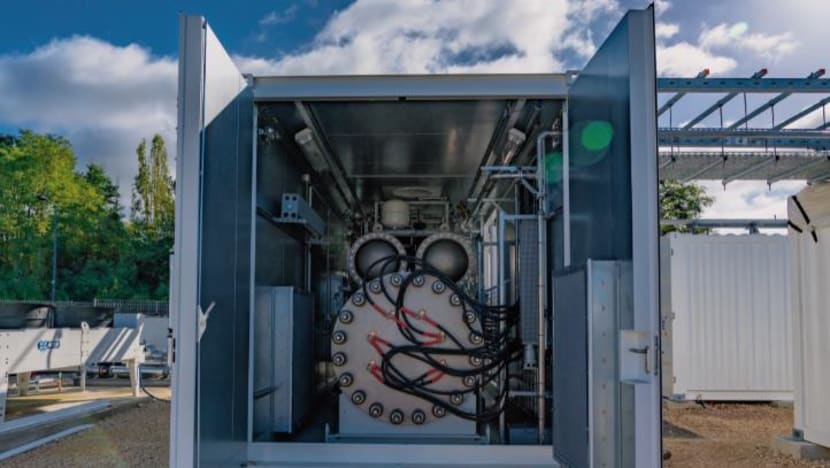 Another project, from VFlowTech, will look at using existing infrastructure to deploy energy storage systems. The electrolytes used for energy storage can also be produced from recycled industrial waste, which "enhances circularity on Jurong Island", said the agencies.
EMA chief executive Ngiam Shih Chun said new energy technologies and innovations are key in Singapore's decarbonisation efforts due to the country's limited renewable energy options.
"Solar is our most viable renewable energy source and we hope to push the boundaries further to maximise the amount we can harness," he said, adding that the authority is also looking at low-carbon alternatives such as hydrogen to reduce carbon emissions in the long term.