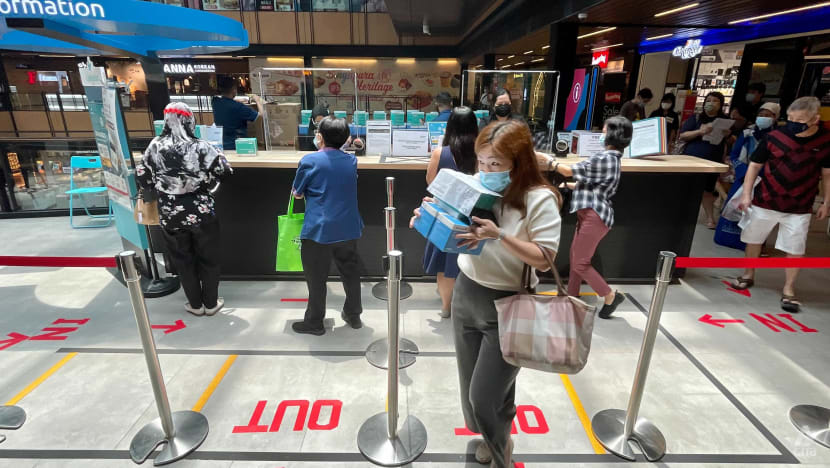 SINGAPORE: Some malls distributing free masks saw small crowds of people waiting around collection points on Thursday (Aug 26), the first day of Temasek Foundation's month-long distribution exercise, while other outlets had queues that cleared quickly.
Several collection points had also ran out of stock by mid-day, according to the Stay Prepared website, which provides information on participating outlets and stock levels at those locations.
Under the initiative by Temasek Foundation, each household can collect 50 medical grade surgical masks and 25 N95 respirator masks at selected supermarkets and malls. The distribution exercise ends on Sep 26. 
Members of the public have to bring along their physical or online SP residential bill, or provide their SP residential account number in order to collect the masks. They should also bring their own bags to carry the masks, as none will be provided at collection points. 
There are more than 100 participating outlets, including 15 CapitaLand malls as well as selected Sheng Siong, Prime Supermarket, Cold Storage, FairPrice Xtra and Giant outlets islandwide.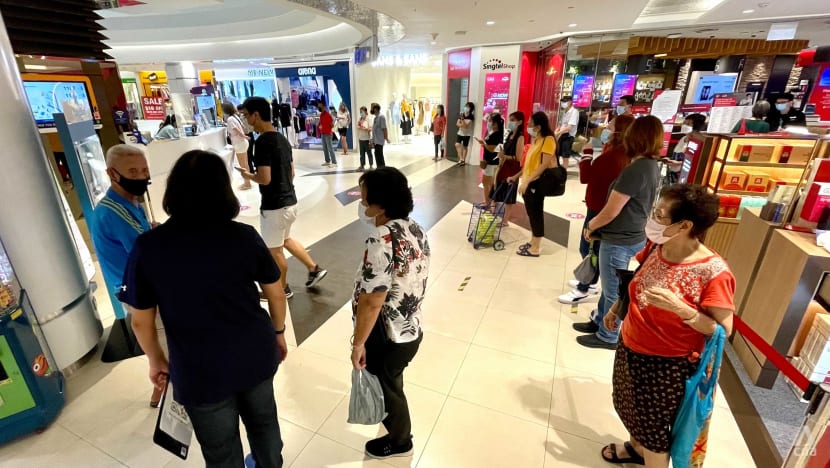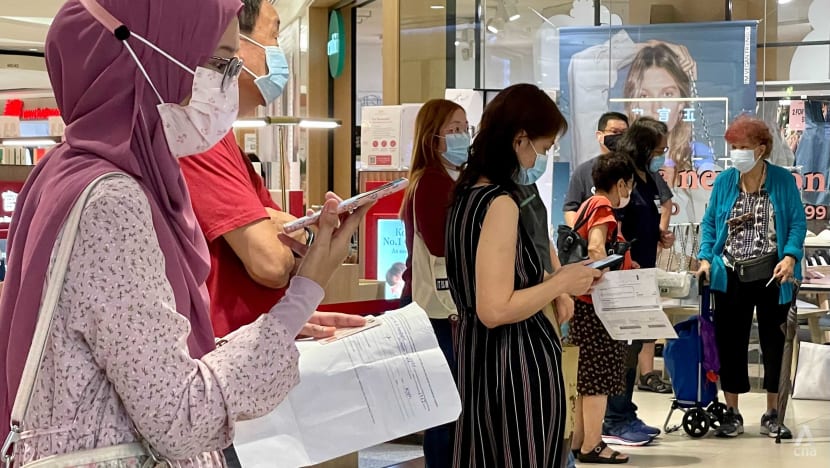 When CNA visited several malls in the east of Singapore around lunch time on Thursday, the crowd situation differed across outlets. 
The customer service counter at Tampines Mall was surrounded by a group of about 30 people, who were mostly elderly, at around 1pm.
The mall is one of the 11 CapitaLand malls that employ a digital queue system, which can be accessed at getq.capitaland.com.
Those who join the virtual queue will be informed via SMS when it is their turn to collect their masks. They can also check the length of the queue before heading down to collect their masks from the customer service counters at the participating CapitaLand malls, a CapitaLand spokesperson told CNA. 
While waiting for their number, "they can shop, dine or run their errands at the malls", added the CapitaLand spokesperson. 
At Tampines Mall, CNA observed volunteers helping several people who preferred to wait at the collection point for their turn. 
"Some senior citizens don't have a mobile phone or the apps to scan (the QR code to register for their turn in the queue), so we have (counter staff) to help them (manually register their turn)," said a 57-year-old volunteer with CapitaLand who wanted to be known as Mdm Leow. 
Because these elderly don't have a mobile phone, they would "have to wait here" for their number to be called, she added. 
Mdm Doris Chia, 84, who was waiting in line with her friends, told CNA that the wait time would take about 20 minutes.
"I am 84 years old. I don't know how to register, so I asked for help (from the volunteer)," she said. 
Even though the free masks would not be sufficient for her household of five, she said they came in handy at least for her husband and herself. Her son, daughter-in-law and her grandchild would usually "buy their own" masks. 
At Prime Supermarket in Century Square, the queue moved quickly.
Even though the Stay Prepared website indicated the mask quantity as "low" at the outlet, assistant branch manager Tan Hock Lai said it was simply because his staff had not managed to key in new stock into the system yet. 
Slightly after 1pm at Cold Storage in Tampines 1, however, the masks were already out of stock. This was also indicated on the Stay Prepared website. 
Earlier in the day, CNA also visited the SingPost Centre at Paya Lebar, which does not employ CapitaLand's digital queue system. But the queue, which had about 10 people around noon, moved fast.
Several chairs were also set up beside the customer service counter in the mall for people to pack their masks into their bags.  
"I live at Bedok North, so I took a train from there, went down to MacPherson circle line to Paya Lebar," said Mr Steven Tan, 62, who decided to collect the free masks on his day off. 
He said he had some trouble initially locating the collection point.
"I went down to Giant (at Paya Lebar Square), but there was nothing there, so I came here, and went down to NTUC basement, nothing there also. I was about to leave then I saw the counter here was distributing," said Mr Tan. 
He waited less than five minutes in the queue.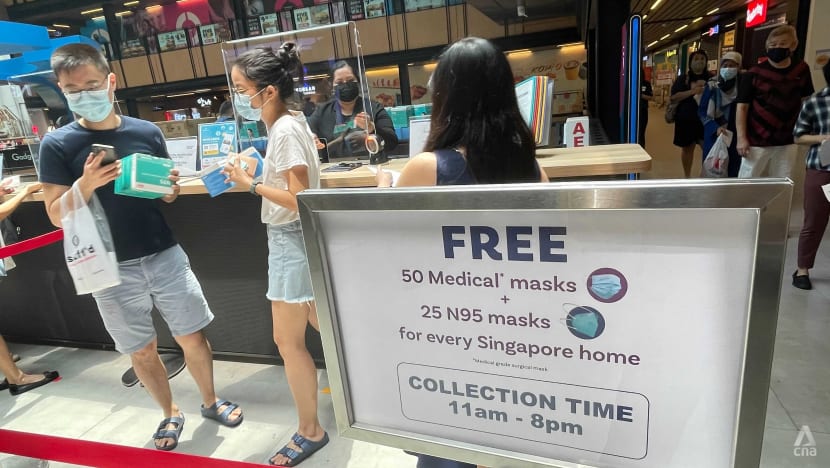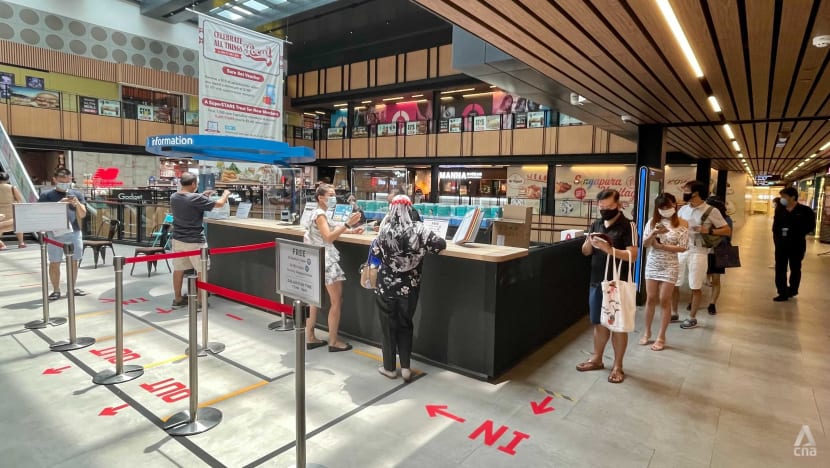 COLLECTION DETAILS 
Only participating malls and supermarkets will be distributing the free masks.
Members of the public can visit https://stayprepared.sg/staymasked/onetime/#where-to-collect to find the location nearest to them by keying in their postal code.  
If the public wishes to collect their masks from CapitaLand malls with the digital queue system, they can join a virtual queue at getq.capitaland.com before heading down to their selected location, the CapitaLand spokesperson told CNA. 
The 11 CapitaLand malls with digital queue systems are Bedok Mall, Bugis Junction, Bukit Panjang Plaza, Funan, IMM, JCube, Junction 8, Lot One, Plaza Singapura, Tampines Mall and Westgate.
The remaining four CapitaLand malls involved in the mask distribution exercise that do not have the digital queue system are: Aperia, Jewel Changi Airport, Raffles City Singapore and SingPost Centre.
"CapitaLand will be deploying more than 500 CapitaLand staff volunteers at the malls to assist the public with their mask collection," added the company's spokesperson. 
Safe management measures are also taken to ensure public safety at FairPrice Xtra outlets. 
"As stocks for the masks will be replenished regularly throughout the one-month period, we assure customers that there is ample time to redeem their masks at their convenience," a FairPrice spokesperson told CNA. 
Likewise for the 13 Cold Storage and five Giant outlets islandwide participating in the mask distribution exercise, the company has "conducted briefings for all stores participating in the exercise, to ensure our store managers and team members are familiar with the procedure so they are able to assist customers," said a DFI (Dairy Farm International) Retail Group spokesperson.
Customers can collect the masks from express checkout counters at the participating Cold Storage stores, and at the customer service counters for Giant stores, the spokesperson added.