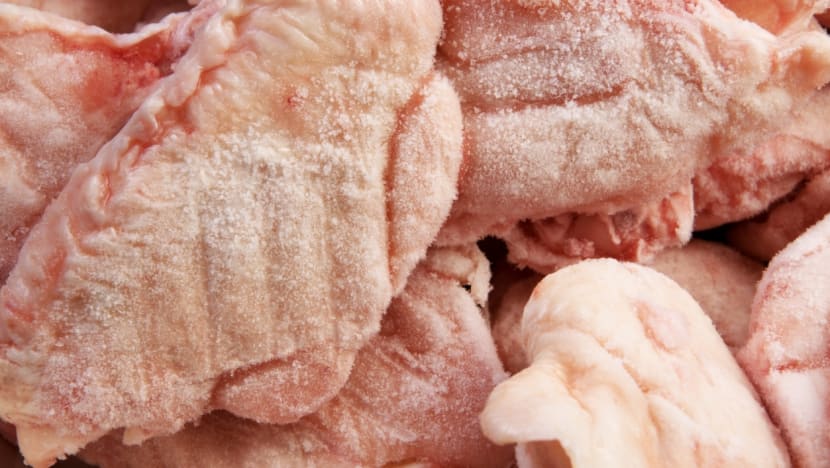 SINGAPORE: Frozen chicken has been in the spotlight since Malaysia announced a temporary ban on its poultry for export on May 23.
There are plentiful supplies of frozen chicken available, but some people have complained that it's just not as good as fresh in terms of taste, texture and juiciness.
It's been cast as the inferior alternative, with some eateries saying it will be the last resort in the absence of fresh chicken. 
CNA spoke to restaurant owners and nutritionists about whether people's perceptions are justified.
The difference between fresh and frozen chicken may not be obvious depending on how it was frozen, said Mr Anthony Yeoh, owner of Summer Hill.
Technology has advanced, he said.
"For it to get that watery kind of frozen taste and the texture to change, that's something you get when you try freezing chicken in your home freezer, for example, where it takes a longer time for the meat to freeze," he said.
When that happens, it gives the chicken time to develop ice crystals, and flavour then leaches out through the water that comes out of the chicken.
"Whereas if you imagine this sudden flash freeze, then you know the chicken would instantly be frozen, you wouldn't have those ice crystals forming," he said.
Chef Marvas Ng said that when frozen, chicken has frostbite, and when thawed, the water that leaks out can leave the meat dry. 
At his restaurant Path, the chicken dish has been replaced with a duck dish for this very reason, said the Singapore representative in the 2020 Culinary Olympics, one of the oldest international culinary arts competitions in the world.
It's also because the chicken has to be cooked internally till "just right" at 60 to 70 degrees Celsius. 
However, at this same temperature, frozen chicken will not taste as good and will be too dry, he said. 
"The frozen chicken is already dry, so when we cook at this temperature, it's even more dry," he said, referring to the result of experimentation done during his restaurant's research and development.
He added that the freshness of chicken comes into play for very select dishes, including chicken rice sold at hawker centres, which is typically served with poached or steamed meat. 
According to an article on the website of local chicken importer Kee Song, any difference in texture arises from how the frozen chicken meat is thawed. 
"If thawed too fast, the chicken meat cannot reabsorb the moisture from the melting ice crystals as effectively and hence becomes tougher and dryer when cooked," it says. 
Letting frozen chicken slowly thaw in the refrigerator however can allow the moisture from the melting ice crystals to be reabsorbed by the meat, preserving its texture when cooked, according to Kee Song.
MAGIC IN THE METHOD
Chefs who spoke to CNA said the magic is in the method, and there are ways to cook frozen chicken that can still delight the palate. 
Sometimes for events, his restaurant uses frozen chicken breasts from France, Mr Ng of Path said. 
Many Western restaurants use frozen chicken, he noted. 
Chef Zulfadli Normedi, who is in charge of group level food quality and training at The Black Hole Group, which manages nine restaurants with different concepts, said that frozen chicken is typically used when dishes can afford to be "overcooked". 
He gave examples of deep-fried chicken wings and pulled chicken. 
At the end of the day, much depends on the chef's skill, he said. 
"To a layman, it's very hard to tell (frozen apart from fresh) especially even harder when the chef is good enough to make it as such," he said. 
"It's very easy to make something good using very good produce, but the biggest challenge is to use something that is not so good and make it amazing," he said. 
Executive chef and owner of Pasta Brava Sofi Sui similarly said that there are ways to "massage" frozen chicken with flavours and seasoning. 
When fresh chicken runs out, her restaurants, including a keto cafe, will likely resort to organic frozen chicken, she said. 
HOW NUTRITIOUS IS FROZEN CHICKEN? 
Freezing maintains the nutrition of food well, despite potential changes in taste and texture, said nutritionist Chan Joy Seng.
"There could be slight loss in the nutrients from the drip from the ice crystals, but overall the amount of nutrient loss is quite minimal," said Mr Chan, who is director of Alive Nutrition Consultancy.
"There's no significant concern about loss of nutrition as long as the chicken doesn't have any added seasoning." 
The main nutritional value of chicken is protein, Mr Chan said. 
A check on the Health Promotion Board's Energy and Nutrient Composition database shows that 100g of roasted chicken provides about 27g of protein. 
For those who do not want to have frozen chicken, alternatives include fish, he said.
Plant-based alternatives include beans and lentils, he added. 
That frozen chicken is less nutritious than its fresh alternative is a misconception, he said. 
"In a so-called crisis like this, frozen is definitely a technology that helps to provide availability of food," he said.