'Salaries is not our starting point in looking for ministers': Goh Chok Tong responds to criticism of comments on pay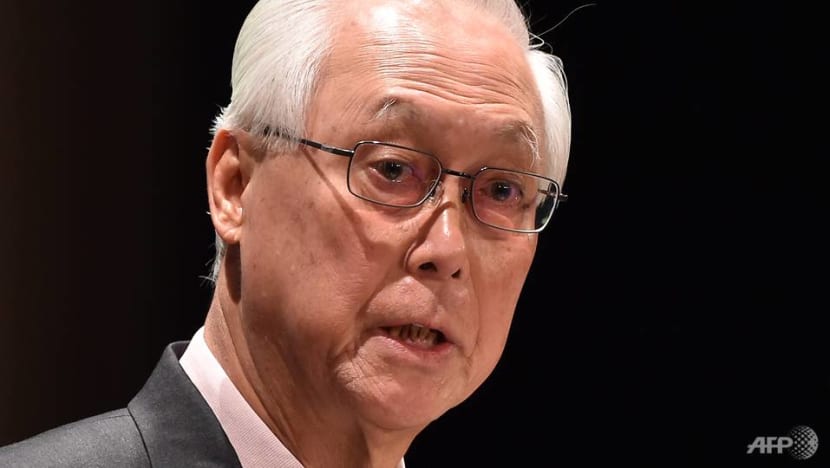 SINGAPORE: Emeritus Senior Minister (ESM) Goh Chok Tong has responded to what he described as the "heated reactions" to his comments on how to attract people to serve as ministers and the role salaries play in getting people to serve in Government.
In a Facebook post on Wednesday (Aug 8), Mr Goh said there is a "silver lining" to the reactions: "It shows Singaporeans care deeply and hold leaders to account for their words and performance."
He also suggested that the audio clip of his comments at the event for South East District residents last Thursday (Aug 2) distorted his message by "omitting the full discussion".
Comments made by Mr Goh at the event for South East District residents were released on Facebook by online platform MustShareNews. This was then reported by The Online Citizen (TOC) on Sunday, which included a transcript of the conversation that it said was provided by ESM Goh's staff to "clarify the recording".
Mr Goh had said that Singapore's ministers are "not paid enough". This was in response to a suggestion by a resident, Mr Abdul Aziz, to cut ministers' salaries or the defence budget to fund support for the elderly.
The suggestion was put to a panel at the event, which included Mr Goh, grassroots adviser Lim Biow Chuan and Senior Minister of State Maliki Osman.
According to the transcript of the discussion, later provided to Channel NewsAsia by Mr Goh's press secretary and also published on Mr Goh's Facebook page, Mr Goh responded to the resident by saying: "Had you suggested we up GST by 2 per cent and give them the pension, I would have applauded you. Seriously. Because you are then taxing the whole society to support older ones. 
"But you did not. You said cut from defence, 1 per cent is enough. And on top of that, you said cut ministers' salaries. That is very populist."
"I am telling you the ministers are not paid enough, and down the road, we are going to get a problem with getting people to join the Government, because civil servants now earn more than ministers. Are you aware of that?" Mr Goh added.
He asked where Singaporeans would want to get office holders from.
A 75 PER CENT CUT IN SALARY
Mr Goh then revealed that former lawyer Edwin Tong took a pay cut of about 75 per cent when he became a Senior Minister of State for Health and Law earlier this year.
Mr Tong was earning more than S$2 million as a Senior Counsel, said Mr Goh, adding that he was asked by Prime Minister Lee Hsien Loong to be a minister of state.
"He came to see me," Mr Goh said. "He said, at this stage of his life, he has got a house, he has got a mother-in-law to support, a father-in-law to support, his own parents and so on, what should he do?
"So I asked him, Edwin, what were you in politics for? (He said) Here to serve. So I said you've got to serve, well, you know between S$2 million and perhaps half a million, later on you hopefully become a full minister, S$1 million, you have to decide which is more important."
"So Edwin told me his job in politics is to serve," Mr Goh added. "He said, 'yes, I will take on' (the job), and he felt very strongly that he could do the job."
Mr Goh added, however, that "now we dare not pay ministers a good wage", and repeated his question, asking where Singaporeans would want to get ministers from.
"From people who earn only S$500,000 a year, whose capacity is S$500,000 a year? So (when) I look for ministers, anybody who wants to be paid more than half a million, I won't take him," Mr Goh said.
"You are going to end up with very, very mediocre people, who can't even earn a million dollars outside to be our minister."
In his Facebook post, Mr Goh said that he "did not mean nor believe that Singaporeans at whatever level of income are mediocre. Those who have worked with me know people matter the most to me." 
He went on to say that in times of prolonged crisis and upheaval, he had no doubt that Singaporeans will step forward to serve. Money would not be a key vector.
"In peace and prosperity however, there are no dragons to slay. Personal aspirations, freedom, privacy and life-style take precedence."
He also shared a response that he sent to a medical student who had contacted Mr Goh with his views on the issue: "Salaries is not our starting point in looking for ministers. Character, motivation, commitment, selflessness, practical abilities, competence and proven performance are the main attributes we look for. The first four attributes are veto factors," said Mr Goh. 
"When we look at abilities, competence and performance are reflected in a person's compensation."
At the dialogue, Mr Aziz also suggested that a pension scheme for the elderly could be funded by cutting the defence budget. Mr Goh asked where exactly the spending would be cut.
"Do we take it from national servicemen, pay them less? Or we buy less weapons, your weapons?" he asked.
Given Singapore's size, Mr Goh said that the country's defence required an advanced warning system, which "costs money".
If Singapore cannot defend itself, Mr Goh questioned whether investors would be willing to put their money in the country. If investors stay away, he warned, Singapore's economy will not grow and there will be unemployment.
Addressing Mr Aziz's idea of helping older people, Mr Goh said: "Your idea is not wrong, we must do something for the older ones. Silver Support, some kind of a scheme that we can work on later on. But how to fund it? That is what I am hitting at."
"There are many retirees, they haven't got funds, they need to be supported," Mr Goh added. "But how do you fund it, you see. That is key. How to fund it for the future? Make it sustainable?"
He said that once the Government comes up with a scheme to help the elderly, it will have to think of how to raise taxes to pay for it.