Going cashless at hawker centres: Challenges and opportunities
Despite the push for QR code payment at hawker centres, stall holders and consumers seem hesitant to make the switch. What are the barriers, and how can they be overcome?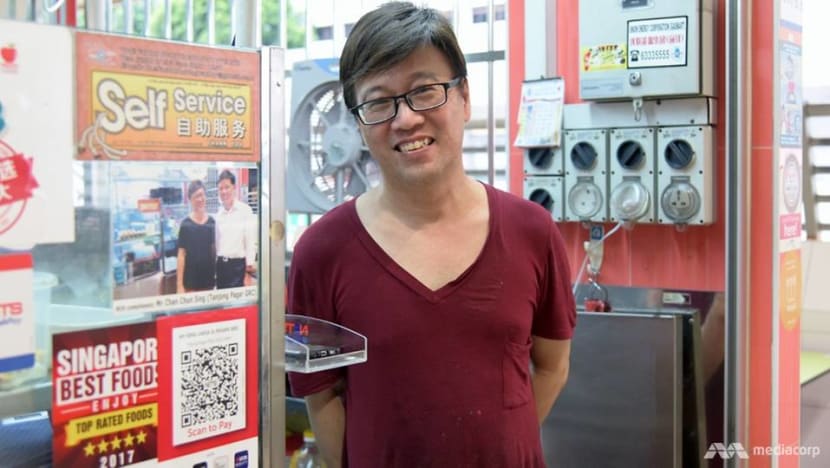 SINGAPORE: At this hawker centre, cash is king. 
Hungry customers queue up for food, clutching their wallets or holding a fistful of cash. Stallholders take the money and quickly count out the change, opening drawers or reaching into containers for coins.
This could be a scene played out at any hawker centre in Singapore. But at this one, there is a difference: Banners and signs put up around the centre proudly proclaim the Tanjong Pagar Plaza Market and Food Centre to be Singapore's first QR Code payment hawker centre. Almost every stall displays a QR code that customers can scan using their various banking apps to make payment for their meals.
Earlier this month, NETS rolled out a standardised QR code for the hawker centre. To use it, customers open their banking app and scan the code. They will then be prompted to key in their payment amount, and a terminal at the stall notifies hawkers of the successful transaction by printing out a receipt. Customers can also use the terminal to make payment by NETS and NETS FlashPay.
Chairman of the centre's association Benson Low had encouraged stallholders in the centre to take up the QR code payment system, saying that he wanted customers to have more payment choices.
"Let's say you forget to bring money when you come here. You can pay with your mobile phone or your FlashPay card," he said. "If no cash, you can pay with your card. If no card, you can pay with your phone."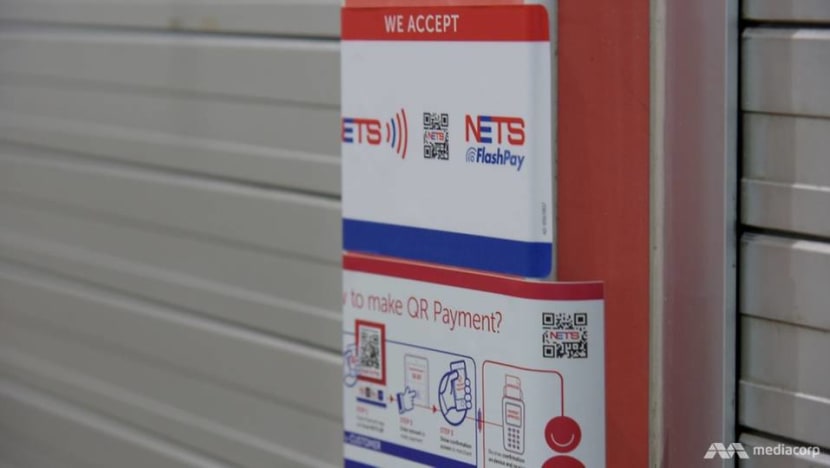 But cash appears to be the preferred payment method for most customers at Tanjong Pagar: Mr Low estimates that 95 per cent of the customers at his stall choose to pay in cash. Other stallholders Channel NewsAsia spoke to at the centre noted similar figures.  
One diner, Ms Tay Ching Ching, said she knows the options exist, but has never tried them out before.
"If I want to use it, I have to change my phone, because it doesn't support the technology," she said. "It's more convenient to use cash for me."
Another customer who wished only to be known as Mr Koh said the cashless payment options were "good", and "not difficult to set up".
But he still chose to pay for his herbal chicken soup in cash. "I'm not used to it," he said.
THE APPEAL OF QR CODES
Ever since Prime Minister Lee Hsien Loong's National Day Rally speech last month, e-payments – particularly in hawker centres – have become the buzzword of the day. Since then, the push has continued: An industry taskforce looking at the development of a common QR code for Singapore was announced at the end of last month. The taskforce, called SGQR, aims to have standardised QR specifications to accept domestic and international payment schemes by the end of the year.
But given the myriad of different cashless payment options already available in Singapore, why choose QR codes for hawker centres? The answer, said CEO of local firm Liquid Group Jeremy Tan, lies in the fact that there is no need for merchant terminals. His firm offers a cashless QR code payment system called Liquid Pay.
"For QR, all the hawkers need is a sticker with a QR code on their stall," he said, adding that other forms of cashless payment options like the NETS FlashPay or Visa PayWave cards make use of Near Field Communication (NFC) technology.
"These tap and go cards are probably the most convenient way to pay," he said. "But the downside is that there needs to be a terminal. And in the hawker environment, that becomes a problem. It takes up space, it's hard to maintain and is expensive."
Liquid Pay, which is accepted at about 800 hawker stalls islandwide, works through a mobile app. To pay, customers scan the QR code at the stall and key in the amount owed on their app. This is then confirmed by the hawker, who receives an app notification. Users can also show their phone to the hawker for acknowledgement.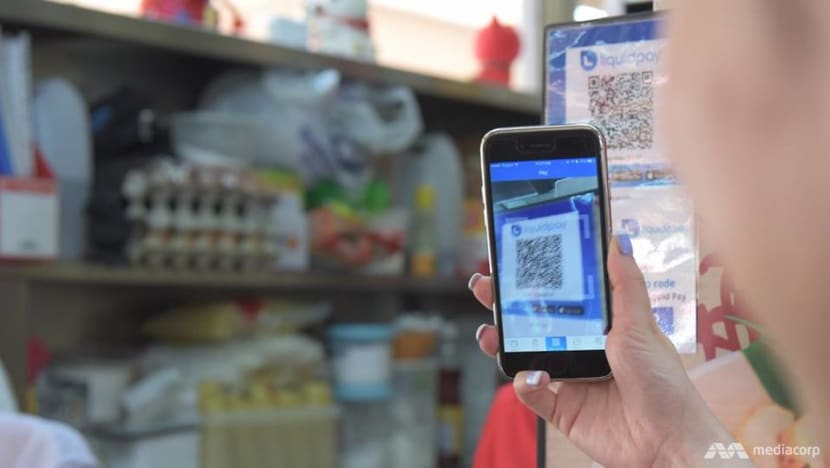 Prawn noodle seller Anson Loo accepts Liquid Pay at his stall at Golden Mile Food Centre, and based on a single incident alone, can already see the benefits of going cashless. 
"I have a friend who brings down coins every Monday for me to change," he recounted. "This week, she was late, and I didn't have enough coins to make change for my customers."
"This is one of the hassles. If we go cashless, I don't have to worry about coins."
But despite the benefits – and the fact that adopting the system is free for hawkers – Mr Loo noted that many are hesitant to take it up.
"I'm a person who uses cashless payments a lot, but that could be because of my generation," said the 39-year-old. "Some of the elderly hawkers don't even have smartphones."
And the low take-up rate, he added, could be a reason why customers don't use the system. "If I am a customer and I come here and see only one or two hawkers on the system, that would deter me from using the app regularly."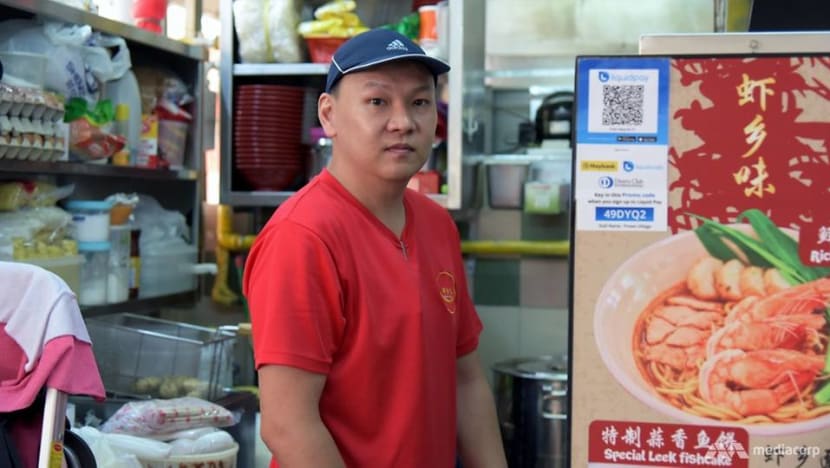 CHANGING MINDSETS
The problem, noted KPMG Singapore's Head of Financial Services Advisory Chia Tek Yew, is that customers in Singapore are content with using cash.  Consumers in Singapore use cash and cheques for up to 60 per cent of their payments, according to a KPMG report. This is much higher compared with countries like Sweden, Germany, Australia and China, where the numbers can be as low as 20 per cent.
"This is not for the lack of an advanced payment infrastructure in Singapore, but because of deep-rooted consumer spending habits and merchant barriers to adoption of e-payments," he said.
"If there is a change in customers' preference for cashless payments, and hawkers providing cashless payments attract more business than those who only accept cash, then hawkers' attitude to cashless payments would surely change," he added.
Another way to do this would be through educating hawkers on how to go digital, and the benefits of doing so, noted Xiaofeng Wang, a senior analyst at market research firm Forrester.
"Hawker centre stallholders are more likely to be senior citizens who are less digitally savvy, so they need more help," she said. "And if they don't have a smartphone, that could also be a problem." 
Ms Wang pointed out that ride-hailing app Didi got taxi drivers in China on board by giving them free smartphones. And indeed, incentives – in the form of discounted meals for customers or cash-back bonuses for hawkers – could also help. 
"When Alipay was first launched in China, the motivation for consumers to use QR code-based payment was because they could get a lot of discounts," she said. "It encouraged them to make the initial switch, and now the habit is formed, it's much easier and everyone is already in the habit of not carrying their wallets."
Incentives could also encourage hawkers to promote the system to customers. 
"When I'm busy, I don't really ask customers if they want to use cashless payment," said Tanjong Pagar food centre's Mr Low. "I just take the cash."
"But if the bank runs a promotion saying that if for this month, if I hit 20 transactions, I will get an S$8 bonus, I will ask customers to use it."
A NETS spokesperson noted that they are constantly engaging the hawkers and other merchant associations to educate them on the benefits of cashless payments and increasing sales. "NETS will be rolling out a nationwide marketing campaign later this year to encourage both hawkers and consumers to adopt QR code payment – more details will be announced later."
Liquid Group's Mr Tan said there are incentives and discounts for both hawkers and customers to use Liquid Pay. For example, one current promotion available through the mobile app offers customers a 20 per cent discount on food from selected hawker stalls.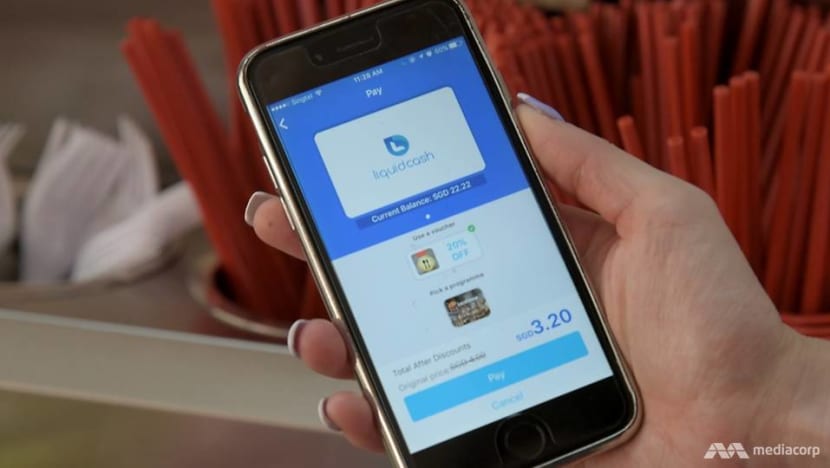 But ultimately, he stressed the underlying importance of changing mindsets, in order to get people to surf the cashless payments wave. 

"Behaviour takes time to change, so the easiest way is to use money," he said. "But it has to go beyond that.
"Change happens, slowly but surely. The service providers can do all they want, but consumers need to be mindful that this is where we are heading, and it is no skin off their nose to give it a try."